Autumn was in full glory last week. The lush greenery of summer morphed into a fiery blaze of reds, oranges and yellows. Leaves bursting off of tree branches and dropping onto rainy reflective pavement. Saturday's final kaleidoscopic swan song foretold of the gusty winds of winter conquering Sunday, lowering down a veil of icy darkness. A dissonant seasonal melody that propels us all in; indoors, into hibernation mode, and introspectively into ourselves.
Before embracing your impulse to snuggle up with a hot tea and a book, shedding the summer extrovert cape for the old hibernal cloak, let Amelia Alcock-White take you on an enlightening contemplative journey, one that will get you through winter. Entitled Solitudes the work from her exhibition at Petley Jones Gallery offers visitors several portals into other realms.

Alcock-White's painting series distills an earthen vision of solitude. Within each work, solitary figures meander and connect to their environment through contemplative and physical immersion. A telluric world where one ultimately, finds solace by reconnecting themselves within the natural world. Hailing from Vancouver Island originally, the artist herself has had many an enriching experience in the isolated regional parks and other nearby sacred places such as Haida Gwaii. Her deep connection to the beauty and wisdom found within British Columbia's forests, mountains and ocean is apparent in her work.
Each painting is simultaneously a very real place, a familiar sight for any Vancouverite, yet it is also a dream like apparition in the same breath. Alcock-White often includes mythological undertones within her figurative narratives, perhaps this is why the work holds also a surreal sense of wonder.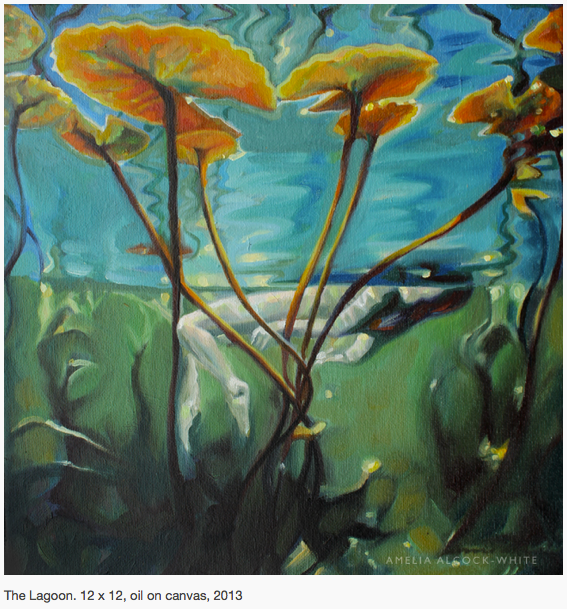 The theme of water has often recurred in her work. Alcock-White met with VIA at Petley Jones Gallery last week. She told us of the story of exploring bio luminescence, an visual effect that astounds most viewers profoundly, also the subject of one of her paintings.
Alcock-White shared her experience of walking into the water. Before even immersing into this phenomenon, she became captivated by the sheer amount of life below, hundreds of fish darting away from her legs as they move forward, crabs scurrying, algae swooshing. This attention to detail, the revelation that all little things are interconnected with the big and the bigger is a philosophy carried by the artist as a way of living and a way of painting.
Philosophy and subtle social commentary are but a couple of layers that are revealed whilst looking at her work. The familiar characters and places also allow viewers to tap into their own personal memory. Alcock-White's painted characters, each one solitary with diverted vision, each one seeking something; an element that is sometimes present and apparent in the painting, and sometimes, what the character is seeking appears to be a held within the neural networks of their brain. All of these elements draw in the viewer allowing them to create a new narrative. Another path to travel, another adventure to embark on.
As we shift our clocks back to gain more light and shoo away the impending darkness for a little longer, perhaps we should embrace the solitude that winter brings. For it is within this calm silence, an inspired space for contemplation emerges. A sense of wholeness and interconnection can again be embraced. Visit the Solitudes exhibition at Petley Jones this week, a little sojourn that will turn your winter into an odyssey of reverie.
SOLITUDES by Amelia Alcock-White.
On exhibit at Petley Jones Gallery (1554 West 6th Avenue) and runs until November 6th.