Seventeen artists will be exhibiting work in Quoting the Quotidian. Many of the works are rendered from familiar manufactured items and found readymade objects that have been repurposed and re-envisioned. Quoting the Quotidian is an exhibition where "artists embrace the paradox of seeing the everyday for its commonness, while imbuing their works with latent possibilities for transformation to further human experience…Indeed, in a physical and cultural landscape littered with things, perhaps an object's imaginative charge is its most important quality." This exhibition is also part of ISEA2015.
Artists exhibiting work include: Maya Beaudry, Scott Billings, Dustin Brons, Vanessa Brown, Manuel Correa, Barry Doupe, Daniel Jefferies, Ian Johnston, Daniel Kent, Scott Lawrence, Natasha McHardy, Jason Mclean, Marisa Olson, Roula Partheniou, Les Ramsay, Nicolas Sassoon and Kirsten Stoltmann.
VIA caught up with two of the artists exhibiting in the show: Marisa Olson and Les Ramsay. They gave some insight into what they'll be presenting.
Marisa Olson's work combines performance, video, net art, drawing & installation to address the cultural history of technology, the politics of participation in pop culture, experiences of gender, and the aesthetics of failure. Olson lives and works in New York.
VIA: Many of the artists featured in Quoting the Quotidian use specific manufactured objects and readymades as materials. Your practice utilizes these types of materials often. What resonates within these found objects with you? Why are they a constant source of inspiration for your practice?
I'm interested in technological objects as vessels of cultural history and markers of social change. I feel like the invention of these things speaks to the perception of a 'need' in society, as well as fears and fantasies about the future. I call them Time Capsules for that reason. But in my case, I'm actually trying to *prevent* them from being buried. People are always trying to upgrade to the harder, better, faster, stronger phone, radio, car (or body, diet, mindset), etc… But what does 'better' mean? Then we throw the old stuff away to die in a landfill. I think of myself as taking these things out of circulation & painting them gold to preserve their value, almost like gold bars in a vault.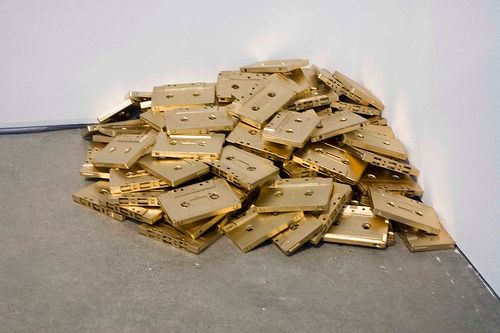 VIA: Using objects that already have a vocabulary and context connected to them creates an interesting point of rupture in their signifying meaning. Many of the pieces in this exhibition work to unsettle familiarity and the notion of the everyday. It makes sense that the show would also be part of ISEA2015 as the theme for this year's iteration is Disruption. Are you able to highlight other interesting points of disruption that may be derived from your work in the show? 
My practice is the result of being lucky enough to be exposed to a random trifecta of experiences: Being raised by a cryptographer/spy fluent in nine languages who taught me the value of super cheesy wordplay, heavy steepage in critical theory around semiotics, and then
 coming out of a very activist punk scene that happened to align with a hacker/new media art crew. So here I am! And what I got out of it is both an appreciation for the role of spectacle in making a serious statement–for instance, my belief that pop culture can be a legitimate point of entry to addressing deeper political concerns, and the idea that sometimes the best way to address a subject head-on is to pump up the volume on its own vocabulary, almost deploying a kind of rhetorical-readymade tactic, amplifying "the master's language," as it were. So I'm not interested in trying to squirt too many new objects into the world. I like trying to paint a new picture of what's already here. I like to hold up vernacular cultural artifacts, the residue of social and political moments, and ask, "Do you see what I see?," and then try to imagine a new way of moving forward.
VIA: Will you be attending any other events that are part of ISEA2015? 
If so, what are they? and what has you excited to attend them?
If you aren't able to, what events from the symposium intrigue you?
Oh yeah! It's more like I've got to figure out how to be in 3 places at once. ISEA can be whatever people want it to be: A music festival, tons of art shows, a smart conference, a science fair on MDMA… 
I'm psyched because I've got friends coming in from all over the world for this. It's a pretty big deal. The Yes Men are always fun, as are Instant Coffee, Michael Connor's giving a keynote, Ed Osborn has an installation Friday night at Vivo, I wouldn't miss the Mutek cabaret, and then I think the New Forms events are going to be huge. I'm excited about their new vision for events revolving around more yearlong community-collaboration. Meanwhile, I'm going to try to go to as many panels as I can. There are some top-notch artists and theorists.
VIA: In addition to your work being shown at WAAP, you also have work that will be shown at the Vancouver Art Gallery as part of FUSE. Can you tell VIA a bit about the work that you will be showing at the gallery?
Yes, I'm showing a new video sculpture made just for this show, called "Blue Sky." It comes out of the same Time Capsules series shown at WAAP, but features a video embedded in a now-gilded old Mac G3 tower, in which I play a sky goddess character creating a cottony sky over a pixellated papercraft mountain landscape in a blue seamless studio environment. My primary goal here was a feminist disruption of
 the corporatespeak definition of "Disruption," which to me doesn't shake much up at all in terms of the glass ceiling that continues to keep down women, minorities, and LGBTQ community members. In the context of this meme, we see a lot of re-innovation of the wheel. Under the umbrella of contemporary tech industry jargon, the phrase 'blue sky' solicits a proposal for a 'big picture' of the world as 'disrupted' by a product. 
Built into the tech itself, the monitor that plays the Blue Sky video functions as a Frankensteinian 'brain transplant,' shifting the G3 tower's use value to one determined by congealed affective labor while making it a vehicle for the kind of subjective personal expression utopianly, if fallaciously 'enabled' by a product line whose tagline is 'Think Different.' 
My Blue Sky creates tension between intervention & cheery 2nd Wave feminist-inspired papercraft-play speaking to the paradox of 'disruption' signifying both rupture/breaking & world-improving.
Les Ramsay creates his works by recycling the excess of everyday domestic objects and uses both constructive and deconstructive strategies. Considering Modern traditions while exploring the frontiers of contemporary painting, he uses collage methodologies to develop formal compositions. Ramsay lives and works in Vancouver.
VIA: What materials are you using for your in this exhibition? Why are you working with these materials for this work? 
The two works chosen for this show use a variety of domestic fabrics from traditional canvas, linen, burlap, beach towels, furniture upholstery, oils and synthetic polymers. 
I'm using these materials in order to achieve an awkward familiarity. My choices differ from piece to piece, relying on intuition, scale, balance, and inherent textural properties.
VIA: Are you able to highlight other interesting points of disruption that may be derived from your work? 
Disruption occurs in my work when two or more contrasting textures come together. The paintings merge combinations of textiles from various decades allowing the viewer to evaluate their familiar notions of taste and popular culture based on the scale of my formal decisions in assembling the image.  My ongoing series of dancing paintings (not included the show) offer a variety of sculptural and spacial disruptions via oscillating fans and fluttering silks.
Included in the show however is a small oil painting called 
"The Screamers (
Scorned as Timber, Beloved of the Sky)" 2015, titled after a series of paintings by Emily Carr in which she depicts a lonely spindly tree surrounded by the demise of clear cut logging.
The relationship between my forest fire painting and Carr's clear-cut Screamers is that they both merge the personification of human and Earth through the trunk and the foliage of the trees. Both of these narratives share sentiments surrounding violent environmental issues caused by human activity.
Quoting the Quotidian opens on Thursday the 13th of August at Wil Aballe Art Projects (WAAP). The opening reception runs from 7-10pm and is open to the public.
Wil Aballe Art Projects | WAAP – 105-1356 Frances St., Vancouver, BC / wil@waapart.com
OPENING RECEPTION: Thurs Aug 13, 7-10pm
GALLERY HOURS: Thurs – Sat, noon-5PM
This exhibition is also part of ISEA2015 – International Symposium of Electronic Arts – August 14-18, 2015.  If you are interested in learning more about ISEA2015 visit their website and 2015 schedule.