It is the maple leaf emblazoned on the Canadian flag that intrigues Ahmad as he pauses momentarily from telling the harrowing story of his family's escape from Afghanistan.
The leaf, he said, was also visible on the side of the military transport plane that airlifted him, his wife and six children from Kabul, and he has since seen it on trees near the reception centre in Metro Vancouver, where he currently resides.
"It was a big question for me why the symbol of Canada is a leaf," he said during a recent Zoom call. "I have been to more than 30 countries and I have never seen this leaf."
He will now see it a lot more.
Ahmad and his family are among the Afghans who fled Kabul in August after Taliban forces captured Afghanistan's capital. The family flew to Kuwait, then continued to Germany before landing in Toronto.
Two weeks ago, the family arrived in B.C.
As of Tuesday, 292 individuals spread across 77 Afghan families had settled in the province since Aug. 23, with another 60 people expected to land in B.C. by the end of the week.
The newcomers are the result of the Canadian government's three-year humanitarian mission to resettle 20,000 vulnerable citizens threatened by the Taliban and forced to leave Afghanistan.
Glacier Media has chosen not to publish Ahmad's real name, reveal his location or provide specific details about his work in Afghanistan, where we was involved in a media organization and known for his human rights advocacy.
Some of his work involved the Canadian embassy in Kabul — a connection that ultimately allowed him to flee his country and have him and his family become permanent residents of Canada.
He still has immediate family in Afghanistan, including his mother, who was unable to make the trip because she was not mobile enough to pass through the crowds and Taliban forces outside Hamid Karzai International Airport.
"I am thinking about my mom and how to get her in — it is the only thing that I am thinking about," Ahmad said. "But otherwise, I am very happy, especially for the future of my kids."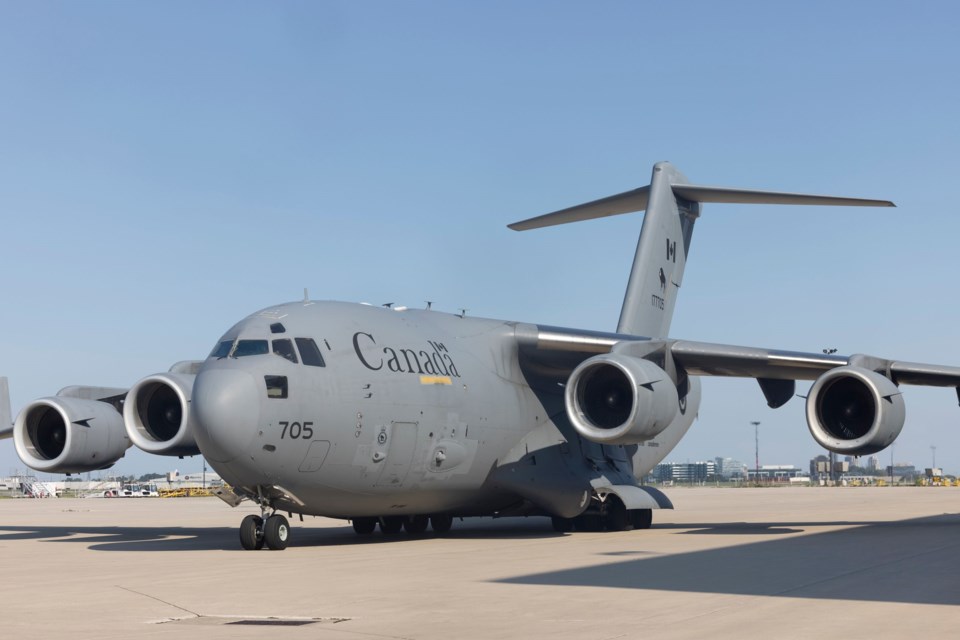 Like many Afghans, he said, he did not predict the Taliban would capture Kabul as rapidly as they did, describing his current situation in Canada as unimaginable when looking back to his steady daily life in early August.
But in mid-August when the Taliban conquered the last major city in northern Afghanistan that was still under government control — Mazar-i-Shariff —he knew the fall of his country was coming.
Ahmad recalls it was a Sunday when he and his co-workers assembled at their office in Kabul. The streets were quieter than normal and soon rumours spread that the Taliban was on its way.
A traffic jam ensued, with him taking five hours to get home — a drive that normally takes less than an hour. He then began a daily routine of hiding at various relatives' houses during the day and returning to his house at midnight.
He did this because he was sure the Taliban, whom he criticized publicly and was considered an enemy of the Islamic extremists, would come for him.
The family tried a couple of times to reach the airport, but the crowds and shooting in the streets forced them to turn back.
The day they made it to the airport's gates, Ahmad, his wife and two eldest children formed a human shield around the younger children, walking "step by step by step" through the crowd.
Dying, he said, was something he thought about that day.
"It was very hard for me to take this risk, especially when my kids and wife were with me," he said, noting his children range in age from eight to 21.
When the family reached the gates, he passed his paperwork from the Canadian embassy to Canadian soldiers, who let them inside the airport and led them to an area where they were able to drink water and eat food.
Closer to midnight, the family then boarded a military plane to Kuwait. And so began the family's journey to Canada, landing in Toronto and staying in a hotel there for 14 days to quarantine as a precaution related to COVID-19.
The entire family has been fully vaccinated.
For the next year, the family will be provided with financial assistance from the federal government and help in accessing health care, opening a bank account and other needs as it begins its new life in B.C., where an estimated 15,000 to 20,000 Afghan-Canadians live, including one of Ahmad's former classmates.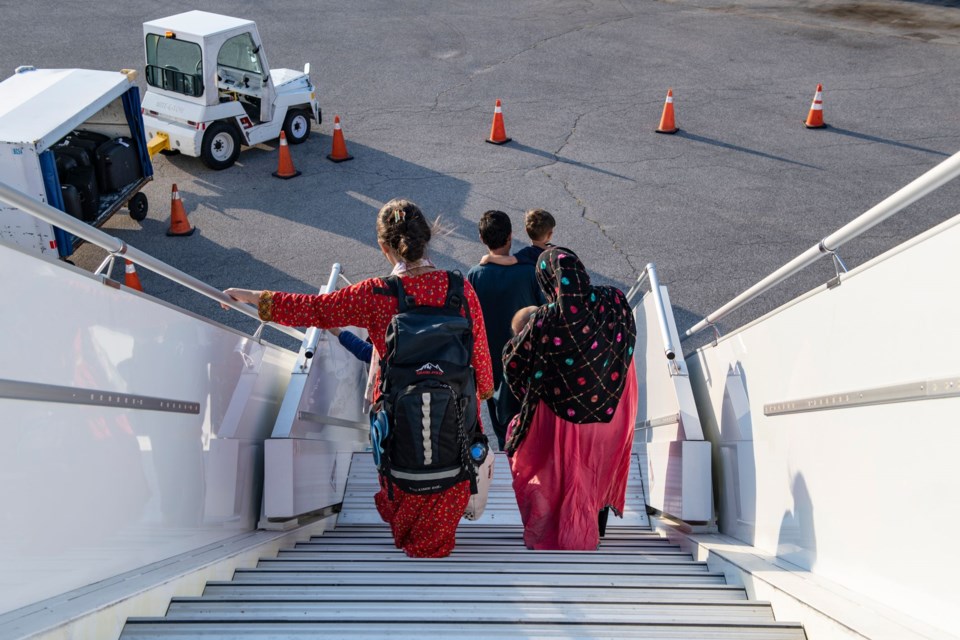 Meanwhile, the agency that has helped Ahmad's family resettle in B.C., along with other Afghans that have arrived since August, is overwhelmed with interest from citizens to assist the newcomers.
That includes more than 500 Canadian Forces veterans living in B.C., many of whom served in Afghanistan, said Chris Friesen, the chief operating officer of the Immigrant Services Society of B.C.
A survey is being done to assess what level of assistance the veterans can provide.
One of the biggest challenges for the agency is finding permanent accommodation for the Afghans in one of the world's most expensive regions, with Friesen pointing to the ISS of B.C. website for details on housing needs, if citizens want to help.
"This has been our most immediate call to public action," he said, adding that the agency recently met with developers and has spoken to B.C. Lt.-Gov. Janet Austin about finding homes.
"Everybody that I've spoken to wants to help, and we're just trying to figure out a mechanism to bring folks together in a room to really crack this nut."
'Constantly changing situation'
While there are parallels to the intake of Syrians to B.C. in 2015 and 2016, Friesen said the resettlement of Afghans in the region has brought other challenges, including no pre-arrival processing done in Afghanistan.
Medical exams, background security clearances and immigration-related requirements were all completed when the first group of Afghans arrived in Toronto, many of them landing with "only the clothes on their back."
"So it is a very fluid, chaotic and constantly changing situation," said Friesen, noting the agency had staff on the ground in Toronto to assist with the transfer of Afghans to B.C. "We don't know from day to day whether the manifests we get around arrivals are actually going to show up. We don't know today how many Afghans will eventually land in B.C."
Coupled with that unknown is the fact the Canadian government has yet to provide the public with information about the ability to name and sponsor an Afghan refugee who doesn't fall under the current category of people airlifted from Kabul.
"If you and I joined together and submitted an application to an Afghan overseas, the current processing time is upwards of two years," Friesen said.
"So you're talking about the private sector, citizens, faith communities, Canadian veterans all wanting to sponsor an Afghan refugee and not understanding the challenges with our existing program."
The system is in need of some "political Drano," he added, saying the government has to accelerate processing times, particularly if the newly re-elected Liberal government wants to keep its election promise to increase the number of Afghans welcomed to Canada.
Friesen said he had a phone call from a major Canadian company two weeks ago that wanted to "bank roll" 150 Afghan families. Another offer was for $50,000 to sponsor a family and get them settled in the region by Christmas, which under the current system won't happen.
"So the offers, the generosity, the public support for the emergency special initiative is great, but we lack the details of how the government is going to prioritize Afghans," he said, noting the recent election campaign hampered communication with the federal government.
For now, the agency has no capacity to address the outpouring of donated goods, furniture, clothing and toys, said Friesen, adding that the focus is on providing gift cards, with details on how to do that on the agency's website.
'The country is a century back'
Meanwhile, Ahmad is eager to find a permanent home for his family and get his children set up in school. He and his wife also want to participate in English classes, although Ahmad's command of the language was at a high level while speaking to Glacier Media.
He wants a job — "not a passionate job, or luxury job, but a job that I could get my life going on." That comment led him to reflect on the progressive work he was involved with for 20 years in Afghanistan and suddenly had to leave behind.
"When you hear about what happened in Afghanistan, I'm sure you're upset," he said. "I will tell you I worked from the top of my heart and I put everything into working for freedom of expression. Now it is damaged. It is really hard for me."
Added Ahmad, who got emotional as he completed his thought: "Our politicians ruined and they destroyed everything, including the hopes of the people and the will of the people and the life of the people. The country is a century back."
As the interview came to a close, Ahmad wanted Canadians to know that he is grateful to begin a new life in this country and he promised that his children — some of whom were in university in Afghanistan — will contribute to society.
"This is very important to me — that the contribution I received will be compensated by the contribution my children will give," he said. "When I receive kindness, my children should give back this kindness."