The Weather Network advises British Columbians to brace for more wet weather as a series of storms moves into the region.
Following weeks of unprecedented flooding, the forecast includes heavy rainfall from Wednesday (Nov. 24) through Friday as two storm systems move into the province. The first system will move into the north and central coasts, then head into southern B.C. by Wednesday night.
Flood-stricken regions could see 100 to 200 mm of rain by Friday night, which could further delay recovery, notes a news release. However, the Lower Mainland, including places such as Abbotsford and Hope, will likely see a lesser amount of rainfall (40 to 80 mm) by the week's end. Still, this could likely worsen recovery efforts.
Rainfall and wind warnings, as well as special weather statements, are in place for the coastal sections and Lower Mainland. Non-essential travel restrictions remain are also in place for several highways impacted by floods.
Thursday & Friday: quite an ordinary atmospheric river (still impacts). Saturday/Sunday's system is more sinister; tropical moisture from SE Asia merges into the moist flow from Hawaii. Touch and go, B.C. #BCStorm pic.twitter.com/0ou0qWzTQB

— Tyler Hamilton (@50ShadesofVan) November 24, 2021
Canada sandwiched between atmospheric rivers
The Weather Network highlights how atmospheric rivers form in both the Atlantic and Pacific oceans and can occur simultaneously. Currently, Canada is sandwiched between atmospheric rivers on the east and west coasts.
Powerful atmospheric rivers can deliver catastrophic rainfall amounts in the hundreds of millimetres, causing devastating flooding and wreaking havoc on infrastructure, like the recent event in B.C.
While they are always a part of our atmosphere, report authors note that they reach their highest intensity in the fall and winter seasons, "when the temperature contrast between the balmy tropics and the frigid Arctic is at its strongest."
The difference in intensity "comes down to duration and elevation."
Atmospheric rivers: The west coast vs east coast
In B.C., atmospheric rivers usually last longer because the "warm, moist water is west and south of the land mass. In general, we know the atmosphere likes to flow from west to east, so these atmospheric rivers can be particularly stable and long-lasting."
On the east coast, atmospheric rivers last a shorter time and "tend to sweep across the coast more quickly since the warm, moist water is south of the land mass."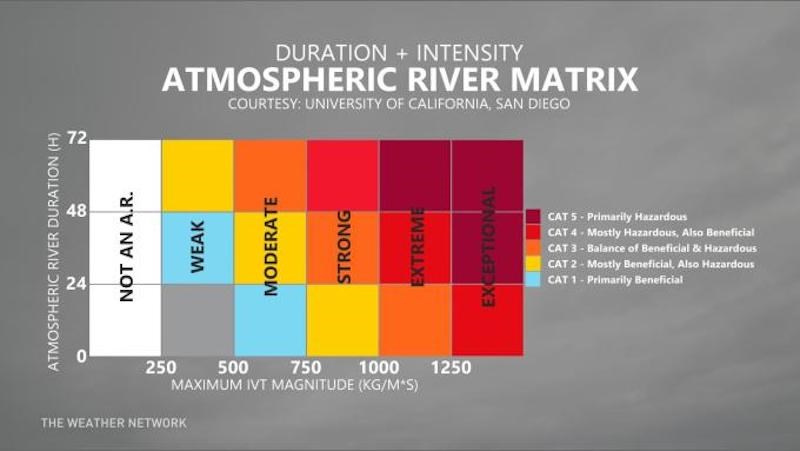 B.C. also has more intense atmospheric rivers because of its highly mountainous terrain. For significant rainfall, there needs to be a "hoisting mechanism -- moisture combined with lift equal precipitation."
The west coast has much bigger mountain ranges, so the "orographic boost is stronger," and more moisture is extracted from the atmospheric river to fall as precipitation.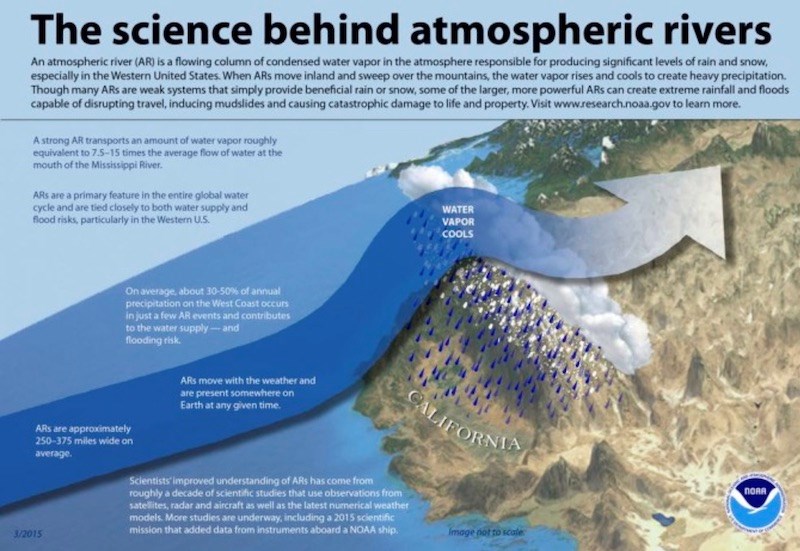 Environment Canada is currently creating its own Impact Based Rating Scale for atmospheric rivers that builds on the Atmospheric River Matrix. It will include the current air scale: moisture intensity and time; antecedent conditions: total runoff, maximum hourly rainfall, region size and more; and also consequences based on the scale rating.
The Weather Network notes that the antecedent conditions are "vitally important when forecasting floods."