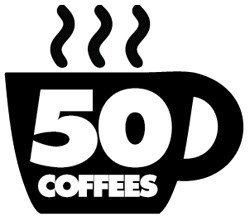 I recently read a theory that going for 50 coffees with people you've never met is the entrepreneurs equivalent to the theory that doing anything for 10,000 hours will make you an expert on it. While I get the idea, 50 coffees is far easier than practicing something for ten years, and while I'm far from lazy I've decided to set out on a fairly simple mission: over the next 50 weeks I'm going to invite 50 interesting Vancouverites, most of whom I have never met before, to go for coffee. I'm going to use this as an exercise in networking for myself and for V.I.A. while also using it as a platform to introduce you to some people who are doing really cool stuff in the city you live in.
COFFEE #25
Name(s): Chris Kelly, John Paolozzi and Brad Frenette
Occupation(s): CBC Music Community Producers
Beverage(s): French press Railtown blend (Chris), "something medium" (John), Dark roast - black (Brad)
Meet Chris, John and Brad. Community Producers for CBC's newest online music offering (appropriately entitled CBC Music) they each head up different online communities within this digital beast of a service that our national broadcaster launched this week. Essentially what they've gone and done is replicated the success of CBC Radio 3, which has built up an amazing community amongst people who like/listen to/support Canadian Indie music, and spread it out to practically every different genre of music that is made in this great country. I hinted at this no-longer-top-secret project on Week #15 when I had coffee with Steve Pratt over there and am now happy to be able to introduce you to three of the twelve people who produce for the separate categories.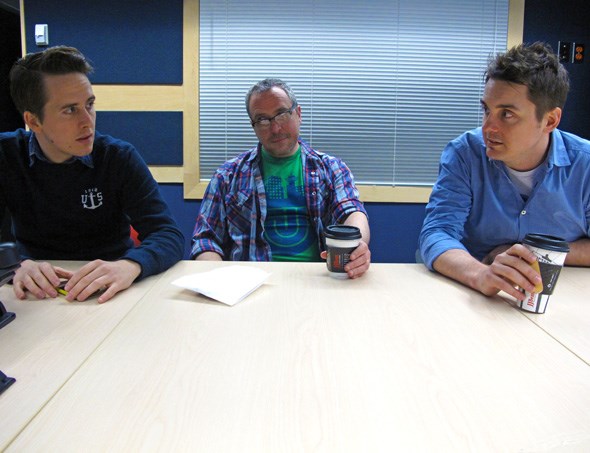 So let's start with Chris on the left. You might recognize him as Grant Lawrence's former on-air producer and also the producer of the best fake news show on the planet, This Is That. I've introduced you to him before. He now produces two of the CBC Music communities: Rock and Pop.
In the middle, John Paolozzi. John is a longtime CBC Radio 3 behind-the-scenes online producer kind of guy whom I don't think I've ever introduced you to before. He and I share a love for the outdoors and log cabins (which I'll expand on at a later date) and he handles the Radio 3 and Electronic communities.
And finally, Brad Frenette, on the right. I had actually gone for one of these 50 Coffees with Brad a couple of months back when he worked for the Vancouver Sun but as you might imagine I go for a lot of coffees and there's a bit of a queue of these features that go up weekly. He resigned and took on this new position producing the Singer-Songwriter and Country communities for CBC Music before I could publish the picture I shot of him in one of the Vancouver Sun board rooms with Canada Place as a backdrop.
There are nine other folks stationed across the country that produce and manage the other genres represented on 40 music streams on the CBC Music web site. Click over there, find your favourite genre and dig in to being a part of the new online community that supports it!