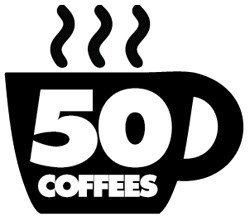 I recently read a theory that going for 50 coffees with people you've never met is the entrepreneurs equivalent to the theory that doing anything for 10,000 hours will make you an expert on it. While I get the idea, 50 coffees is far easier than practicing something for ten years, and while I'm far from lazy I've decided to set out on a fairly simple mission: over the next 50 weeks I'm going to invite 50 interesting Vancouverites, most of whom I have never met before, to go for coffee. I'm going to use this as an exercise in networking for myself and for V.I.A. while also using it as a platform to introduce you to some people who are doing really cool stuff in the city you live in.
COFFEE #4
Name: Kim Ridgewell
Occupation: Designer at Rethink
Beverage: Soy latte
Meet Kim Ridgewell. Designer by day, designer by night, Kim is one of the dedicated, passionate and talented team members over at Rethink. If you haven't heard of them they're a groundbreaking advertising, design and digital agency which was born and raised in Vancouver and now has a second office in Toronto. I was excited to get a tour of their office on Granville which turned out to be exactly the kind of casual environment I imagined it would be: tons of open space, friendly faces, stocked library, a drum kit, ping pong table in the board room... and a Lego room. Yes, a room that has a massive box full of Lego pieces that you can apply to the walls, as seen in the photo below. That pretty much sums it up but HERE is a full history of the agency and HERE is a link to some of the more recent work that Kim and the other Rethinkers have produced. Stay tuned for more from Kim as I've also wrangled her into working on a Proof feature for us!