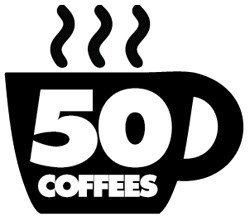 I recently read a theory that going for 50 coffees with people you've never met is the entrepreneurs equivalent to the theory that doing anything for 10,000 hours will make you an expert on it. While I get the idea, 50 coffees is far easier than practicing something for ten years, and while I'm far from lazy I've decided to set out on a fairly simple mission: over the next 50 weeks I'm going to invite 50 interesting Vancouverites, most of whom I have never met before, to go for coffee. I'm going to use this as an exercise in networking for myself and for V.I.A. while also using it as a platform to introduce you to some people who are doing really cool stuff in the city you live in.
COFFEE #5
Name: Wayne Williams
Occupation: News Director
Beverage: Water
Meet Wayne Williams. As CBC Vancouver's News Director he heads up all things news on all of their platforms including TV, radio and online. He originally hails from Alberta but has called BC his home for decades, working as a journalist in Victoria and Vancouver, then as a producer and he has most definitely earned his way into the Director's chair. It was an honour and a pleasure to spend some time chatting with him about news, Vancouver, politics, our families, and ways that V.I.A. and CBC are going to be partnering in the future!
The timing for featuring Wayne couldn't be better as you may recall the CBC celebrated their 75th Birthday earlier this week! And while I'm on the subject of timing, the reason Wayne is pictured holding his briefcase in a front row seat at a recent Canucks game has a lot to do with that as well as some incredibly good fortune on my part. We had been trying to figure out a time to meet and just couldn't seem to align our daytime schedules so, after some going back and forth, Wayne sent me an email saying he had the "CBC seats" for the Canucks game the next night and asked if I wouldn't mind attending the game with him instead of meeting at the office. He didn't have to twist my arm to accept that invitation and to my delight the "CBC seats" are arguably the best seats in the house, right behind the Canucks penalty box! The Canucks had just won the game and we were about to file out when I shot this photo of Wayne who managed to take me on what will likely end up being the most violent and sport-filled of these 50 Coffees. We'll see where the next few take me!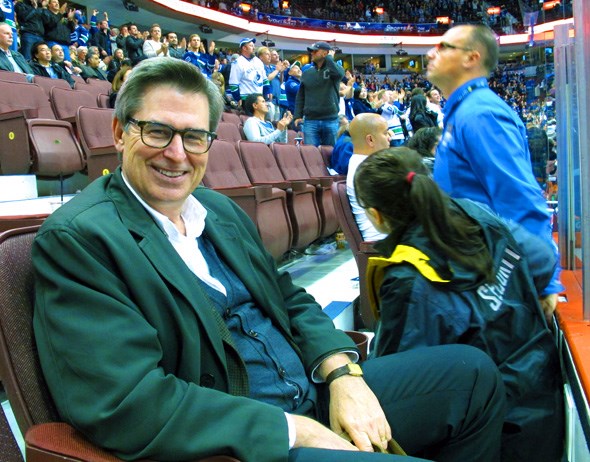 Aside from more 50 Coffees posts here on the blog, look forward to some cool partnerships between V.I.A. and CBC in the future.