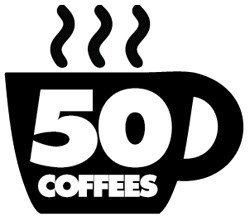 More than 70 weeks ago I embarked on a mission to publish 500 Coffees over the next few years. In this series I introduce you to interesting Vancouverites, many of whom I had never met before our coffees/meals. It's an exercise in networking for myself and for V.I.A. while also being a platform through which I enjoy introducing you to some people who are doing really cool stuff in the city you live in.
COFFEE #70
Name: Bob Rennie
Occupation: Real Estate Marketer
Beverage: Black coffee
Meet Bob Rennie. Owner of Rennie Marketing Systems, a huge supporter of the arts, a champion of Vancouver and one of the most sincerely kind humans you will ever meet.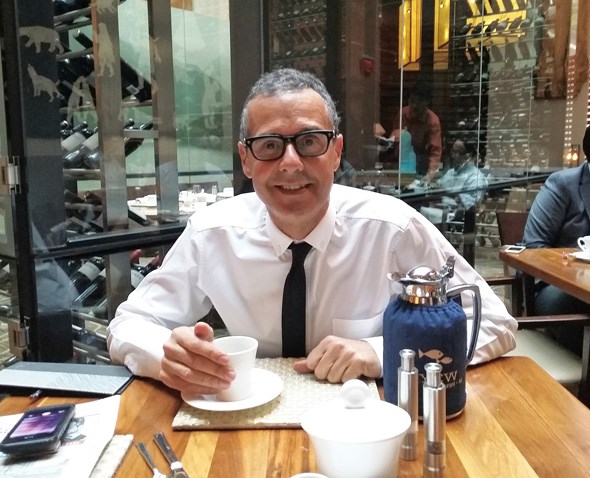 Of course we sat down for this 500 Coffees at YEW seafood + bar at the Four Seasons Hotel Vancouver. If you've been following along and you read the LAST TWO pieces in this series you'll know that Yew is now hosting us for these. You'll find Bob here at daytime meetings quite often and we were actually meeting for breakfast just to catch up - he got the cheque this time (thanks, Bob!). I haven't yet included him in this series and I have a few things I'd like to tell you about him so he humoured me with the photo above. He also insisted I put on his glasses so he could take THIS PHOTO of me. Ha!
So the one thing that you most likely already know about Bob is that he's one of the most authoritative voices in the real estate industry. You'll often see him quoted on the subject and profiled in the media, he's usually near the top of Vancouver Magazine's Power 50 and every year he does a sort of "state of the union" address to an organization called the Urban Development Institute where, at a grand luncheon, he shares a ton of research and insight with hundreds of executives involved in land development and planning in BC (okay, maybe you didn't know about that last part unless you're involved in real estate).
Beyond all of that is a side of Bob that you don't hear as much about. Back in 2010 we shared THIS INTERVIEW where we dug into the Rennie Collection which is the gallery he opened in Chinatown and that anyone can access for free. He owns one of the largest collections of contemporary art in Canada and this gallery is essentially a gift to Vancouver which we can all enjoy in the renovated heritage Wing Sang Building.
At breakfast we talked a lot about family, the media, and travel. We talked about his support for Christy Clark in the last provincial election, of my support for her rival Adrian Dix, and about how we both love the pie at Aphrodite's. I'm not often sitting down for breakfast with folks as successful and influential as Bob but in my experience there are generally two types of people in his position: there are merciless leeches who would step on their grandmothers to get a leg up and save a penny, then there are the total opposites of that who give back and who succeed not due to ruthlessness but because of the way they work with people to make great things happen. It also helps to be a genius, and I imagine that every time this dude shakes someone's hand the person on the receiving end soon realizes that he encompasses a sort of kind work ethic that only the most ultimately thoughtful humans employ. That's Bob Rennie to me - an inspiring individual which Vancouver is lucky to have in its corner.
Bookmark RennieCollection.org to keep up on the latest exhibitions in his gallery and if you're ever looking at real estate in Vancouver be sure to visit Rennie.com.
And stay tuned for 430 more Coffees! Check out the caffeinated archive HERE.