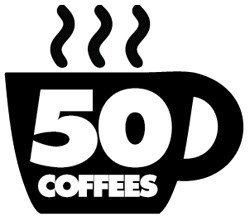 A couple years ago I decided to publish 500 Coffees over the next few years, introducing you to people who are doing interesting stuff in and for the city you live in. This is COFFEE #79.
Name: Rob McLaughlin
Occupation: Regional Vice President of Editorial
Beverage: Latte
Meet Rob McLaughlin, Regional Vice President of Editorial for Postmedia. When it was recently announced that the Canadian news giant was going to be combining its newsrooms in major markets where they own two daily newspapers - Ottawa, Calgary, Edmonton and Vancouver - in the press release they mentioned that he's the guy leading that change in Western Canada. I was intrigued to meet him and talk about the tough job ahead, so I took him for a coffee at Caffe Artigiano on West Hastings. Actually he sort of took me for coffee; he paid for it, and I imagine expensed it to Postmedia. If there's one thing I know about newspapers and the folks who work for them it's that one cost they'll never cut is the coffee budget!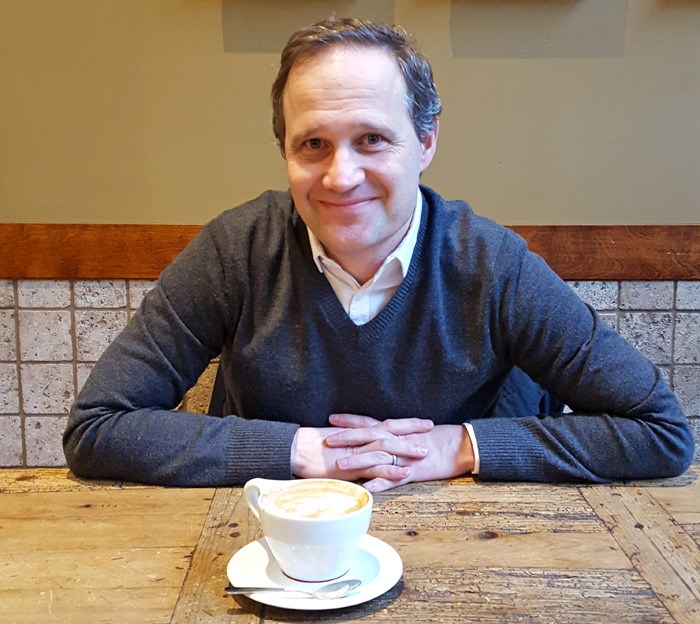 Reading the official word from Postmedia I got the impression that Rob was being brought in as an agent of change but what I found out is that he's worked in the same position for years, and his job won't actually change that much. He manages their dailies in Alberta, Saskatchewan and BC as well as 32 weeklies in the Western market, and that's not changing. People like Wayne Moriarty and Harold Munro (editors of The Province and the Vancouver Sun) report to him as he manages the ongoing operations of the two newsrooms here in Vancouver, which they're working to bring together into one over the coming months.
I read both papers and if you do too I imagine you've noticed that they run a lot of the same stories. As a business owner I can understand the decision to bring together two newsrooms and streamline them to cut overhead but as an editor I don't envy Rob's job in having to work out the kinks and manage what could possibly be storms of politics and egos colliding. Right now the two operate separately and it remains to be seen how they're going to combine them. I hope to bring you an update when that happens, but it actually doesn't involve a "rewrite desk" as has been reported.
We talked a lot about the present and the future of Postmedia, but also about what we're doing here at V.I.A. and what others in the market are up to. He had done his homework before we met, reading this piece I wrote about Vancity Buzz having "no competition", part of my ongoing series looking at the local media. We discussed the online property's massive growth and the difference in the types of measuring sticks being used to define success. I often look at traffic and Facebook Page Likes as the key indicator but my view on that is ever changing; as the editor of The Tyee pointed out in this feature Vancity Buzz is "growing traffic any which way", which might not be the most sustainable business model. I asked Rob what the main measuring stick is at The Province and Sun and he told me it's the quality of local journalism that they're able to produce. It'd be hard to argue that these two papers don't lead when it comes to local journalism, but quality of your product and your actual positive impact on the community is a lot harder to measure than clicks. Plus, standing alone, the two papers are profitable.
He conceded that the quality of the experience on their websites is... well... lacking, and all of you who have experienced the pain will be happy to know they're working on a solution right now. He didn't give a timeline but it's nice to know that something people have been complaining (quite loudly) about is being addressed.
People love to hate their local papers, and there's no better example of that than Sean Orr's frequent dumpings on the Sun and Province (and others) in his regular column for the fiercely independent local web magazine, Scout. While I respect that Sean's politics might not always align with these papers wishing they would just go away is a dangerous one to make. I asked Rob point blank if he thinks that both the Sun and The Province will be around in five years. I'm worried that if either disappear that would be really bad for the city, as we need more press here to keep people informed of the real issues - which we aren't reporting about here on our lifestyle/culture publication. Rob's (informed) opinion is that the two will still be standing in half a decade's time. Something I haven't really been thinking about when I hear that Postmedia as a company isn't doing well is the fact that these two papers are profitable in themselves. It's the debt load of the company that owns them that's problematic, and it's hard for people on the outside to make that differentiation. In 18 months, if (when?) Postmedia defaults on their debt payment, that won't spell the end of our local dailies. There's no way they would simply go away; they'd get bought up and continue to thrive as individual entities or as a part of another portfolio of companies.
That's about as far as our conversation went on that, and it left me feeling hopeful for their future. I won't bore you with the latter half of our coffee where we swapped more than a couple stories about fishing and our outdoors experiences as Canadian kids, but I will tell you that Rob grew up in Saskatchewan and has caught some serious Northern Pike in his time.
Stay tuned for 421 more Coffees! Check out the caffeinated archive HERE.