Over the next few years I'm publishing 500 Coffees, introducing you to hundreds of people who are doing interesting stuff in and for the city you live in. This is Coffee #82.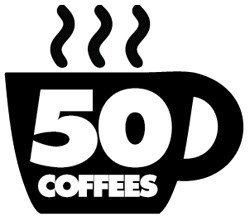 Name: Shane Woodford
Occupation: News Director
Beverage: Whiskey
Meet Shane Woodford. News Director of Radio NL in Kamloops, a former anchor/reporter at CKNW here in Vancouver, and somebody you should be following on Twitter at @WoodfordCHNL.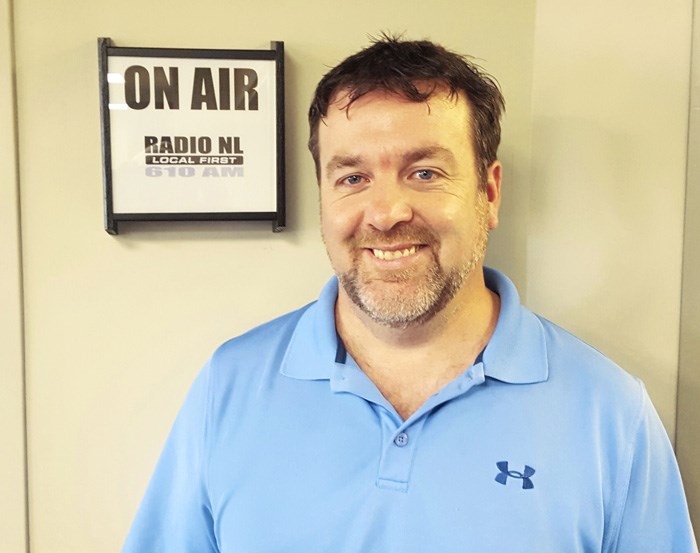 Destination BC sent me to Kamloops this past weekend to write about the BrewLoops beer festival and I was able to take some time out of my busy schedule (of drinking beer!) to catch up with Shane for... well... a beer at the hotel that I was staying at (he had whiskey and I had a Red Collar Ale). It was a stone's throw from the radio station, the brewery that made the beer I was drinking, and also walking distance from his house; while the city is fairly spread out the downtown core is much tighter than I expected. The real estate prices are what I expected (realistic), and Shane referred to the market being "like Metro Vancouver real estate upside down land".
Generally I only introduce you to people who live in the Lower Mainland in this series but Shane is relevant not only because he worked for many years on-air at CKNW and you likely recognize his name, but also because he's the one person I follow on Twitter who doesn't live in the city. My stream is mostly made up of Vancouver journalists and media outlets, with Shane as the exception as he tweets on a broad range of news topics that appeal to me as a coastal dweller and as a British Columbian in general. He's a perfectly level-headed, fair voice and when I told one of his former coworkers I was meeting with him they were delighted to hear it, telling me "He's one of the good ones".
We talked a lot about politics and the news of the day (which I won't bore you with), then about moving to this place from Vancouver. Shane was approached by Radio NL to take over Jim Harrison's position as the News Director, and though it meant uprooting his family he was up for the change, and the opportunity. If you've ever listened to this station you know the name Jim Harrison, as he's been at it for decades and is somewhat of a legend in the area. Shane steps into some big shoes over there and as "one of the good ones" you know he'll fill them perfectly. He's not only the News Director but you'll find him reporting and anchoring on-air and doing regular afternoon segments discussing the news of the day.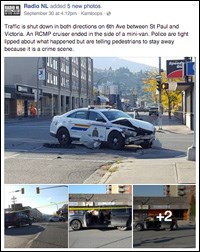 As coincidence would have it, the day after we met for a drink I happened upon some breaking Kamloops news as I was puttering around town. A police cruiser had t-boned a minivan at an intersection I came up to, so I shot some photos of the scene and sent them to Radio NL. They were already aware of the news and were making calls, and they posted my photos to their Facebook Page. Soon after Shane invited me to check out the studio, where I captured the above photo of him (as in, he wasn't drinking whiskey in the office! We met on two separate occasions).
Next time you're rolling through (or stopping in for a few days for a beer festival, or a tournament - they are the "tournament capital" of Canada) tune in to 610 AM and get caught up in what's happening in the interior, and our province. Meanwhile, follow Shane at @WoodfordCHNL.
Stay tuned for 418 more Coffees! Check out the caffeinated archive HERE.