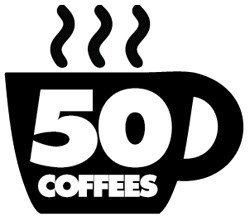 Name: Jessica McDonald
Occupation: CEO
Beverage: Black coffee
Meet Jessica McDonald. President & CEO of BC Hydro and, according to Vancouver Magazine, currently the 13th most powerful person in our city. We met for coffee at BC Hydro's head office at 333 Dunsmuir.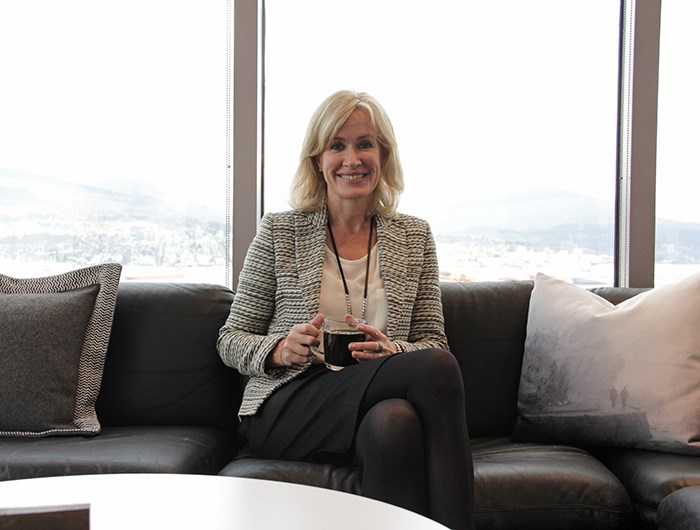 As I did in this opinion piece, I should disclose my bias towards our province's electric utility. My father is an electrician as was his father before him; my grandfather fixed plane radios in the second World War and went on to wire people's homes, and my dad has run his own electrical contracting business since I was born. BC Hydro advertises with V.I.A. from time to time and, in one way or another, electricity has put food on the table my entire life. I fish and camp on their reservoirs often and from an ideological standpoint it inspires me that 98% of the power they produce is renewable. I'm a bit of a super fan and was thrilled to be able to spend some time chatting with the person who heads up the organization.
We covered a broad range of subjects during our conversation. Travel in BC (she's visited pretty much every town in the province), Site C (her main focus for it is making sure they "deliver the project really well"), her previous work (she was Head of the BC Public Service for years and feels privileged to serve), the decommissioning of the dam on the Salmon River on Vancouver Island, and more.
As a rule I don't prepare interview questions for these coffees but I've usually got an angle I hope to pursue. With Jessica it was regarding her twitter account and whose idea it was to get it going. Traditionally it seems like the only time the general public has heard of or from any executive of BC Hydro has been when they're defending an unpopular decision or they're stepping down amid controversy. She flipped this on its head when she was brought in as CEO, making herself more available and visible IRL than her predecessors by doing talks and making appearances, and getting onto Twitter seems to be the evolution of that. By signing up as @bchydroceo in June of 2016 she made herself accessible to everyone as well as sharing a glimpse inside Hydro as a whole, and her work as its leader. I had pictured this being the work of a PR and marketing team putting their heads together in a strategy room over weeks but as it turns out she simply wanted to do it, so she did.
She's the only person with access to her account and she tweets timely stuff about outages, behind-the-scenes photos and videos from some of their many employees as well as #TBT posts showcasing photos and insight from their archives, which are deep. Her most popular updates are about the falcon that likes to hang around outside her 18th floor corner office overlooking Burrard Inlet. This one below has nearly 2,000 Likes, more than any tweet we've ever sent out from our @VIAwesome account!
While we were having coffee I checked out the falcon's roost he's pictured on above (literally right next to Jessica's desk), but he was nowhere to be seen. I did capture this photo of the view beyond it though (!!!), and am looking forward to seeing more of her feathered friend (and hydro insights) online.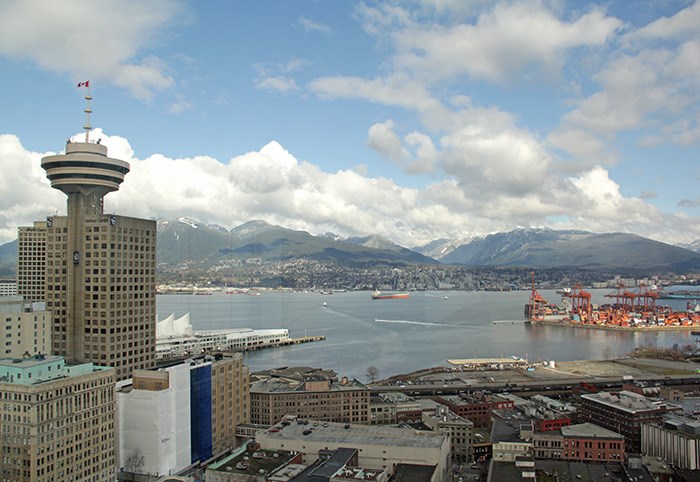 Follow Jessica at @bchydroceo. And stay tuned for 416 more Coffees! Check out the caffeinated archive HERE.