This year we've partnered with our friends at Granville Island on a series of videos (hosted by yours truly), where we're sharing some of the most awesome stuff happening down there. While we were filming I learned a TON about this gem of False Creek so over 12 days we're also bringing you inside with a series of blog posts.
We figured we'd take a break from shopping and share 7 semi-random facts and things to look out for when visiting this historical island on False Creek.
1. Look for the Signs
Signs from Granville Island's industrial past can still be found if you know where to look:
Canada Chain & Forge sign
Just above the Bank Machines beside Edible Canada (also look for the giant chain link mounted just inside the parkade entrance, they found it in the ground when the building was renovated a few years ago.
Spear and Jackson Saw sign
It is very faded but if you catch the angle just right the back side (facing Sutcliffe Park) of the False Creek Community Centre still has the old signs of its former life
c. Sidney Roofing and Paper Company Sign – at Whet restaurant at the entrance to Granville Island. This piece was hidden for many decades under a false facade and wasjust recently uncovered.

2. The cranes of the Island
The big yellow crane just East of Emily Carr is probably the biggest thing on Granville Island that most people miss. This crane was preserved as part of the Island's industrial past, but also has been the site of cultural performances, their giant Canadian Flag that comes out on Canada Day and the Yellow Crane Arts Festival that showcases the works of Emily Carr students and alumni every August.
The Public Market's 10-ton hoist is in the centre of the Market but also rarely noticed. Visitors are usually too enthralled by the food and craft on display at eye level, that few look up and see this remnant of the building's past as a cable and rope factory. Look up! It's right there above your head.

3. The longest running business that's still running.
Micon Products in Railspur Alley first opened in 1960 and continues today. Their business is making drill bits and other supplies for heavy industry like mining. You can see them working through the large windows that line the back of their workshop.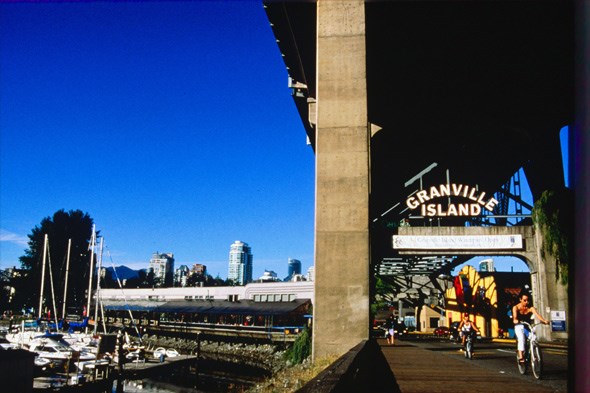 4. Yes, Granville Island did start as an island.
Granville Island is man-made, created through dredged fill from False Creek that turned 2 sandbars into a 36 acre island. Then, many years later, the area that is now called Alder Bay was in-filled to make a fishing terminal that was never built and the "island" was no more. Although much of the in-fill was later removed, the area that is now Sutcliffe Park remains to tie Granville Island to the mainland.

5. Fire!
Over its history, Granville Island has had a number of dramatic fires. The most memorable was the fire in Wright's Ropes in 1953. Wright's building eventually became part of the Public Market when the Island was redeveloped, but their history lived on. In 2012 when the Public Market was being re-roofed a few small remnant blackened timbers of the 1953 fire were discovered in the roof structure.

6. Old Bridge Street
This central street of Granville Island is aptly named as it marks the location of the previous Granville Street Bridge. The new bridge was opened in 1954, and the old bridge was removed but left us with Old Bridge Street.

7. Bill Reid's Studio
The great Canadian Haida artist Bill Reid had his studio on Granville Island. The space is marked with an historical plaque on the exterior of the John Nutter Studio in the Net Loft.

Learn more about everything Granville Island giving HERE and be sure to check back tomorrow as we'll be introducing you to some of the present-day personalities on the Island.