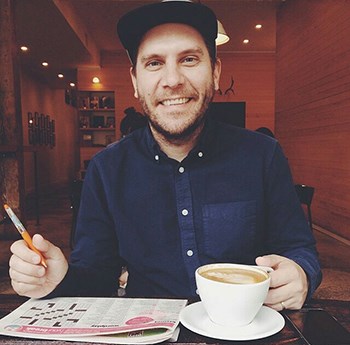 Back in 2008, I launched Vancouver Is Awesome essentially on a whim while working as a freelance creative director. This thing has since grown to be one of the most popular online publications in BC as well as a successful business with zero debt, yet its business success wasn't entirely on purpose. I've learned a ton of lessons while bringing it to where it is today, turning a passion project into my main focus.
V.I.A.'s inception came when I moved back to Vancouver from Los Angeles after working there for a few years. I was so excited to be back in this awesome city, but I wasn't seeing much in the local media that celebrated its upsides. So I launched this project as an outlet in an attempt to curb that negativity and remind everyone (including myself) why we choose to live here.
Much to my surprise, it caught on quickly and within 6 months, it had grown to the point where it was taking up half of my workday. So I scrambled to make a business of it and I haven't looked back since.
I've been an entrepreneur as long as I can remember. Like all kids, I ran multiple lemonade stands in my childhood and, as I hit my teenage years, I started throwing projects at the wall to see if they'd stick. At 15, I ran a semi-legal skateboard shop out of the basement of my parents' home, finding a niche as there wasn't an actual skateboard shop in the small town I lived in. At 18, I taught myself how to sew and produced a small line of jeans that I sold locally (I know, that sounds random!). In my 20s, I started the first online skateboard magazine, then sold it to some dot com investors and moved to LA where I helped streetwear and skateboard companies establish themselves online. I then started a t-shirt company that wound up selling in Urban Outfitters, Giant Robot and Collette in Paris.
The better part of my 30s was spent building up this publication you're reading right now, and I couldn't be happier with where it's at. This is truly the most rewarding job I've ever had, and not just from a financial standpoint.
However, being an entrepreneur running a successful company doesn't mean I get to muck around and do nothing all day. It's a ton of work, and that work never ends. It's stressful being the one who has to ensure that everything is going smoothly, and to add to that stress, the guarantee of a regular paycheque or benefits is never there.
But the pros far outweigh the cons: the work is something I love doing, so it doesn't feel like work; it simply feels like a different challenge every day, so it rarely gets boring. And when it does start to bore me, being an entrepreneur means I can simply find something new and exciting within the business and chase it. The best part, though, has to be the freedom. I am absolutely free to do whatever I like with this business, while of course answering to my staff, readers and clients – whom I'm eternally thankful for.
I took the long way here (perhaps too long!), but want to share a few tips I've picked up that I feel might be helpful for entrepreneurs just starting out:
1. Plan ahead.
I'm putting this one first because it seems like a no-brainer, but it took me years to really appreciate the value of a rock solid plan before launching a company. I fumbled with our model and managing our business for years and now finally, 8 years in, things are rolling smoothly. If you want to save yourself a half a decade and get a leg up, consider a program that will teach you the skills you need (so you don't have to figure it out all by yourself).
2. Hire a good accountant and an even better bookkeeper, so you can focus on running your business.
It took me 5 years to find the perfect bookkeeper, but I was fortunate to bring Judy in. She came in and whipped our books into shape. She answers my dumb questions – ME: "Can I write off haircuts because I'm hosting our TV show and technically have to have nice hair?" JUDY: "No, but we can pay for it and put it towards your shareholder's loan." She also coordinates with our accounting firm who does our taxes, saving me from being bogged down by this part of the business that I do not excel in nor enjoy. She's the cornerstone of our business and I can't imagine not having her.
3. Delegate as much as you can.
Going back to point 2, bringing on people to lighten the load can be the difference between you running ragged and always playing catch up versus actually being able to work on your business. One friend of mine who runs a local company shared a surefire way to keep this top of mind: he made up business cards for every one of the tasks that he was in charge of when he first started his business. As his business grew he slowly began giving the cards away – like "Marketing Manager" was on his plate in the beginning but he was able to make a hire and get rid of that card, giving it and its responsibilities to somebody else. Eventually he wound up with one business card that says "President" on it, and to this day he mostly does president-y things, trusting his team to run the company day-to-day.
4. Network, naturally.
In my work I'm lucky that I meet new people all the time for stories we're working on. I wind up hitting it off with some of them and they become a part of my expanding network. But when I'm not in front of people for stories, I go out of my way to reach out to people who I could see us working with in some capacity in the future. There are a lot of networking opportunities and events that just feel greasy, and I steer away from those as much as possible. Build your network naturally and you'll end up with better relationships in general.
5. Take a shortcut.
There are no shortcuts to success, but having a leg up helps. I've hacked my way into every business I've run. Through my work, I've managed to connect with a lot of like-minded entrepreneurs and gleaned knowledge from all of them – the people around me are the secret to my success. But it has taken me decades to get here, and many of the lessons I've clunkily picked up along the way are ones taught in Royal Roads' BCom program.
6. Take time to reflect.
It's easy to get stuck in the day-to-day with your head down, getting sh*t done. It's also easy to miss opportunities to improve your business if you don't take the time to step back from it and work on improving it. Taking time out to reflect on where your business is at, where it has been, and where it's going are key to future improvement. And that's what it's all about.