The 13-year-old Subway restaurant on West Broadway between Yukon and Cambie streets is set to permanently close Jan. 27 after suffering for months from slow pedestrian traffic caused by fencing and noise from Broadway subway construction, according to co-owner Sandy (Surinder) Sangha.
What makes matters worse is that Sangha's landlord has told her that were she to stay, her rent would go up 50 per cent – to around $8,550 per month starting in March.
"We put [the business] up for sale but there was no interest because of the Broadway project," she said.
Sangha said she sells about $350 to $400 worth of sandwiches, drinks and cookies each day, with most of those sales coming between noon and 2 p.m. even though the store is open between 10 a.m. and 9 p.m. She and her son are the only ones who work at the business.
Years ago, her sales would be in the $1,200-per-day range.
In the last few months, she has been paying bills from a line of credit and has borrowed money from her sister, she added. She said that she has borrowed about $50,000.
Sangha said her restaurant was profitable for many years, up until 2019. The COVID-19 pandemic then hurt sales as fewer people were working in offices and going out at lunch to buy sandwiches.
Many people returned to offices at least part time in 2022, but then fencing went up along West Broadway as construction workers helped build the street's subway line.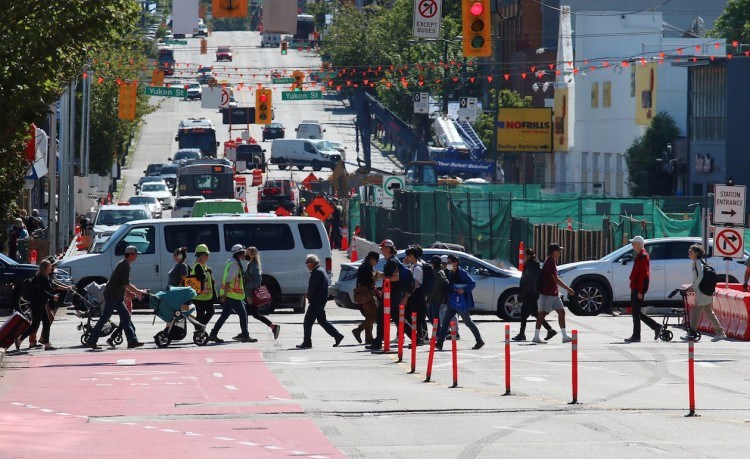 Much of the subway line's construction was made via a bored tunnel, but there was still street disruption, and metal fencing up against the sidewalk making the street unpleasant to walk along, said Sharma, 55, who owns the franchise with son Jaspreet Sangha.
She said the city is providing no compensation for the diminished foot traffic outside her door.
The process to shut the restaurant is straightforward, with no compensation to the parent Subway company. Subway had been taking an 8.5-per-cent royalty and a 4.5-per-cent fee for advertising and marketing off of her revenue.
She owns the equipment but she is not optimistic that she will be able to sell it.
"Everything is old, so everything is garbage," she said.
She does not know what she plans to do next, but will soon be looking for work.