I was doing my weekly shopping at Donald's when I noticed a late thirties semi cracked out lady scurrying around looking for something.  I found this pretty disruptive because usually at that place it's pretty...'you're in my way..I'm in your way...no biggie...we're getting through this....'
'Does ANYONE know where the KALE is?!?!'  She cried out rhetorically.  As if I know what Kale is...I barely know what rhetorically means....it amazed me she knew what Kale was....
I grabbed all my groceries and waited in line, sure enough the lady pulls up behind me.
'I WISH SOMEONE AROUND HERE SPOKE ENGLISH!!'
Oh..sarcasm sense is tingling....suddenly my brain goes into high gear....ZINGER ALERT!  Semi racist, loud comment in highly localized spot in East Vancouver...Oh man..this could surpass the "If I had a smart ass I could sit on ice cream and tell you what flavour it is." comeback in grade 8 math.   Come on dude....THINK!  Anything.....you hit this and for the rest of the time you're in line....you're the King of Kensington.
Nope....I had nothing....
I had nothing to the point where I was just about to blurt out...'MY DAD IS CHINESE!' (he's actually not) but instead these caught my eye....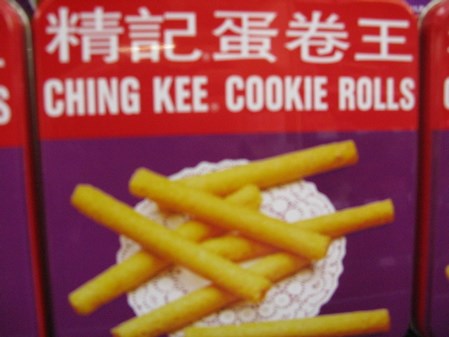 and I burst out laughing....
imagine if they came out with a whole line of racial slur food products....cracker crackers?