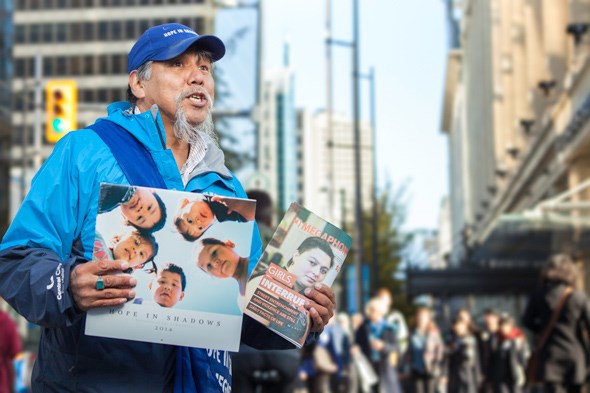 The hard working vendors who sell the Hope in Shadows calendar and Megaphone magazine on the streets of Vancouver have some slick new wet weather uniforms this year to help them combat the elements.
The new rain jackets, umbrellas and water-resistant messenger bags are a big asset for the vendors who work under all sorts of difficult weather conditions. This gear will not only protect the vendors from the rain and cold, but will also make it easier for the public to spot them on those grey Vancouver days. Funding for the uniforms comes from Central City Foundation.
To celebrate the launch of the new uniforms, we're giving away one 2014 Hope in Shadows calendar and one 2013 Megaphone Voices of the Street literary issue. All you've got to do to enter is click Like on THIS PHOTO ON FACEBOOK before 5PM on Friday, October 25th. And please look for the Hope in Shadows and Megaphone vendors on the streets of Vancouver.