When V.I.A. launched its new company Pennants of Canada last Thursday, we were basically throwing it at the wall to see if it would stick. Would this brand and product that we'd spent a few months refining resonate? Would people order these things off our site without being able to handle them beforehand? Would the investment of time and money we put into it be worth it? As it turns out the answer was "Yes" to all of those questions.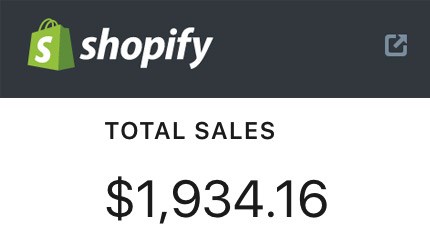 As the president of V.I.A., I'm always looking at new ways that we can grow our business. We're a publishing company so the obvious answer is to sell more advertising. And we've been doing that thanks to our amazing sales lead Jeff Leyland and our agency partners like Pressboard, but one of my personal strengths in business is doing... well... weird stuff. Launching creative entrepreneurial ventures like Pennants Of Canada is one of my core competencies, and projects like this are rewarding for me even when they don't work out financially. To put together something like this and see what other people think of it is one of my favourite exercises.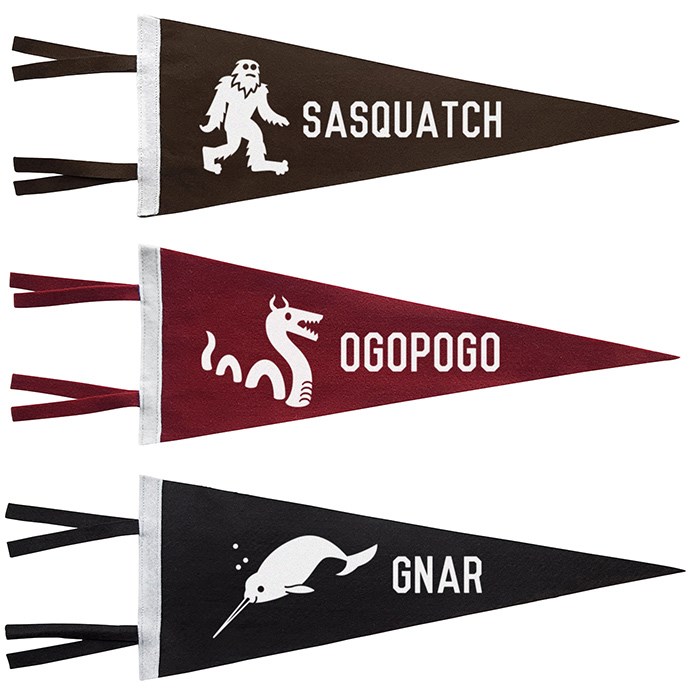 Often times when people open up an online store as a small business, they struggle to make their first sale. In fact Shopify (the Canadian company whose ecommerce solution we use) has published more than one article about how to make that single transaction happen, as well as the joys and champagne popping that can come with it. We made our first sale pretty quickly and while I'm yet to start popping bottles, the amount of sales we made after it, in our first week in business, have been super promising. We've still got a lot of work to do but all signs are pointing to us eventually spinning this off and having it be a thing all its own - right now we're running it on the books of The Awesome Media Network, the company I own that owns and runs V.I.A..
As I wrote in THIS POST when we launched, the vintage-style pennant (our first product) is close to my heart - it was inspired by all of the actual vintage felt pennants I collected for the animations and credits of our TV show, BC Was Awesome. I worked to refine our version of it (which matches the specs of my favourite vintage one) and brought it to a place where it was ready for market and, most importantly, for people's walls in their homes. I created the visual identity for our brand and got all of the designers involved (many more of whom are waiting in the wings, to be announced), sent out creative briefs, massaged concepts with them, did some of my own, locked in manufacturing and printing vendors, and finally launched our store. While all of the stuff I just listed is important to its success a crucial component is marketing (helping make that "first sale", and every one after it), which was baked in from the beginning.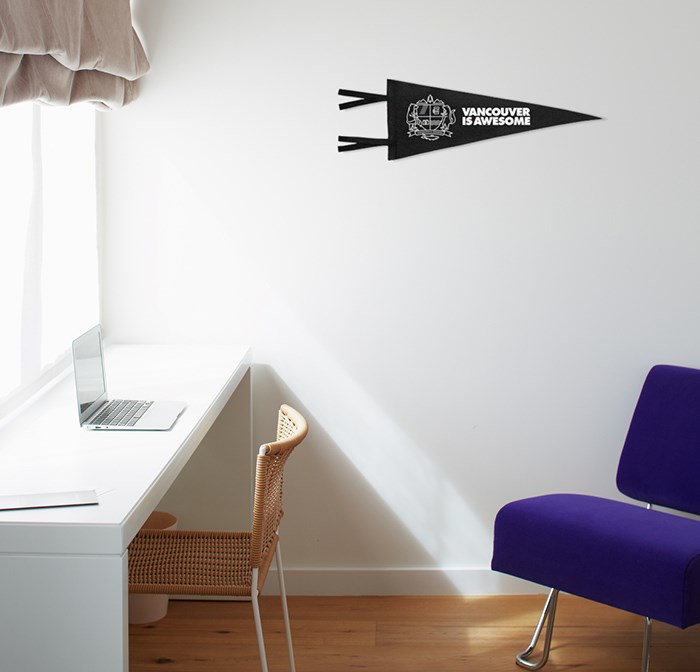 I jokingly said to a friend yesterday that our pennant company was an "overnight success" which took 9 years to build; our marketing plan for launch involved pushing it out to the readers and followers we've built up through Vancouver Is Awesome's channels over the years. The 132,000 people who Like our Facebook Page, the 112,000 who follow our Twitter, and the 58,000 who enjoy the photos and videos we post to our Instagram. The content and product ties in nicely right now as it's ours, our artists are mostly from Vancouver, we manufacture right here in the city, and I know that our readers have good taste.
The leg up we got from having an already-engaged audience from V.I.A. would almost feel unfair had I personally not put 9 years of my life into building it. The future hope is that we'll be able to generate enough content and interest in Pennants Of Canada to build up its own audience, so that it won't need to rely on its big brother but be a friendly machine all of its own.
Over the coming weeks and months I'll continue to write blog posts like this in order to give our customers and other entrepreneurs alike a look at how the sausage is made. I'll write about the ups and the downs, and I promise the posts won't all be gloating about how great we're doing (like this one is). I'm thankful for your interest, and that I may be able to pass on some insight that might help others succeed.