2015 was a pretty amazing year for Vancouver Is Awesome. I know I keep repeating this but our focus was to bring you more of what you
really
wanted to see, delivering a ton of food lists, travel suggestions, outdoors features, local events, photos, profiles of people, cheap living tips, local Kickstarter projects, history and more. A couple years ago I actually thought our traffic had plateaued but as you can see below we've seen some fairly wild growth; this year we finally broke 500,000 page views in a single month and continue to average 350,000.

In 2015 we nearly doubled the amount of Likes to our Facebook Page, which doubled the year before. Every week 650 new people found their way to our Page. Chances are you found your way to this article by clicking on a link to it from there.

Not only did we increase the number of Likes but we also hit well above our weight class having one of the best performing Pages. Up against other media in the city ours is now ranked 4th.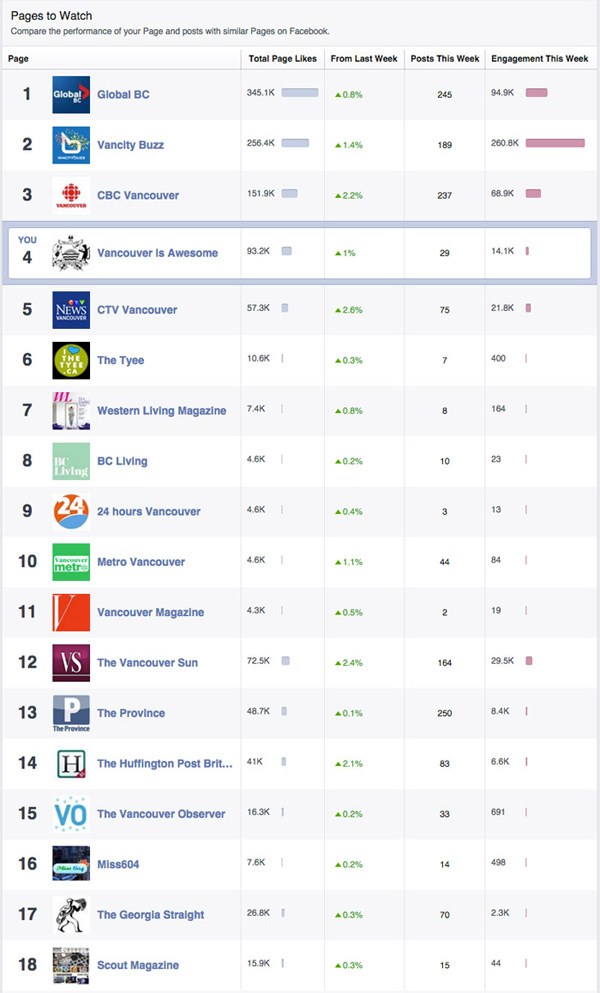 My intention here isn't to toot our own horn but to thank you as a reader for helping us get here, and to give you a look inside our business a little bit. What we do is not to be confused with journalism. Our goal as a lifestyle media company is to
only
bring you stories of the awesomeness that keeps you living in this city, despite all of the bad that surrounds you. We publish a ton of organically sourced stories that people love to read balanced alongside sponsored content, and in a perfect world for us the two of these things intermingle and become one. While we don't always nail it a really great example of this is our
On The Road
series presented by Toyota BC. We take you on road trips to spots we hope you'll visit, and a car company helps us get there. Everybody wins. One of our most popular pieces of content for the year was a
roundup of these trips
that we published back in June. The slideshow from it is below.
10 Road Trips to Take From Vancouver
By Vancouver Is Awesome
A few of our favourite places to drive to
Sasquatch Provincial Park

By Vancouver Is Awesome

Outside of Harrison Hot Springs, this provincial park has a few lakes to visit and a ton of exploring. Make a reservation HERE early if you want to do some camping!

Jones Lake

By Vancouver Is Awesome

Just past Chilliwack and up a 4X4 road, paradise awaits!

Galiano Island

By Vancouver Is Awesome

Mushroom foraging, kayaking, or just hiking around, this little Southern Gulf Island is extremely awesome and just a 1 hour ferry from the city.

Bob's Lake

By Vancouver Is Awesome

One of many spots to hit up along the Coquihalla Highway. Try randomly picking and exit in the boonies and driving down it - you're guaranteed to find a camping spot like this.

The Okanagan

By Vancouver Is Awesome

Visit wine country and Kelowna or head further North to Vernon and do some camping on one of the MANY lakes.

California

By Vancouver Is Awesome

A bit of an anomaly on this list of BC destinations, but California is well worth doing the drive at least once in your lifetime. Be sure to dip off the I-5 and see the Oregon coast!

The Sunshine Coast

By Vancouver Is Awesome

A few small towns (and lakes) dot the road along the Sunshine Coast starting in Gibsons. Spend the weekend over there, but don't be disappointed if it rains!

Paradise Valley

By Vancouver Is Awesome

Just a ways out of Squamish, Paradise Valley is a nice drive next to the Squamish River and makes a wonderful day trip filled with scenery.

Alouette Lake

By Vancouver Is Awesome

Located in Golden Ears Provincial Park, Alouette Lake is a great spot for a picnic any season of the year. In the summer they've got some great campgrounds as well.

The Squamish Estuary

By Vancouver Is Awesome

Barely a hop from the city, the estuary is a wonderful place to go for a walk and find some peace and quiet.
A small percentage of the stories we do are sponsored, in fact the average ratio is about 24 non-sponsored stories for every 1 that we get paid to post. You'll know when they fall into the latter category because they'll say SPONSORED POST or PRESENTED BY at the top of them. The flip side of the coin is when
we
sponsor things and offer major support for free to efforts we feel are worthwhile. We take our large Facebook and Twitter audience and leverage those to support organizations making your city
more
awesome. Here's a list of who we had official sponsorships in place with in 2015, many of them we've actually been supporting for years:
Creative Mornings
The Vancouver Public Library
The Vancouver Heritage Foundation
PuSh Festival
Sam Sullivan's Public Salon
Talent Time
So It Is: Vancouver
Interesting Vancouver
#SingItFwd
Vancouver Gallery Hop
Vancouver Draw Down
Vancouver Creatives 2
The PSF's Pink Salmon Festival
Vancouver Mini Maker Faire
Vancouver International Improv Festival
This Open Space
Vancouver Startup City
A Good Book Drive
ROAM Expo
V.I.A. has changed a lot since I founded it in 2008, and not just our content. We now employ two people full time as well as a few part time staff. We have an actual office, and we have legal and accounting bills. At the end of the day the advertising and sponsored content on our site goes to support my small family and others, and it allows us to keep this thing going. We're doing our best to make it as useful as we can moving forward. For you. Thanks to everyone who has followed us over the years. New readers and old, you're the reason we've been able to turn this positivity machine into an actual business. I can solemnly promise you that despite any changes our core mission remains the same: to remind you of all of the awesomeness of Vancouver.