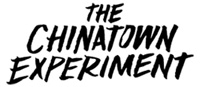 Vancouver Is Awesome is a proud sponsor of The Chinatown Experiment, a storefront dedicated to pop ups which provides anyone that has an idea and the desire to bring it to life with the opportunity to make it happen. Every time a new pop up is about to launch you'll catch a sneak peek here on V.I.A.!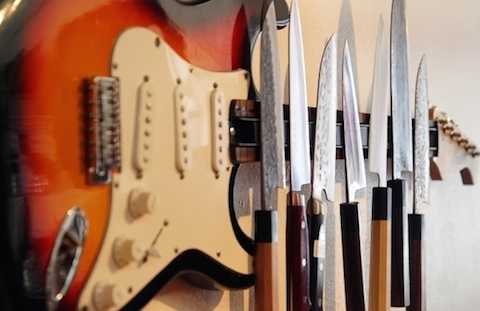 The chef-owned independent Knifewear opened in their doors in 2007 and already have fives stores across Canada from Ottawa to Kelowna. For the first time ever, owner/knife-nerd Kevin Kent is bringing Canada's first Japanese knife shop to Vancouver with a one-week pop-up.
Expect to find hundreds of knives from more than 40 of the best Japanese knife brands including, Masakage, Fujiwara San, and Moritaka Hamono. They'll also have chef-curated cookbooks, beautiful made in Canada Larchwood brand cutting boards, and exceptional kitchen gadgets. There's also the classic shave shop with high quality shaving gear; straight razors, safety razors, soaps, aftershaves, badger and horsehair brushes.
"Cooking is the new rock and roll," Kent says. "And the new black leather pants are Japanese knives."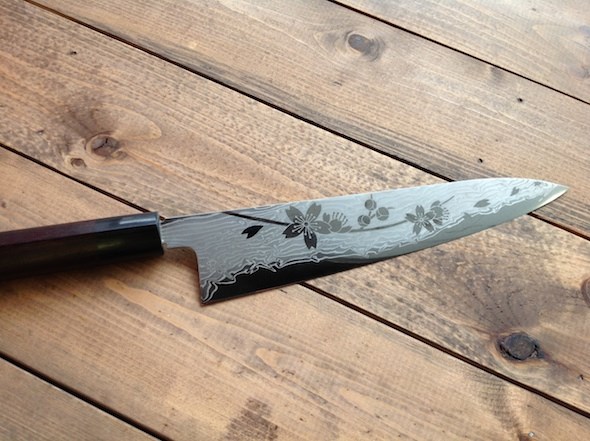 We chatted with Kevin Kent about Knifewear and the similarities between Kill Bill, Baskin-Robbins, baloney sandwiches, and Wayne Gretzky.
How did your fascination with Japanese knives begin?
Kevin Kent: I was working in London, England at a place called St. John restaurant. At a tradeshow I met a Japanese knife seller there. He had these incredible knives and I said something like, you're knives are pretty fancy and all but they're very expensive and I've got great knives and I keep them razor sharp. He said, try mine and tell me what you think. So I cut something with his knife and that was the moment when I realized I knew nothing! All of a sudden I found an incredible tool and I started swapping out all my European blades and buying Japanese ones from this guy. When I moved back to Calgary about 8 years later I didn't like any of the knives available to me. My goal was to have a restaurant eventually, so I made some contacts in Japan through my London guy and brought in a few knives from a couple different makers to sell to chefs around town. By doing that I hoped to be able to afford a few more knives. It got completely out of hand and now we've got five knife stores across Canada and I don't have a restaurant.
How does using a typical knife compare with using one of your knives?
KK: The biggest difference between Japanese knives and European knifes is that the Japanese use harder steel. Harder steel means we can make the knife sharper and the knife will stay sharp longer. Thats' awesome.  A sharper knife is much safer because when you have to struggle with a dull knife thats when you make big mistakes. A sharp knife doesn't talk back to you.
I guess it's the same reason why in Kill Bill, Uma Thurman went to Okinawa instead of to a German because she wanted something from Hattori Hanzo. Many of the their families and businesses who made those swords have turned to making knives, kitchen knives being part of that. The same techniques and tradition go into it.
The idea is that the knife is really silky and smooth when you cut. The best way to think about it, if you've never experience that silky smooth cut, is to think about the demands of sushi. If you try to cut raw fish with a knife that isn't sharp you struggle and fight and at the end you've cut something that looks like possibly the dog ripped it apart with his teeth. But sushi looks like little jewels. You need a very sharp knife to do that.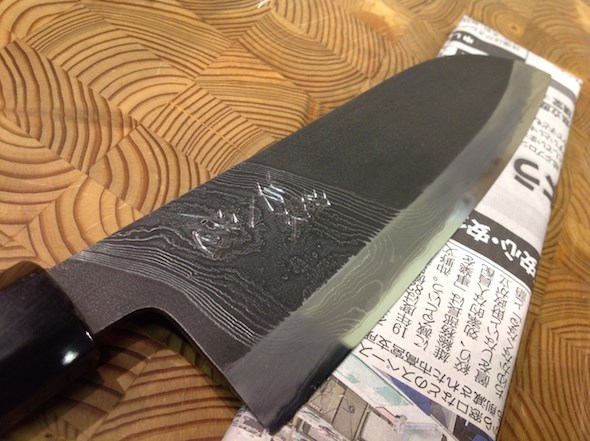 If I were looking to buy my first knife from Knifewear, which one would be a good to start my collection with?
KK: You'd want to find a place where they have lots of knives available, with more than just one maker and more than just one style of knife. At Knifewear we carry 40-45 different lines of knives. So we've got knives from 30+ blacksmiths and different makers. We're at least one of the biggest, if not the biggest, selection of Japanese knives outside of Japan.
Japanese people come into our shop all the time and they're blown away. You don't see as much selection in Japan in one spot. My idea of the shop is when you come in you're like, woah.. knives. It's like Baskin-Robbins. You go in there and you have too many ice cream choices. We're kind of like that. So we need to help you settle down and figure out where your knife is because too much choice is actually not fun if you don't know what you're doing. Our job is to guide you through. Put yourself in our hands and we'll take care of you. Our goal is to find you the right knife because we want you to be as happy as possible when you get home.
When choosing your first Japanese knife, or your first kitchen knife, you would probably go for something that is commonly called a chefs knife or the Japanese will call it a gyuto or a santoku. Theses two knives are what we can commonly call chefs knives, they're multi-purpose knives. They're the one knife for your desert island or the one knife that can do everything. Maybe not perfect for every job but you can cut an onion, carve a turkey, thinly slice a garlic, cut the  core out of an apple. So thats where you start your collection and then you fill in the other gaps with specialty  knives as you want.
So you start with a chefs knife and then we try to figure out what size is best for you. A lot of it comes down to stature. I'm 6'3, so I'm a bigger guy, and bigger knives don't feel so big to me. My wife is a lot smaller, and my big knife in her hand looks ridiculous. Stature and confidence level, or skill level, are the two considerations that go into what size to choose. Once we find out what size is comfortable for you we'll bring a bunch of knives out that fit that size.
There are other choices to make. Like, is it your first knife? Yes. Well two things, there are lots of different steel choices and each one has pros and cons. Stainless steel is great because it won't rust. Thats awesome because theres no maintenance involved. But then there are carbon steels. Carbon steels are better in a lot of ways because they stay sharper longer, its easier to keep them sharp, and they cut more smoothly. This is great. But, they can rust. So if you're the kind of person that cuts something, like a tomato, and leaves the knife on the cutting board with the tomato juice on it, your carbon steel knife will rust when you come back to it. Usually when people are getting their first knife we say don't go for those because it will just frustrate you. Little steps first. Lets get you a really outstanding stainless steel knife.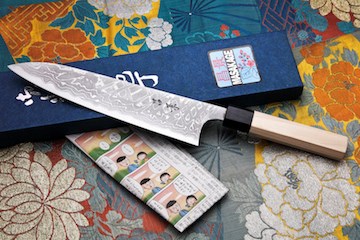 One nice compromise between the stainless steel and carbon steel is that Japanese knives are made like a sandwich. They put a very hard piece of steel down the centre and a very soft piece of steel on the outside. Think about it like a baloney sandwich. The important part of a baloney sandwich is the baloney. Thats the steel down the middle. A lot of the knives we carry now have a carbon steel core, like baloney, and then they wrap stainless steel around it. Stainless steel is the best thing you can do to protect the blade from rusting and then the carbon steel is actually the part you're cutting with and gives us a really great cutting edge. It only has a little bit of carbon steel sticking out at the very edge of the knife. So you have a lot less surface area to worry about for the maintenance.
When you're buying a knife I also think it needs to look really cool. Style is important. If you have a really cool looking knife you're going to use it more just because you want to. Then you're going to cook more and you'll be happier.
I always thought that knife buying day should be the best day of the year. It really should. You should have lots of selection, intelligent fun people to talk with, you should be able to try the knives (we have sample knives from every line we carry as well as tomatoes and potatoes for your cutting enjoyment) and you should utterly enjoy the experience. We strive to all of that. Test driving the knife is really important. I wouldn't buy shoes if I couldn't try them on.
I read that a few times a year you travel to Japan to meet with local blacksmiths, what is your favourite aspect of those trips?
KK: Our last trip to Japan was great. I brought a guy named Kevin Kossowan along who's an interesting fellow. Hes a great film maker and a hunter gatherer. One of these modern prairie pioneer guys. We filmed a documentary called Springhammer. Right now we're waiting to see what festivals we might get into!
So we shot this film and we got to do what we always do. The trips to Japan are all about shaking hands, seeing old friends, making new friends, and then seeing what everybody is up to. The blacksmiths always have little side projects going on and little things they're experimenting with and trying out. Theres one guy in Japan I always go and sharpen knives with. I'm a very good knife sharpener but he the 'Wayne Gretzky' of knife sharpening. Its good to work with 'Wayne Gretzky' sometimes just to remind me that theres a lot to learn and its just great to see what hes doing because I can always pick something up.
Of course, most of these guys see themselves as skilled tradesman. They are a lot of fun. I've been a chef forever, so I understand blue collar guys. I know what we like to do. We like to drink beer, talk about girls, and laugh. So that's what we do in Japan; drink beer, drink sake, talk about girls, laugh, eat good food, make knives, and sharpen knives!  I think it's really important for the business that we know each other.
Grand Opening Party July 22 6-9pm. Free with RSVP here.
Open daily 11am – 7pm. Follow them on Facebook for updates. #knifewearpopup