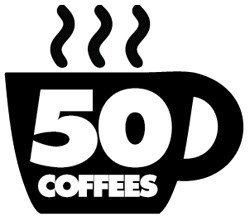 Name: Mario Canseco
Occupation: Pollster
Beverage: Americano
Meet Mario Canseco. Former journalist turned pollster and, as of last week, a new business owner. We met at the JJ Bean in the Olympic Village for a caffeinated chat.
I first met Mario years ago in Global BC's green room before we were both going to appear in different segments on Jill Krop's morning show on their BC1 station. As we parted ways I mentioned that I'd like to feature him in this 500 Coffees series (which was then 50 Coffees), and as I noticed he started out on a new journey last week I figured this would be a great time to finally make it happen.
You're probably aware of Mario if you follow the news; he's often brought in as a panelist to speak about public sentiment around the issues of the day. If there are two names that most everyone knows when it comes to polling in this province they are his and Angus Reid's. Reid has a polling business in his name which Mario got his start at in 2005 after graduating from UBC with his master's degree in journalism.
I learned that he grew up in Mexico City and while he was in school worked at a college radio station where he'd do news casts as well as comedy. He told me he used to do great impersonations of Mexican politicians and I'm kicking myself now for not asking to hear his Andrew Weaver impersonation (to be clear: I'm not sure if he even does one, but if he does I would like to hear it).
And speaking of politicians, we talked about how pollsters got it wrong in the 2013 election where Adrian Dix was expected to become the premier of British Columbia even if he kicked a dog. It was a wakeup call for his industry, and he told me that getting it wrong was "fantastic" because it forced them to evaluate their practices and evolve. He says he realized exactly what went wrong and why, and that we learn more from our defeats than we do our victories. After 2013 he and his colleagues nailed election after election when it came to polling, and it's fair to say they've been redeemed. They've certainly got back onto a successful track.
Until last week he'd been working for Insights West polling, leaving to set up his own thing after seeing the value in only taking on work that he'll be glad to attach his good name to. He likened the move from "churning out burgers" to producing a fine product that you're really proud of, and there's no doubt this master chef will be serving up some gourmet beef in the coming years.
He's already working with a few clients and while there are hurdles he's encountered with setting up a new business and now being an entrepreneur as well as a pollster, the engine is revving.
Next up for him is the Vancouver municipal election, which he cites as one of the most exciting races we've seen in B.C. in years. Watch for his takes on it as we lead up to October 20th, 2018.
Follow Mario on Twitter at @mario_canseco, add him on Linkedin and learn more about his new polling business Research Co.
And stay tuned for 407 more Coffees! Check out the caffeinated archive HERE.