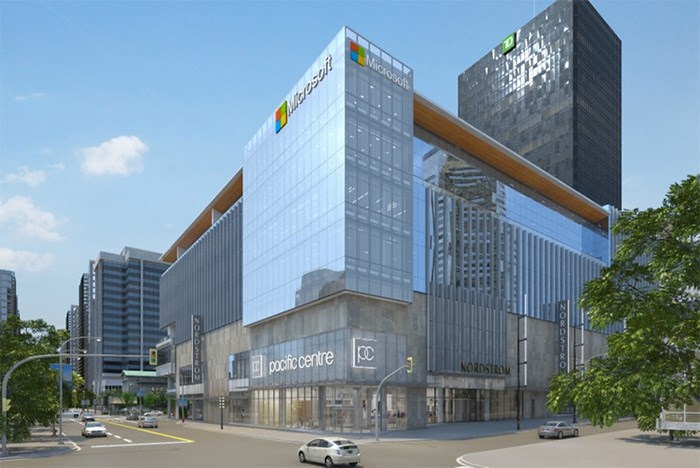 Microsoft (Nasdaq: MSFT) is adding 50 employees to its Vancouver office in a bid to boost growth in the emerging mixed reality market.
Microsoft president Brad Smith was speaking in Vancouver Wednesday (November 1) at the B.C. Business Summit when he revealed the tech giant would be expanding its footprint in the city.
The current office employs 600 workers, while its 142,000-square-foot, $100 million office above Pacific Centre has a capacity for 750 workers.
Smith told the crowd that he doesn't think this will be the last time he announces more jobs will be coming to Vancouver.
He said the city's background in video game development makes for a strong talent pool for recruiting employees to develop mixed reality technology.
Like augmented reality and virtual reality, mixed reality uses headsets to project digital images into one's field of view as if it were appearing before them in real life.
For example, when a user dons the Microsoft HoloLens, a jet engine in the design stages can appear as a three-dimensional hologram that could help engineers work out kinks in the mechanics before it goes into production.
Microsoft picked Port Coquitlam-based Finger Food Studios last year as one of eight global agencies for a special program focused on developing holographic apps for the HoloLens.
Finger Foods was given access to Microsoft hardware and other resources to further develop the uses for the HoloLens.
After it was selected for the program Finger Food Studios unveiled a $1-million, 26,000-square-foot facility known as the HoloDeck, where it's developing these apps.
Meanwhile, Smith also announced Microsoft is partnering with the B.C. Institute of Technology to offer a mixed reality curriculum.
He described the curriculum as the first of its kind for Canada.
"Education is not just the lifeblood of the technology sector but Microsoft," Smith said following his keynote speech.
"We're frankly only as good as the capacity of a place to educate people."
In addition to the BCIT mixed reality curriculum, Smith said his company would also bring the Technology Education and Literacy in Schools (TEALS) program to B.C. — also a first for Canada.
TEALS works with high schools to develop computer science programs.
torton@biv.com