I've been keeping this hush hush over the past few weeks but we have finally completed, signed, had notarized and mailed the papers away to the federal government for our application to incorporate Vancouver Is Awesome as a non profit organization!!!
Our purpose is "The study, promotion and preservation of Vancouver arts and culture" and by officially registering as a non profit we're hoping to secure the future of the Vancouver Is Awesome project by gaining support from the community and other organizations, offering memberships to our readers and extending our reach beyond the internet and further into the city itself. We'll keep doing the site as we've been doing for the past year and a half but we'll also be organizing more events and shows, publishing some print editions, holding workshops and of course we will continue celebrating all of the awesome things that make this city what it is.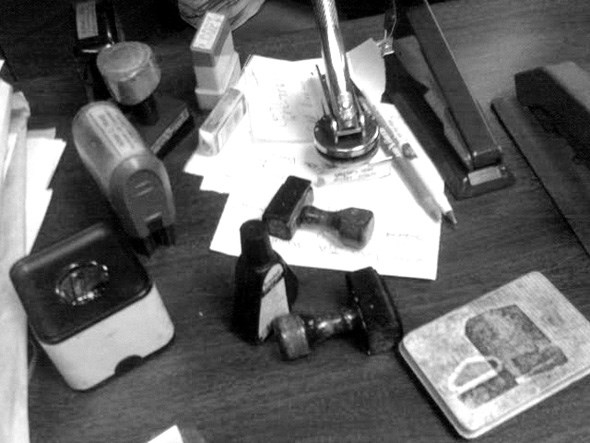 The tools of our notary public, moments before being used to sign, stamp and seal our papers.
Huge thanks to Heather Thompson at People Of Many for all of her advice and guidance along the way to taking this first step. The application still needs to be approved but we are super excited for the future of V.I.A. as an actual organization!