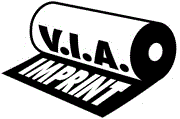 V.I.A. Imprint is an ongoing feature concerning book and magazine publishers, book stores, and all things print in this city of ours.
Pyramid Power is a relatively new arts magazine created here in Vancouver. With a combination of compelling design and a mix of words, art, photography and poetry each page is a surprise. Even with dramatic shifts in graphics and typography, the overall feel of the issue (issue 5, the one I got my grubby hands on) is consistent. The feel is classic yet new. Matthew Booth, Jonah Gray & Sacha Hurley publish twice a year and the next issue, number 6, comes out in July.
I was able to get in touch with the Art Director, Sacha Hurley and asked him a few questions about Pyramid Power.
The front cover of Issue 2, Spring 2007.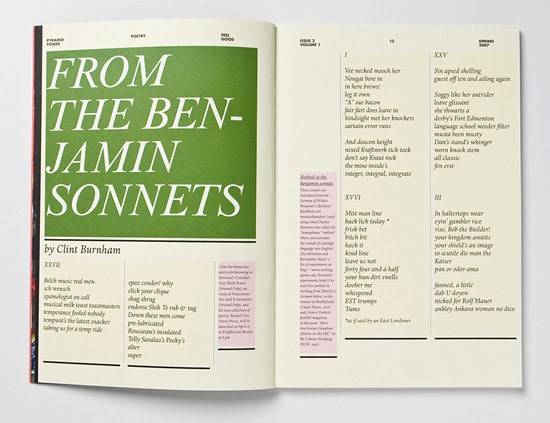 Poetry spread from Issue 2.
Is there a conscious effort to highlight Vancouver based artists, writers, photographers, filmmakers and general creative folks?
We focus on working with who we think is producing the most interesting work right now - there just happens to be a lot of people in Canada who fall into this category.
From Issue 2.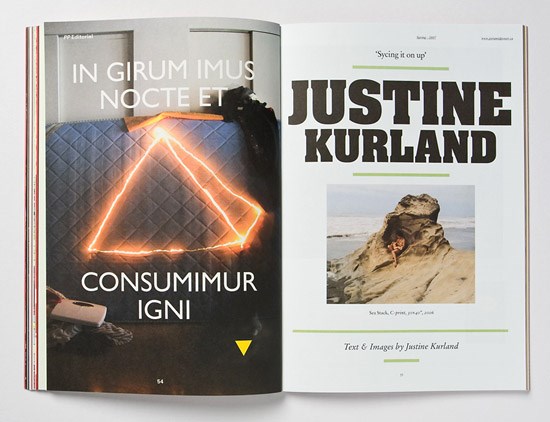 From Issue 2.
As you do more issues are you searching outside the Vancouver area for content?
Not necessarily. It really comes down to who's work we're interested in the most. Our upcoming issue has work from people in Germany as well as from the States to go with a slew of people from Canada.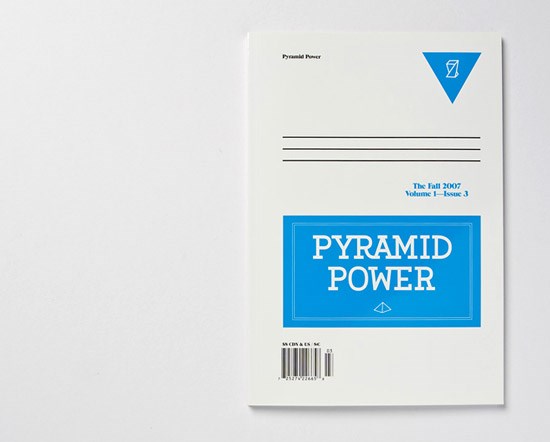 The front cover of Issue 3, Fall 2007.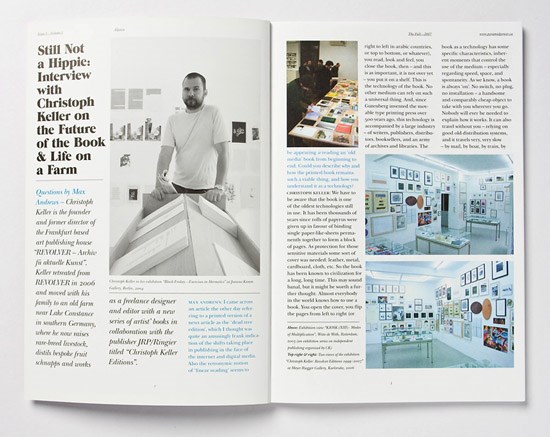 From Issue 3.
In the Art Direction of Pyramid Power, are there any guidelines you set for yourself? e.g. only use 4 fonts per issue?
The main concern here is about being contemporary - this is our guideline. That being said I am interested in how much, or how little, a serial publication can change and still be recognizable as being a Pyramid Power - with all the identity connotations this implies.
The early stages of the magazine are loose and explorative. As Alex [Nelson]  - who works on the magazine design with me - and I progress through the issue, and as submissions pour in, elements take on a more concrete form. By the half-way point we've had time to try a number of approaches and have likely developed a set of elements that work the way we want them to. The magazine matures in this way until we go to press.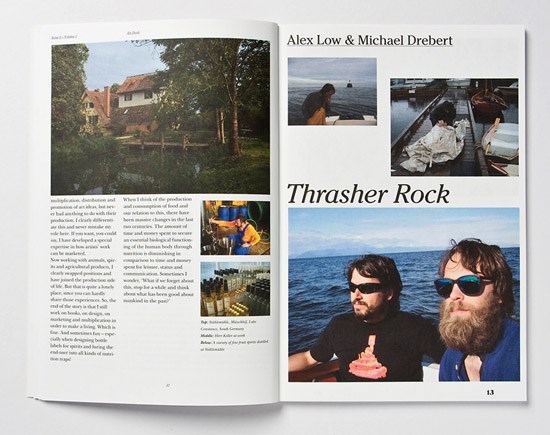 From Issue 3.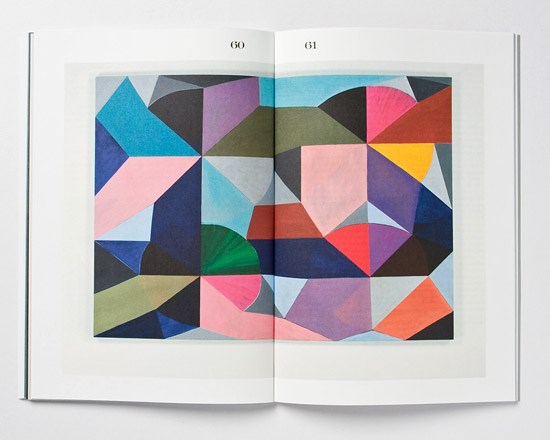 From Issue 3.
Do you use a grid?
Yes and no.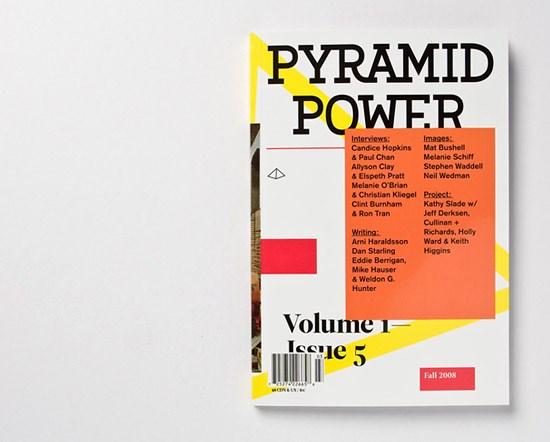 Front cover of the Issue 5, Fall 2008 (now on newstands).
Who are designers that inspire you?
Only the most brazen of the bunch.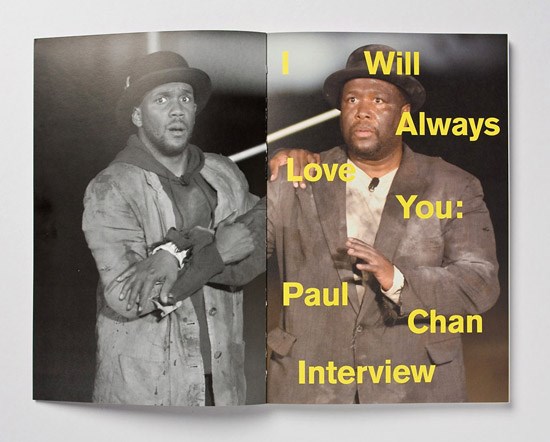 From Issue 5.
What other magazines do you look at for interest / design / content?
Pony Rider USA,
The May 1973 issue of the East German Komrade Quarterly,
and early Holmes-era Polynesian Front propaganda pamphlets.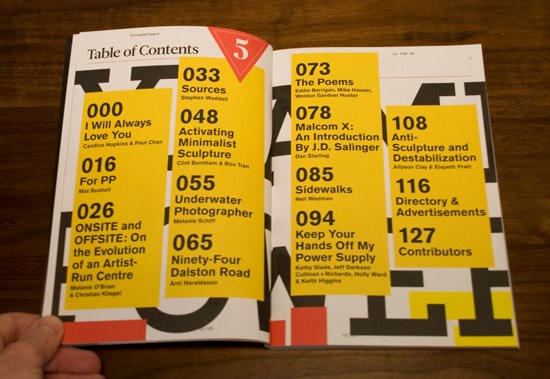 Contents spread from Issue 5.
What are your goals in the coming year?
1. Extend the time and distance of my out-of-body astral projections.
2. Hit #1 on the Twin Galaxies online scoreboard for Custer's Revenge - Atari 2600
3. Finish the business plan for "Dance Off Drugs", a franchise rehabilitation opportunity I'm developing.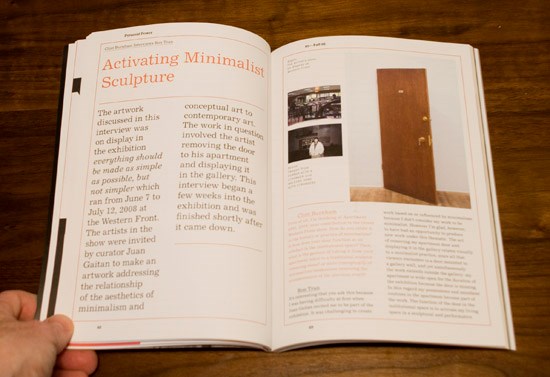 From Issue 5.
How does the magazine keep going? Advertising, grants, cover price or a combination of them all?
We have fund-raising events to go with the advertising and grant revenue.
What are your favorite things about creating and living in Vancouver?
The vagrant dogfighting tourneys in Stanley Park, before they went mainstream.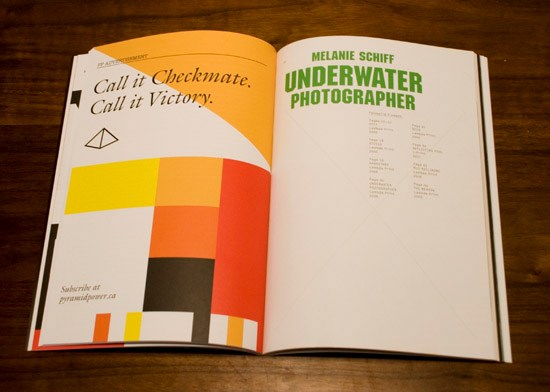 From Issue 5.
During your deadlines are there certain take-out that keeps everyone happy?
There's no eating on deadline day and we listen to "Your Body is Calling" by R Kelly.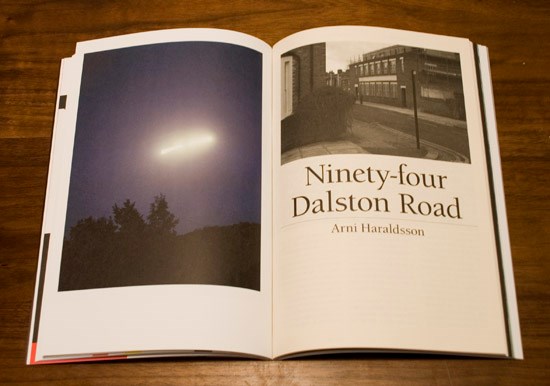 From Issue 5.
Any other words about magazine design?
Magazine design is a slow, loveless death that will leave you a jaded, cynical husk - but I love it.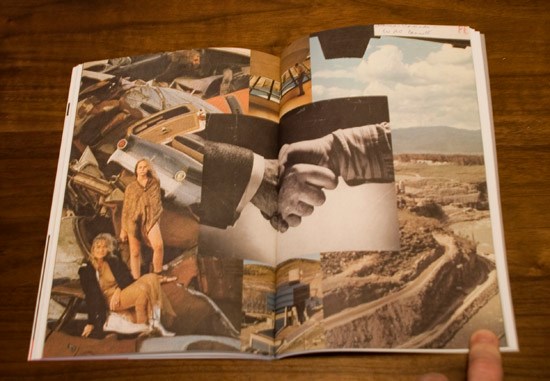 From Issue 5.
I want to say thanks to my magazine co-founders Matt Booth and Jonah Gray. Also to Alex Nelson, Cam Dales and the advertising director Fabiola Carranza.
First 10 photos by Blaine Campbell.