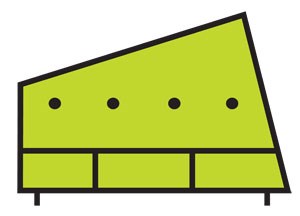 SCENE AND HEARD showcases the independent music scene here in Vancouver.
Green Couch Sessions is a live music video series - experiments in which GCS attempt to marry the artist with the environment.
The music fills the space and the various locations, inevitably producing a sound unique to the session, never to be reproduced, only to be enjoyed by you, the viewers.
VIAindie is excited to partner up with Green Couch to show YOU their latest and greatest videos of musicians and locations from all over the city!
Stay tuned! 
Artist: Fake Shark - Real Zombie
Song: 'Paint It Gold'
In the heart of Science World's "Density" exhibit Fake Shark - Real Zombie rocked out amidst the giant red balls. They played their hit song "Paint It Gold" as the sun set over False Creek.
Look for the upcoming "AMPED" exhibit at Science World for an inside look at where and how music is made.
Hosted by: Telus World of Science
Video by: Jonathan Krauth
Additional filming by: Brian Ceci
Audio Recorded and Mixed by: Adam Johnson at Nimbus School or Recording