Almost every single day since February 14th, 2008 we've been writing love letters about Vancouver, with the resident in mind. Our team shares awesome stuff that reminds you of what keeps you living here, despite the bad, and when I first started this thing I had no idea that I'd one day call it my full time occupation. I also had no idea that it would ever become tourism-related at all, but this great province of ours is also awesome and while we mostly navel-gaze here our "Super, Neighbours" series has taken me and some of our writers to many a destination within a day from the city. Also, though I'm writing to the folks that live here - from a citizen's point of view - one of the things that also surprised me was when I realized that an average of 24% of the people visiting the site aren't from Vancouver at all. They're from America, Australia, England, Russia, everywhere else but here. There are a legion of outsiders peering in at any given time, checking in on what the locals are talking about and what they should do when they come and visit this city of ours.
This is all a really long way of telling you that I've been invited to be on a SOCIAL MEDIA FOR TOURISM panel by our friends at Hootsuite this Thursday. Stephanie Hynes from Contiki Holidays, Alicia Taggio and I will be speaking on a free panel where we'll teach you how to use social media to strategically grow your business in the tourism industry the right way. We'll share our secrets and tips for using social media to build online communities while also promoting our respective brands. We'll also touch on how social has shaped the industry and how you can successfully launch social media campaigns for your tourism business.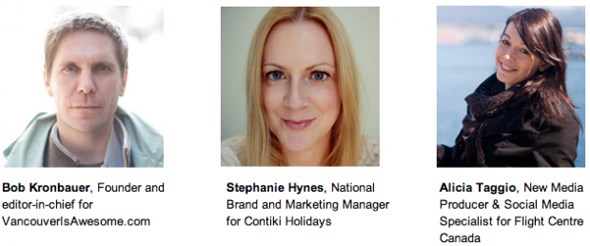 The panel will be streamed live at 8AM tomorrow on HOOTSUITE'S YOUTUBE CHANNEL or you can JOIN THE GOOGLE HANGOUT.
Also, as a primer, have a read through THIS INTERVIEW that Kristina Cisnero from Hootsuite did with me about the differentiation between our @VIAwesome Instagram and my personal @BobKronbauer one, and some of the secret sauce used on both of those accounts.