Smoking is bad... we all know that... but sometimes, a well timed pipe or cigar is a welcome addition to a great day.
I first went to RJ Clarke Tobacconist about 8 years ago. I was on the hunt for a pipe tobacco that I'd been looking for for years.
Like stepping back in time... going into the shop was like entering another world. The Gastown location had been a Vancouver tradition for years. I felt like I was in 1800's England. Inside, it was dark but wasn't intimidating, fragrant but not overpowering. The owner was friendly and informative, and I left with a smile on my face.
About a year later, I went down to Gastown to do some shopping, but the shop was closed. I was decimated... Thankfully, a few months later, the new shop opened up on Cambie street across from Oakridge... I was happy again.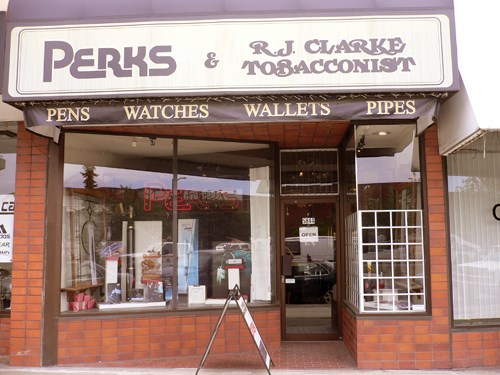 If you're ever in the market for pipes, tobacco or cigars (smoking is bad... remember!), RJ Clarke is definitely worth the check out, and
is located at 5844 Cambie street.
Bonus story here:
When I was a kid, I played a lot of soccer. Lots of soccer. I loved everything about soccer, but thinking back to those days of autumn games and getting kicked in the shins, the best memory I had was of how my coach smoked a pipe on the sidelines, and how it was the best smelling thing ever... EVER! It was awesome... and that's my best memory of playing soccer... that smell.
Fast forwards 20 something years...
I was driving in North Van with my windows rolled down on a sunny spring afternoon. I was at a red light, and out of nowhere I smelt "that" smell, that smell from when I was a kid. Holy memory landslide! It was awesome, and instantly I felt ten again. Immediately, I looked around for the source of the smell, then saw a bus driver smoking a pipe on the sidewalk.
Immediately I practically drove onto the sidewalk and ran up to the bus driver.
He started to run.
I said "hey! Hold up! I just wanted to know what kind of pipe tobacco that is that you're smoking..."
He got into the bus and picked up the radio.
I tapped on the glass. "What kind of pipe tobacco is that?"
He looked at me dubiously...
So, through the closed bus door, I told him of my soccer coach and my years of searching for that exact smell... and after my story, he was only too happy to tell me where to go... He even opened the bus door...
RJ Clarke! Polo blend!
Awesome!