Gordon Glanz, founder and distiller at Odd Society Spirits, is odd for all the right reasons. Growing up in Edmonton, Alberta, Gordon became popular making home brew for his fellow boy scouts to drink at cabin parties. Gordon, the quintessential late bloomer, spent many years exploring options: a year in Germany, two years in Africa, eight years in Quebec, and a year in France, eventually settling in Vancouver. He worked as a labourer, farm hand, deck hand, translator, technical writer. True to form, Gordon went to school in Scotland at age 50 to pursue a master's degree in Brewing and Distilling.
He returned home to Vancouver with the intention of opening his own distillery, at a time when there were no distilleries in the city. Without a doubt, Gordon has discovered his passion. The spirits that Gordon creates in partnership with Joshua Beach are carefully constructed, balanced, and surprising. The work and love that has been poured into the distillery is palpable, and things are just getting started.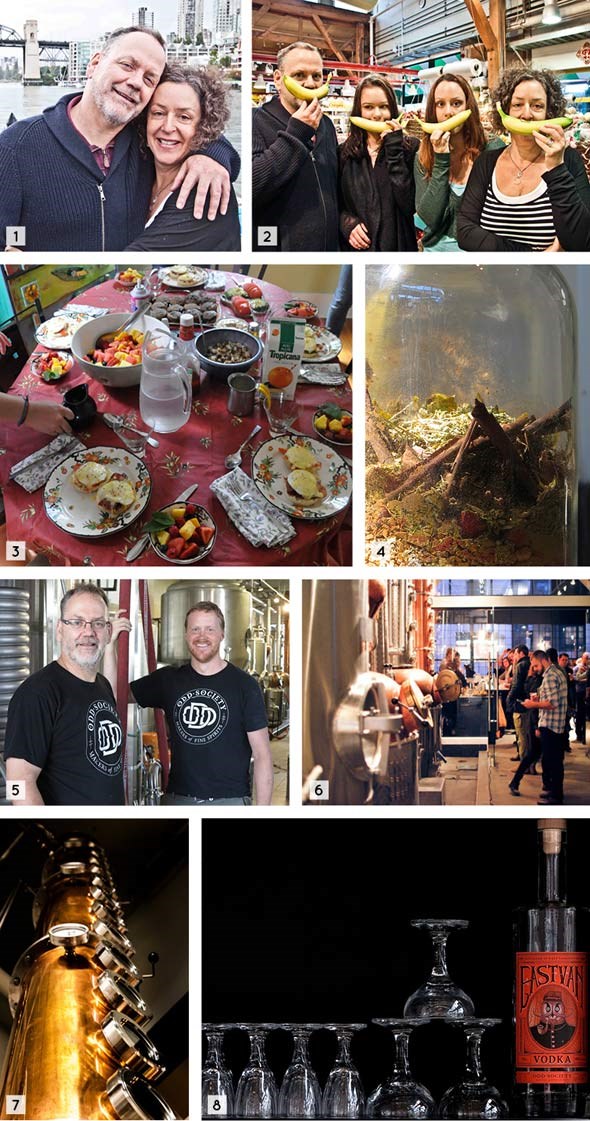 THE PROOF
1. Miriam and I at Granville Island.
2. The family at Granville Island Market.
3. Our family is crazy about food. This is a picture of a special weekend breakfast cooked by our daughter Abby.
4. The botanicals for a test run of vermouth.
5. Josh, fellow distiller and partner, at Odd Society.
6. The distillery on a Saturday night.
7. The column at the distillery is used to make vodka. You need a column in order to get a very pure spirit.
8. East Van Vodka is our main product.
THE QUESTIONS
1. Can you tell us a little bit about yourself. What do you do?
I am a distiller at Odd Society Spirits. My days are spent manufacturing various kinds of alcohol. It's surprisingly physical work but there are also lots of quiet moments sitting in front of the stills. I enjoy being part of a new burgeoning industry.
2. What are you working on?
My most recent project is developing a vermouth. I have become enamoured with Amaro or bitter-flavoured spirits. Our sweet vermouth will be a combination of bitter and sweet and includes local botanicals like wild cherry bark, arbutus bark, and rhubarb root.
3. Where can we taste your product?
We have three spirits available at the moment in our tasting lounge: East Van Vodka, Wallflower Gin, and Odd Society Crème de Cassis. We have also begun making whisky but that takes a minimum of three years to age. Our oldest barrel is about one year old. Our products are also available at most private liquor stores in Vancouver.
4. Can you give us a quick tour of the Odd Society distillery? What does it do? Are there tours offered?
Our facility is a mass of tanks and equipment. We have run out of space already. We start with malted barley. We mill the malt into a rough flour consistency called grist, and add it to hot water. After filtering and cooling, the clear, sweet, malty mixture called wort is pumped into our fermenters, where we add yeast and let it sit for 7 days. After that, it's ready to be distilled. We distill everything at least twice. From our tasting lounge, you enjoy a view of the stills and all the tanks as you sip on a cocktail. We do offer complimentary tours on Saturdays and Sundays at 4:00.
5. What motivated you to open one of Vancouver's first hand craft distilleries?
I've been interested in distilling for a long time starting in high school. Right after high school I worked in Germany for a year at a winery that also had a still to make fruit schnapps. I remember finding the distiller asleep in front of his still and thinking how great that was. A few years ago I began to follow what was happening in the states with all the new micro-distilleries open and decided it was time to do the same thing in Vancouver.
6. Where does the name Odd Society come from?
The idea behind the name was that our distillery would be a kind of a club or gathering of like-minded people that were passionate about spirits. And so the idea of a society was born. The next step was to determine what kind of society it was and that turned into Odd Society, knowing the founding members and knowing that we wanted to produce unusual spirits. Cause & Affect, our amazing design agency, helped us through the naming process.
7. There are many breweries and distilleries opening in the city in recent years. What do you think is the future of this movement?
I think the future is bright. The big traditional breweries have been steadily losing market share and the small craft breweries have been growing. So it's a readjustment to local and small batch. I think there's a lot of room for that to happen in spirits. At some point, things will level off but I think that is years away.
8. Do you have a favourite drink? What would that be? Why?
I have two favorite drinks and they are very traditional and simple. In the summer, there is nothing better than a gin and tonic. I like the bite of the quinine and the refreshing tang of juniper and other botanicals. Lately, my favorite drink is vermouth on the rocks, which is very popular in Europe, especially Italy. The incredibly rich flavors are very safisfying. Vermouths began as medicinal tonics and I feel like I'm treating myself.