Reid Stewart is co-founder and Creative Director/Designer of the locally designed line, Lifetime Collective. Lifetime was established in 2002 by both himself and Trevor Fleming as a DIY basement t-shirt operation, and has since expanded to full high quality collections. With the addition of Nick Brown as their partner and general manager in 2005, the line is distributed internationally in over 300 retail stores. In addition to creating beautiful clothing, Lifetime heavily supports community involvement, artists, musicians, skateboarders, snowboarders, and advocates throug through their books, events, and collective gallery. Reid also works on the zine,  Selector. Here is a glimpse into his day to day.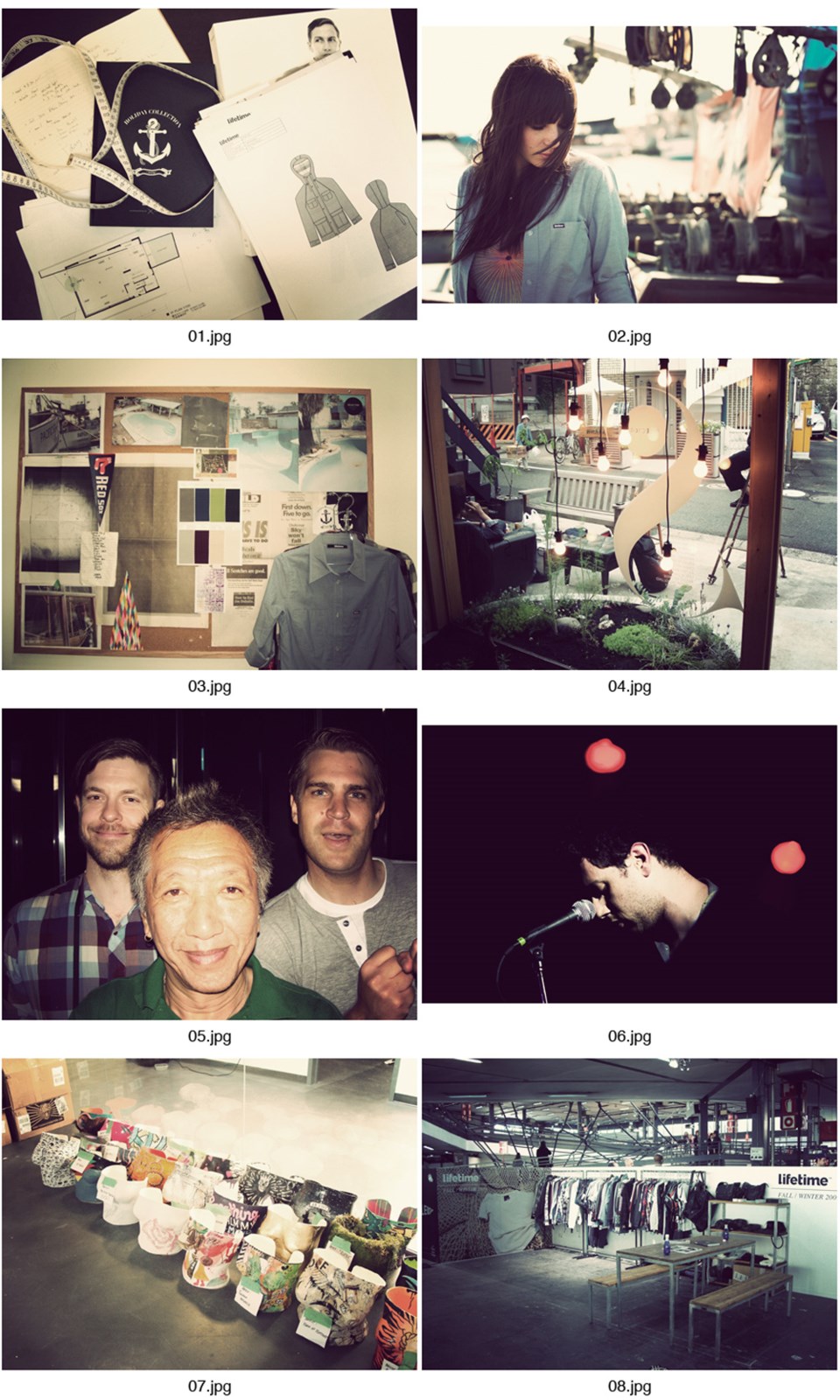 The Proof
1. This was taken at my desk a month ago. I was starting work on our Fall 2009 collection, Selector group show in Tokyo and we had just got in our new Holiday 2009 catalog.
2.  This was one of the out-takes from our Holiday 2009 catalog shoot in Stevston. What a great town full of interesting history and so close to Vancouver.
3. My inspiration board taken prior to getting into our Fall 2009 collection. Pretty bare but always a cool feeling to start from scratch.
4. An installation I did for a show I was asked to curate in Tokyo. The show focused on artists, photographers and bands from our first issue of Selector.
5. Vincent Skoglund, Paul Wong and Michael Carter. 3 great artists, photographers and designers! Friends are always inspiring to have around but when traveling in Tokyo, muchos Karaoke!
6. This photo was taken of our friend Bryan Webb of the Constantines. They played in Vancouver not too long ago. Music would be one of the biggest influences on my work.
7. These are breast casts we had done for Keep A Breast organization. We had some of the artists we work with to paint these things. They were then sent to some of the accounts we work with. Once their done in the stores they'll be up for auction to raise money for the Breast Cancer foundation.
8. Our trade show booth at the Bread & Butter show in Barcelona.
The Questions
What do you do and where?
I design for Lifetime Collective along with working with the artists, photographers, designers and bands.
I also work a zine called Selector with my friend Michael Carter and organize and curate shows.
What neighborhood do you live in?
We live in Mt. Pleasant.
What are you working on?
I am working on our upcoming Fall 10 collection along with a group show we're doing in San Francisco with the Lower Haters gallery. We're also working on putting a music show along with Antisocial and Super Champion at our new office space. Ladyhawk,Lightning Dust & special guests. June 16th, you're all invited.
Where can we find your work?
You can find our work at Antisocial, Eugen Choo, The BLOCK, Westbeach, Boardroom, Underworld & Plenty.