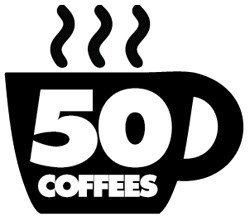 Name: Treena Wood
Occupation: News Director
Beverage: Rev Up tea
Meet Treena Wood. CBC's new News Director for British Columbia and a trusted, longtime member of the media in Vancouver. We sat down at one of the three Starbucks' on Robson, just a couple blocks from CBC on Hamilton Street.
I've been following her on Twitter for a while but this was the first time we'd met in person. I actually featured her predecessor here nearly 7 years ago when this series was in its infancy (and when it was a slightly less ambitious 50 Coffees).
And I should probably disclose that I'm a CBC superfan. Every weekday I listen to The Early Edition on 88.1fm in the car on the way to work, On The Coast on the commute home, and whatever is on while I'm doing the dishes at home. I follow most of CBC Vancouver's reporters on Twitter and click on their stories throughout my day. Most nights I'll catch The National on TV. And don't even get me started about how great their podcast CBC On Drugs is, because I'll probably try and rope you into joining the fanclub I'm starting for it.
What I'm saying is that I was thrilled that Treena accepted my offer to go for coffee and answer a bunch of questions I had about her work, and the future of news for the B.C. arm of our nation's broadcaster.
When I say she's a "longtime member" of the media in Vancouver, I mean she's been working here for 22 years. She studied Broadcast Journalism at BCIT and went to work for News 1130 when the station first went live, flipping the signal from a country radio station to news.
She worked her way up starting as a reporter, then anchor, editor, producer, managing editor, news director and most recently she was working as the National Format Director of News for Rogers (which owns News 1130). After more than two decades with the station she was ready for something new when the position came up at CBC. She started there on January 22nd, 2018.
She joked with me that News 1130 is known as a bit of a "farm team" for CBC, with many of its best reporters being siphoned off to go there. Folks like Anita Bathe, Dan Burritt and Tanya Fletcher were once colleagues of Treena's and they've now been reunited and are working together again.
She told me her biggest challenge has been her impatience of not knowing everything. When she was basically running News 1130 she knew everything there was to know. All of the intricacies of the station, she knew them. However walking into the massive public broadcaster she has found that she wishes she knew it all, now.
Sharing insight about the silos that exist at her new place of work, she informed me that while she's in charge of News in B.C. that doesn't mean radio; TV news and their digital offerings fall under her watch but radio is headed up by Shiral Tobin. The two are working together to "wipe out" the verticals and work more closely.
Lastly - and I don't remember exactly how this came up - she told me that she feels community newspapers (and websites like this one you're reading) are important for democracy, and that "We need more community papers". I certainly agree with that, and I feel CBC News in B.C. is in excellent hands right now. Treena is awesome.
Follow her at @TreenaWood on Twitter, and if for some reason you're not familiar with what CBC is doing in our province check out cbc.ca/bc.
And stay tuned for 408 more Coffees! Check out the caffeinated archive HERE.