There are many things that have come to define Vancouver. Among them? Awe-inspiring landscape, great craft breweries, and some of the coolest startups in North America. Next week, hundreds of entrepreneurs will gather at the Imperial for Startup City -- a week-long celebration of Vancouver's startup community running during Vancouver Startup Week. One of these startups is Tinkerine, a 3D Printer company that's making the cutting-edge world of printable products accessible to the rest of us. We caught up with Tinkerine founder and CEO, Eugene Suyu, to talk about why Vancouver is an awesome place to build a business.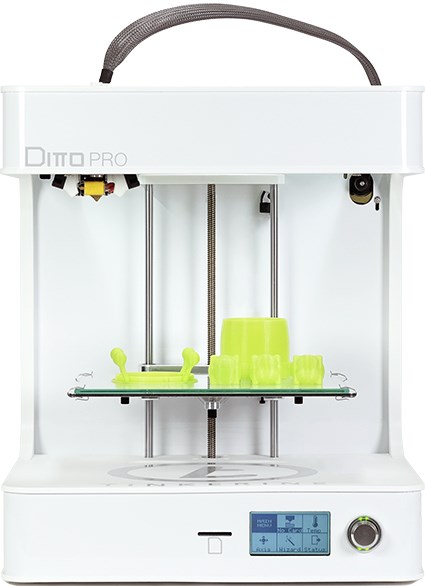 Tell us about your company?
Tinkerine is Canada's premier 3D printer company with a focus on education. We aim to understand how and what people want to make from their printers. We then build the best products to help bring those ideas to life.
We have an award winning product called DittoPro, which puts a huge emphasis on ease of use, reliability, and performance. However, our focus is on TinkerineU, a platform we built to inspire and allow educators, professionals, and general consumers with an interest in 3D printing to gain the knowledge and tools needed to get their ideas 3D printed.
How did Tinkerine start?
Tinkerine started out as a basement idea that brewed out from a hobby of mine. It was really to see if I could go out and develop a 3D printer that's not just about the best performance, but also has a place on your desk as an appliance. I come from a background of user experience design, so making sure this product met the expectations of the user was very important to me.
Why did you decide to build your business in Vancouver?
It's where I grew up, and my own backyard. There is nowhere else that I would want to build a business. As a hardware startup in Vancouver, times can get tough trying to find the right location. Moving into the City of Vancouver, was a good move for us as we were able to access the talent that's here for software.
What makes Vancouver an awesome city to launch and grow a startup?
Vancouver is a vibrant city. It has talent and young people that are willing to take risks to change the world. The startup scene is very strong here and the networks that you build between the companies can go a long way.
What do people actually print with 3D printers?
It really depends on the person. I've seen some awesome things, most of which are more in the immediate fields associated with engineering that 3D printers apply to such as robotics and prototyping. Many people tend to print customized parts that they can't buy anywhere like camera mounts. We have a girl that designed and printed her own purses, the best part is, if it breaks she'll just print a new one.
But here's the kicker, and it's a bit of a chicken and egg thing: a lot of people want to make things for their homes or replace things for their home. Maybe they want a hinge for their fridge or cabinet but might not understand how to model, I believe there is a time in the near future that big companies will be looking on distributing their design files. For that to happen though, there needs to be a large enough install base of 3D printers.
What surprises people are the things that move and do something, like drones, boats, and hovercrafts - the projects that we've built to inspire or even the simple replacement of parts that are no longer in production. I think 3D printers have the potential to bring out innovation, but often times it starts with a simple inspiration or necessity.
 3D printed drones? Mind blown. Is this what you will be showcasing at Startup City?
We will be putting on two drone-building
workshops where people can design and build their own drone. We are also showcasing 3D printers to anyone interested in learning about the technology.
Where do you see your business in 5 years?
Tinkerine is already known as Canada's premier 3D printer company, but we are not stopping there. We are proudly Canadian, but we are playing on a global stage; that means expansion to other regions like the US, EU, Asia, and other places that are looking to educate people about 3D printing may need to happen. We are here to disrupt what we know today as 3D printing.
What can we expect from 3D printing in the next 5 years? Will it become more mainstream?
The next 5 years for 3D printing can be summed up as catch up. There is a lot of 3D printer hardware out there,  but not enough people that understand how to use them to their fullest. I believe that we will start to see education pickup on the technology much like the way computers and the Internet were brought in and transformed how information is accessed. That being said, that's not all the technology will evolve. As we develop more technology to make the printers easier, it will change how we get inspired to bring out ideas we have never seen before.
Any advice for aspiring local entrepreneurs?
There are quite a few but I'll pick my top three:
1. If you have an idea - do it, don't let it stay as an idea because that's what it'll always be.
2. Make sure you are the most confident in your ideas, and don't let people tell you otherwise.
3. Surround yourself with people, both the ones that you know have more experience than you and have walked the road already, and also those that haven't because it takes a team to build a business. When it boils down to it, a business is just a group of people with the same motives and goals to change something or get something done.
Favourite Vancouver "Get out of the office" activity?
For me, it might be hiking. We have an amazing backdrop here in Vancouver so it's definitely at the top of my list.
V.I.A. is a proud sponsor of Vancouver's first ever Startup City. To register for Tinkerine's 3D printed drone workshop or see the full list of Startup City programs visit: http://www.vancouvereconomic.com/vancouverstartupcity and follow along with @VanEconomic + #VanStartupCity