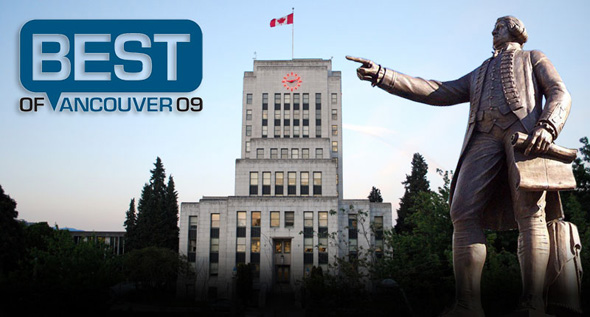 We won "Best Navel-gazing Web site" in the Straight's Best Of Vancouver Editor's Picks: Media!!! Here's the section that has a quick piece on us and the other winners in this category. If you were reading yesterday (or scrolled down today) you'll notice that (thanks to you!) we also took 3rd place in the Reader's Choice - Best Local Blog category!
HUGE THANK YOU to the Straight editor who picked us and wrote that nice stuff about the site! It is an honour to even be mentioned.
A few people have asked about navel-gazing, like "what does that even mean?", and a quick internet search reveals that "the term navel-gazing is used to refer to intense self-reflection, often with the implication that the individual doing the navel gazing is self-absorbed or that he or she is too focused on a single issue, at the cost of ignoring other important issues. Being accused of navel gazing isn't necessarily a bad thing; sometimes a little bit of contemplation can be a productive pursuit, especially when someone is trying to reach a decision about something important.".
The kindhearted jab in the title of the Editor's Pick is likely all in good fun (they wouldn't give us an award if they thought we sucked, right?) but I think that this serves as a good opportunity to, again, make it clear that we aren't mad at the "real" news, nor are we trying to change the face of the media. We are aware that if every outlet were to adopt our policy of only delivering the good news that the world would be an incredibly dangerous place. Or, I should say, an even more incredibly dangerous place. We're not really journalists, we're more like cheerleaders over here.
We are aware that Vancouver is not a perfect city. There are things about it that need to be changed and there are things that we all have a responsibility to be informed about and perhaps even take a stand on, but V.I.A. is not a forum for discussion on change or complaints, we are the one place that we hope people choose to turn to after they catch up on what's actually happening out there in their city, serving as a reminder that even though there might be a lot of sucky stuff going down there are still a gazillion awesome things about living here, and that it's healthy to step back and appreciate them simply for what they are, with no strings attached.
So thanks, once again, to all of you for visiting the site, supporting us, voting for us, contributing to what we do... hell, for just doing anything awesome in the city of Vancouver. Vancouverites are awesome.