Elias Pettersson is a very different player from Pavel Bure, but they do have some things in common. Like Bure, Pettersson has been the most exciting rookie to hit Canucks ice in decades. He's ignited a spark of hope in the Canucks fanbase that the team is closer to contending than anyone expected, though there's still a lot of work to be done to build around Pettersson's foundation.
Also, like Bure, Pettersson is likely to take home the Calder Memorial Trophy as the rookie of the year. While he has a little competition for the crown, Pettersson should still walk away with the trophy because of how he's placed an entire franchise on his supposedly-too-skinny shoulders.
Barring a bizarre final stretch of games, Pettersson is about to do something that Bure could not do in his rookie year: lead the Canucks in points. Bure got off to a relatively slow start in his rookie season before erupting later on, while Pettersson hit the ground running right from opening night, kicking off the season with a six-game point streak and ten goals in his first ten games.
It's a big reason why Pettersson took fewer games to reach and break the Canucks' rookie record for points set by Ivan Hlinka and matched by Bure.
One of the big differences between Pettersson and Bure is that Pettersson is more of a playmaker than a goalscorer, though he is pretty adept at putting the puck in the back of the net. It was fitting, then, that the point that broke Hlinka and Bure's record was an assist.
Let's break down Pettersson's record-breaking assist in a feature we like to call Breakdowning.
On the surface level, this is a pretty simple goal. It's a regroup in the neutral zone, a quick zone entry, a pass into the slot, a shot, and a rebound. Once you slow things down and take a closer look, however, there's a lot more going on.
The unsung hero of this goal was Troy Stecher, who didn't get an assist. Without him, this goal doesn't happen and Pettersson never tallies his 61st point of the season. Ever. Without Stecher's work on this goal, we would have entered an alternate dimension where Pettersson never records another point in the 2018-19 season. It's a dark dimension, filled with goatees.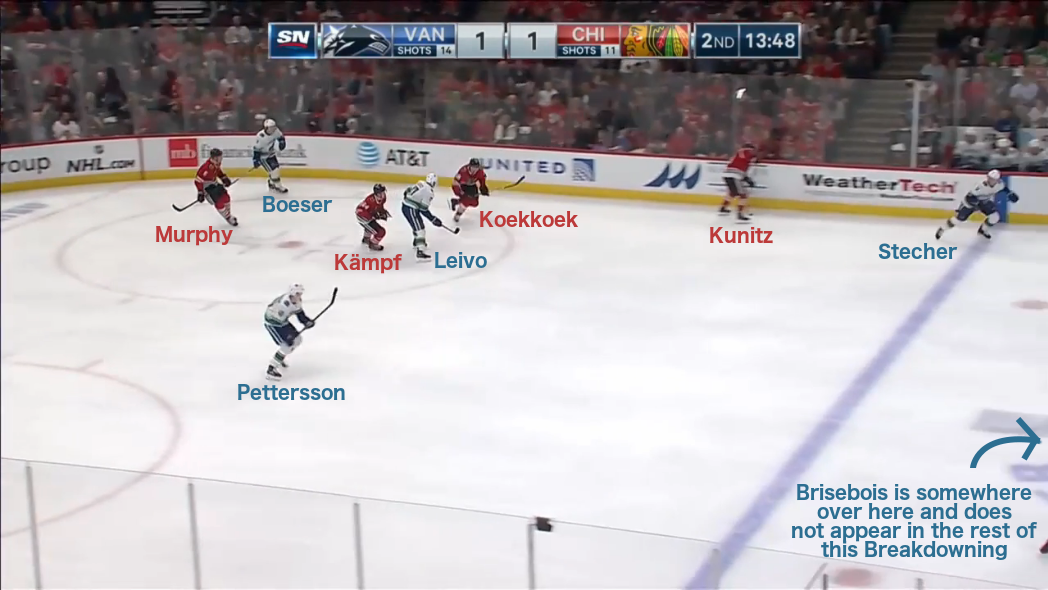 Let's start here, as the Blackhawks have thwarted the Canucks' forecheck and are about to break out of the zone. Stecher could try to pinch down the boards on Kunitz, but backs into the neutral zone instead, perhaps because he sees Slater Koekkoek jumping up to join the rush. If Stecher pinched but couldn't keep the puck in, there was the potential for Koekkoek to create a 2-on-1.
As for the Blackhawks, they're in great shape. Kunitz has possession of the puck with plenty of time and space to move it up ice. This shouldn't be an issue.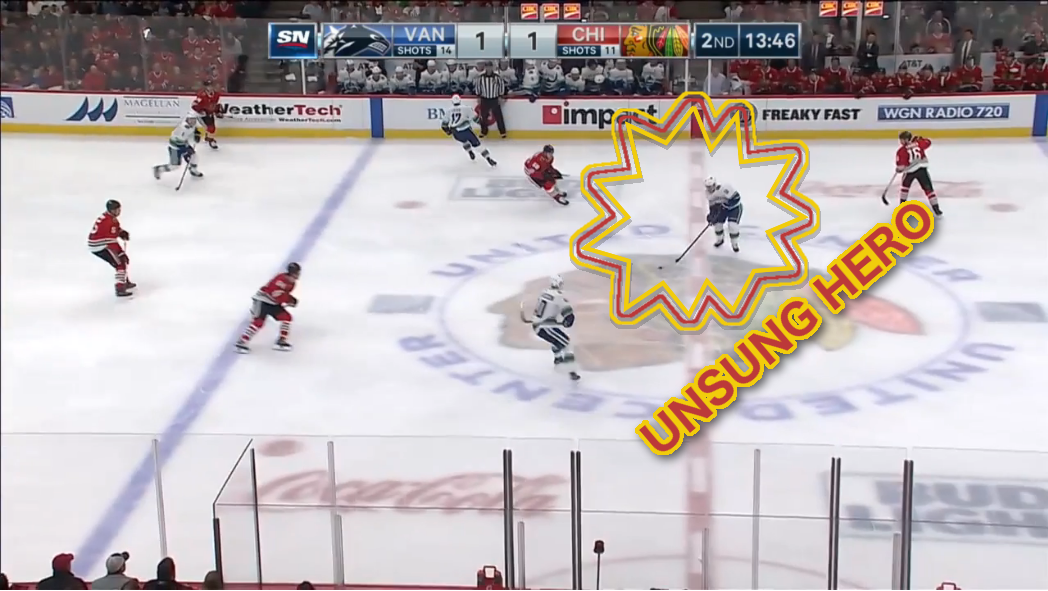 It's an issue.
Stecher makes a great read and picks off Kunitz's pass in the neutral zone, because he's the unsung hero of this goal. I hereby nominate Troy Stecher for Unsung Hero for the Canucks end of the year awards. He's scrappy, he's underrated, and he's become a key part of the Canucks' defence corps.
To be honest, it's a really terrible pass by Chris Kunitz, who puts the puck in an awkward spot for Koekkoek, who is being shadowed by Josh Leivo. If he's trying to get the puck through to Marcus Kruger, the pass is even worse, as Kruger has left the right side of the ice to go for a weirdly-timed line change. Brendan Perlini comes on for Kruger, but does not figure into the play at all. Moving on!
David Kampf — who has the most unfortunate last name in the NHL, non-potty humour division — takes a gamble, dashing up the ice towards Stecher in hopes of picking off the puck for a scoring chance. He does not succeed and, thanks to the meandering path he takes to get back into the play, turns this into an odd-man situation for the Canucks.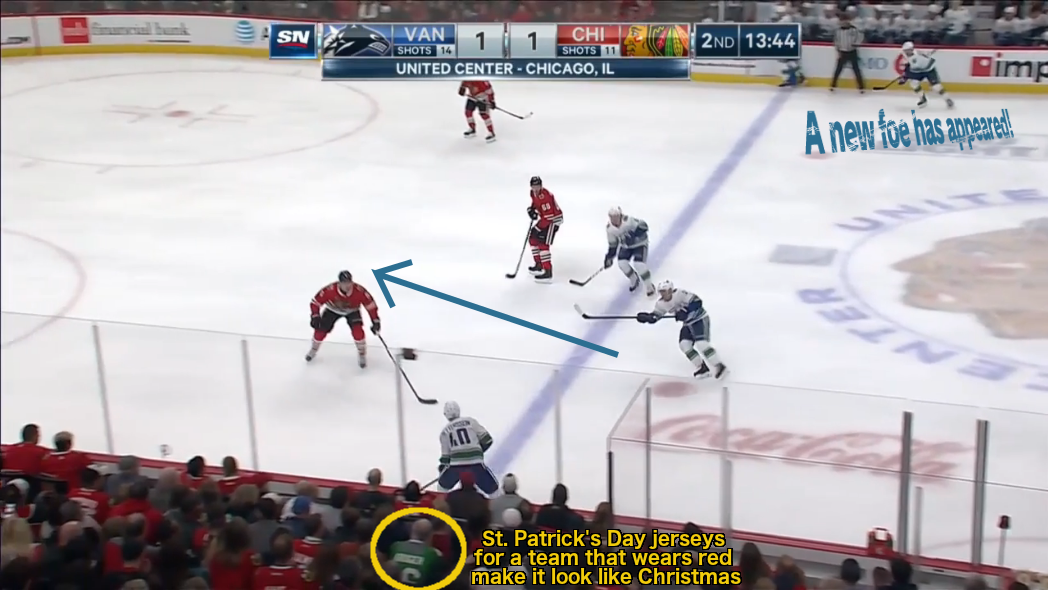 Stecher passes the puck to Pettersson, then attacks aggressively, in contrast to his earlier decision not to pinch along the boards. He provides a passing option to Pettersson as he gains the zone, then drives to the net, which helps create a lot of space for Pettersson and Brock Boeser to maneuver. Un. Sung. Hero.
Meanwhile, Markus Granlund steps onto the ice at the top of the screen, coming on for Leivo. In this screenshot, it doesn't look like a huge concern for the Blackhawks. Kunitz is available to check Granlund, so I'm sure he won't play any part in what's about to occur.
The addition of Granlund does make it a 3-on-2 situation for Pettersson, Stecher, and Boeser, however. And the addition of a green St. Patrick's Day jersey to the red Blackhawks jerseys makes it look like Christmas.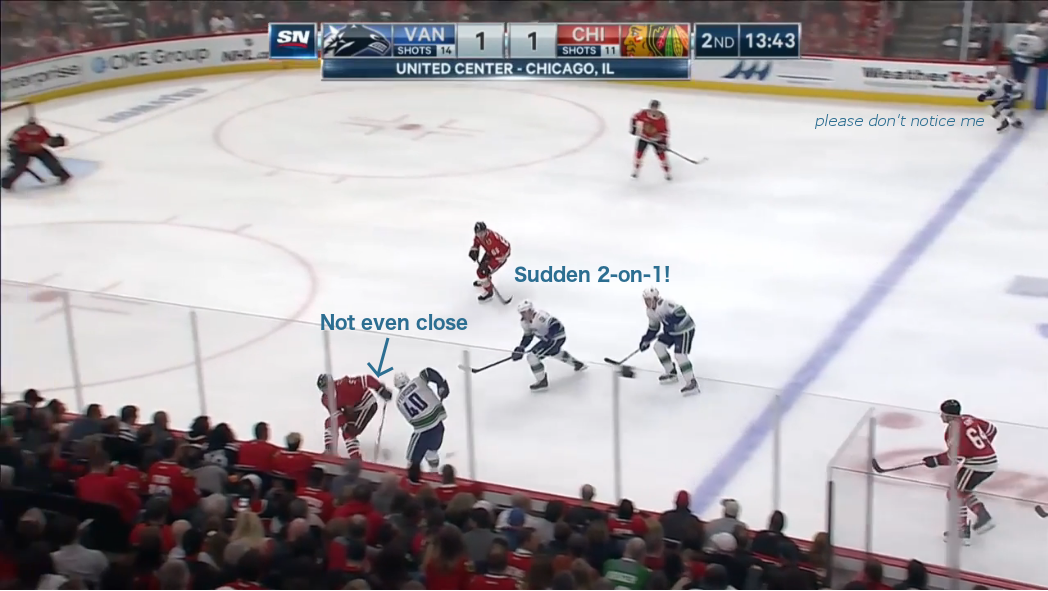 At this point, Connor Murphy makes a very poor decision. He moves in aggressively on Pettersson, attempting to close a gap that he had no hope of closing. Pettersson neatly evades Murphy's swinging stick and slips the puck to Boeser.
A 4-on-4 situation has become a 3-on-2, and now a 2-on-1. Boeser takes the puck and heads to the slot, while Stecher drives to the net. Kunitz starts cheating over to help, while Granlund does his best to be completely unnoticeable, a talent he has honed to perfection over the course of the season.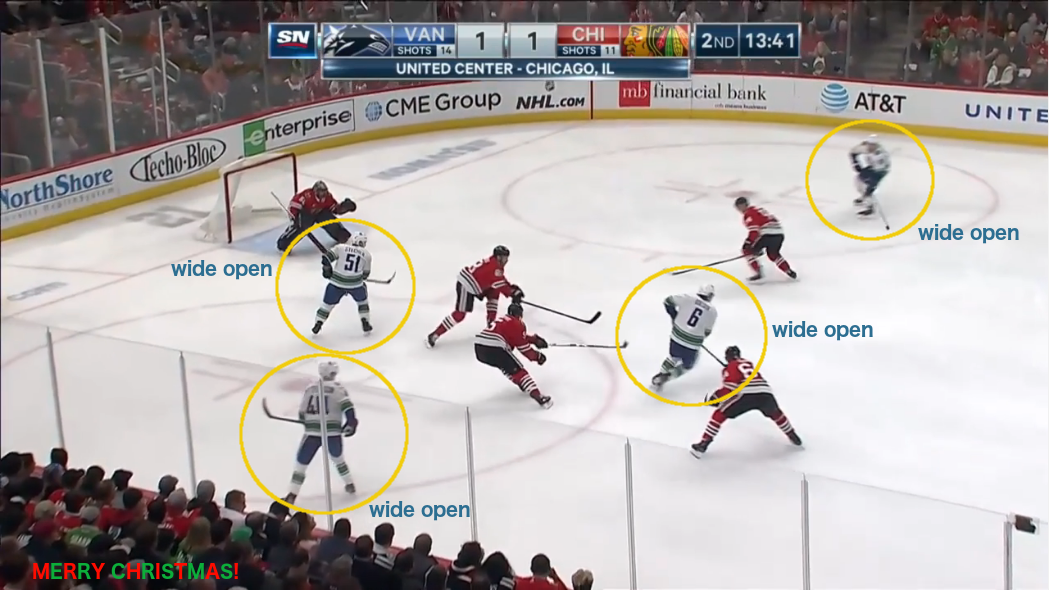 Look at how badly this has turned out for the Blackhawks. It went from Kunitz having plenty of time to move the puck up ice to the Canucks' best* shooter having the puck in the slot with acres of space.
It's not even just Boeser. Every Canuck in view is wide open, as the Blackhawks all fixate on Boeser. None of them can even get close enough to Boeser to make any difference to his ability to shoot the puck, but none of them pick up other checks until it's too late.
Koekkoek has been backed up into irrelevance by Stecher's net drive. Murphy is completely unable to get back on Boeser after whiffing on Pettersson. Kampf is struggling to get back into the play, largely because he's stopped moving his feet.
The only Blackhawk making any sort of attempt to pick up a man is Kunitz, who has shoulder-checked and finally noticed Granlund. But even that goes very poorly.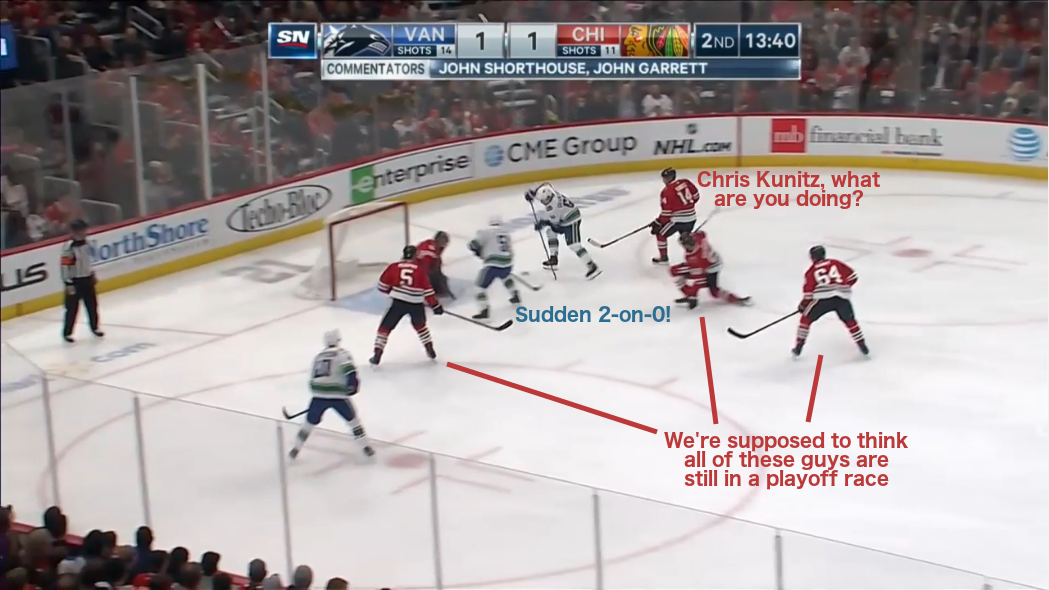 Uh, Kunitz?
Boeser rips a shot low off Crawford's left pad, creating a rebound, and Kunitz lets Granlund go right past him to finish it off. Also, Stecher is there, all alone. It went from a 4-on-4, to a 3-on-2, to a 2-on-1, to a 2-on-0. It's a disasterpiece of defending.
View post on imgur.com
Take a moment to appreciate how much effort Kunitz put into checking Granlund here. We talk about players getting turnstiled sometimes, when they get spun around by a player attacking at high speed, but Kunitz turned his stick into a literal turnstile. Granlund went by Kunitz like he had a Compass Card wristband.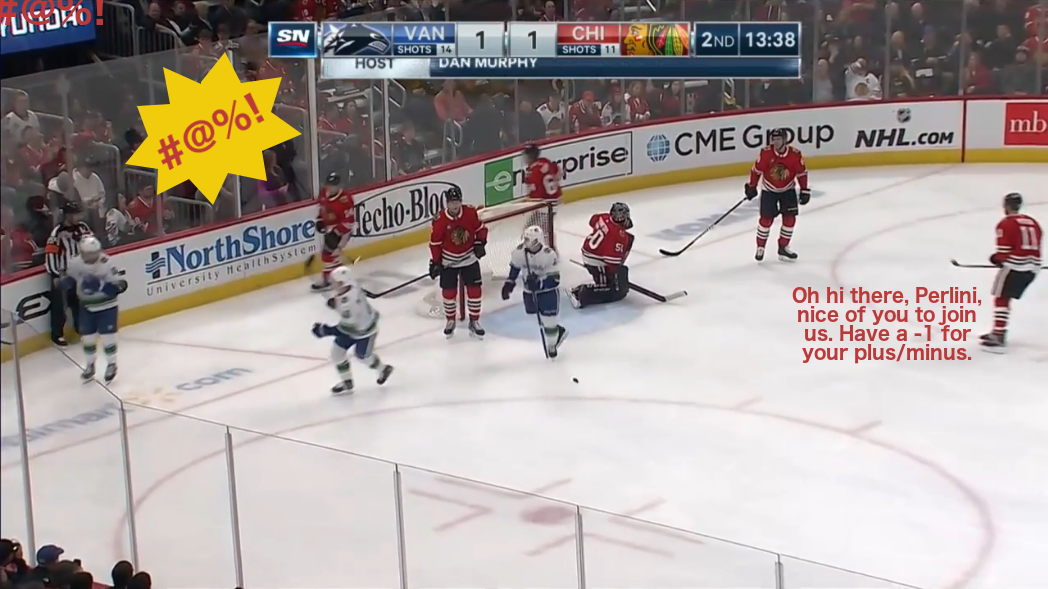 I can't quite capture it in a screenshot, but somebody on the Blackhawks was not particularly happy about giving up that goal and shouted a very audible cuss word on the broadcast.
Also, poor Perlini. With the minus-1 from this goal, Perlini is now minus-16 on the season, putting him in the bottom 30 in the NHL. Plus/minus isn't a particularly great stat, as this example shows — no part of this goal was his fault — but plenty of people in hockey circles still place a lot of importance on it.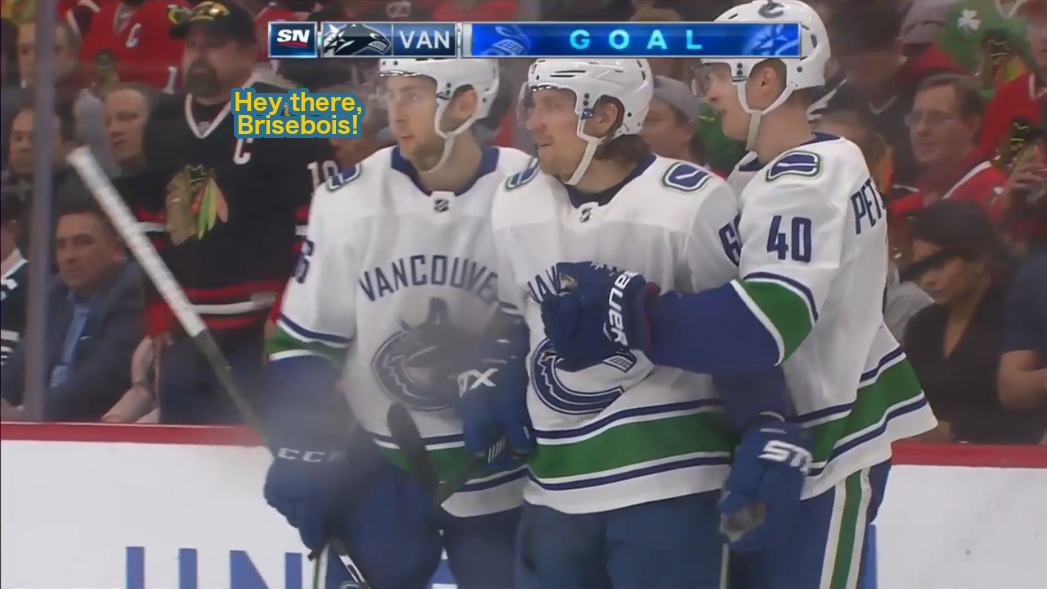 Okay, I lied earlier. Brisebois does show up again, as one of the first people in the celebratory hug after Granlund's goal. Hi Brisebois!