Erik Gudbranson is 26 years old. By North American standards, Gudbranson is a young man, but by NHL standards, he is not.
The trend in the NHL over the past decade has been to get younger and younger. Whether it's because players are ready sooner because of better training at a younger age, or because of new understandings of when players peak, the trend is undeniable.
According to QuantHockey, the average age of an NHL defenceman in the 2017-18 season is 26.99. Essentially, Gudbranson is about a year younger than the average age of an NHL defenceman.
This is important, because analysis done by Luke Solberg at Hockey Graphs suggests, "The average NHL skater plateaus from age 22 to 25." There's a little more uncertainty when it comes to defencemen, but that jibes with other studies that suggest a peak age of 25 for NHL skaters.
Another study suggests that defencemen peak between 28 and 29, but notes that defencemen start to peak at 24 and says, "The study proves it is wishful thinking for managers to expect a player in his mid-20s to continue improving significantly."
The Canucks, however, are trusting that Erik Gudbranson's best is yet to come. This is clear from his new three-year, $12 million contract. His $4 million cap hit is one befitting a second-pairing defenceman, while his on-ice performance and ice-time have leaned more towards third-pairing in his two seasons with the Canucks.
"I don't think we've seen the absolute best in Guddy's game," said Travis Green. "I think he's a guy that's still improving and we need to continue to push him to be better. I think we've seen some of that this season."
"I would agree with that," said Jim Benning in a one-on-one interview with Farhan Lalji of TSN. "Injuries the last couple years, kind of he'd get going and he wasn't really established in his role that we think he could develop into."
Gudbranson certainly believes that he has more to give.
"I think [my game] is going to get better. If I shave this beard away, I look a little younger, I might look my age," said Gudbranson. "I'm still a sponge, like I was when I was 19, 20 years old, trying to pick guy's brains and use the [veterans] to my advantage. I don't know what the ceiling is. I don't think anybody really knows, but I'm just trying to get better every single day and that's my motivation to be here. Any hockey players motivation is to constantly get better."
At some point, "constantly getting better" becomes "keeping up." While there are certainly outliers, the number of players that see significant improvement at the age of 26 are few and far between.
Green also mentioned Gudbranson's injuries, which limited him to just 30 games last season and also taken him out of the lineup for a brief stretch this season. But even when he's been healthy, his on-ice results haven't been pretty.
Charting out his numbers relative to his teammates throughout his career shows that when it comes to shot attempts (corsi), unblocked shot attempts (fenwick), shots on goal, and goals, Gudbranson has performed worse than the rest of his team every single season.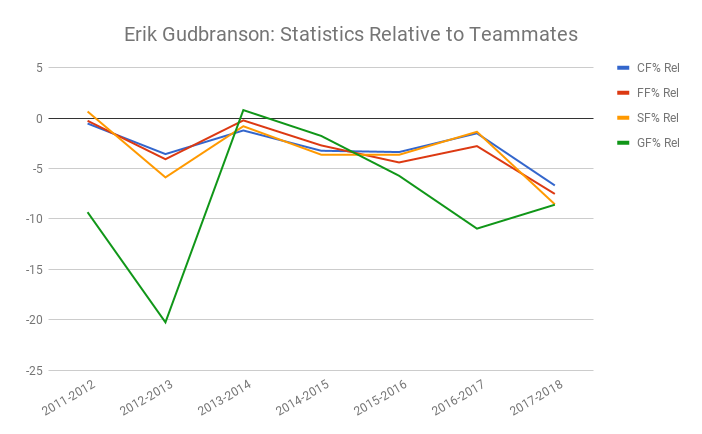 His numbers pop into the positives just twice: in his rookie season, in a more sheltered role, he appeared to have a positive influence on shots on goal, even if the rest of his numbers dipped into the negatives. The other positive comes from his best season with the Florida Panthers in 2013-14, where his goals-for percentage was slightly better relative to his teammates. But even in his best season, he was still worse than his teammates in every other category.
I asked Travis Green what the analytics seem to be missing when it comes to Gudbranson, and he nodded, seeming to understand that the numbers have not been kind to him.
"I don't think we've seen Guddy at his best," acknowledged Green once again. "I think in the games that he has played well, I'm guessing those numbers are better. I don't want him to be a negative all the time, but I think that's part of the games he has played well, he's shown us what he can do."
This sounds worse than Green intended. What Green said is that when Gudbranson has been good, he's been good. It's a truism. What he intended is more that Gudbranson is capable of playing well and putting up better on-ice results; his job will be to get more of those games out of Gudbranson in the future and fewer of the bad games.
When Benning was asked whether Gudbranson's analytics were a concern, he was dismissive.
"No, because I think we need, like, some pushback, some physicality on the backend," said Benning. "We have to make it hard for… good players to get to the net. Sometimes, you know, the data, the things that don't show up in the data are important, and I think what Erik brings us is important."
There are a couple ways to address that claim, because there is, in fact, data that shows whether Gudbranson is good at preventing players from getting to the net.
The first is by using a heat map of unblocked shot attempts from Hockey Viz, which illustrates where shots have come from with Gudbranson on the ice this season.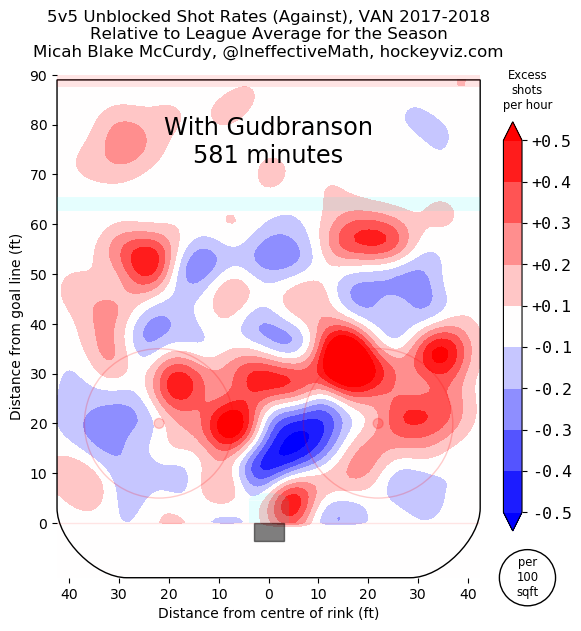 Gudbranson has been on the ice for a lot of shot attempts against, including a significantly higher than average number from the right side of the crease, which is his side of the ice. He appears to have a cooling effect on shot attempts from one area on the right side of the slot, but bleeds shots against from everywhere else on the right side.
He looks a little better using another method, however. Expected Goals from Emmanuel Perry's Corsica site uses a variety of methods to assess the danger of shot attempts, including proximity to the net. Gudbranson doesn't look too bad compared to other Canucks defencemen when you look at his rate of Expected Goals Against.

The issue is when you look at the flip side of the coin: Gudbranson provides very little offensively, to the point that his overall Expected Goals For Percentage of 43.39% is the worst among Canucks defencemen.
While Gudbranson does not appear to make it much more difficult to get to the net according to the heat map, he does appear to have an impact on scoring chances, according to the Expected Goals metric. Unfortunately, by that same metric, he provides such a negative value offensively that it washes out that advantage.
In an era in the NHL where teams are moving towards a more mobile, puck-moving defence, the Canucks committed second-pairing money for the next three years to a player who does not move the needle offensively in any way.
Gudbranson has mainly played third-pairing minutes for the Canucks this season, but has taken on a larger role of late, particularly with Chris Tanev out of the lineup.
"I think this last month, playing with Eddy, they've been a good fit together and he's played that role and played well for us," said Benning and Green echoed that thought.
"I think if he's on his game, and he's playing up to his capabilities, he can be a good shutdown defenceman," said Green. "I think we've used him that way a little bit more here of late."
If Gudbranson is going to live up to his contract, that's the role he'll need to play: eating up minutes against tough competition as part of a shutdown pairing. There's limited evidence of him being effective in that role, however. Both Benning and Green mentioned Gudbranson's play with Alex Edler.
In his brief time on the top pairing with Edler, he's seen mixed results, with both good and bad games. Overall, however, Gudbranson's defensive numbers with Edler don't look great in comparison to Edler's other partners.

That would be Gudbranson with the worst rate of shot attempts, unblocked shot attempts, shots, and scoring chances against. Derrick Pouliot is worse in goals against, but Gudbranson is still second worst, and goals in a limited sample size can be misleading.
If defencemen don't significantly develop after their mid-20s, then this is who Gudbranson is: a defenceman who can certainly be put on the ice for big minutes, but won't necessarily be that good for those big minutes. The Canucks have to hope that Gudbranson is one of those outliers, a player that bucks the statistical trends to show significant development into his late 20s, all while the NHL continues to move further away from his style of defenceman.