The Vancouver Canucks solved multiple problems in one fell swoop on Tuesday. With just one trade, they solved their salary cap conundrum, added a veteran backup goaltender to ease the burden on Thatcher Demko, and removed a veteran forward from their clogged wings.
It could be considered a coup for Canucks general manager Patrik Allvin to abruptly erase so many issues at once.
On Tuesday, Allvin sent Tanner Pearson and a 2025 third-round pick to the Montreal Canadiens for goaltender Casey DeSmith.
Pearson hasn't played a game since November 9, 2022 and a series of setbacks led to multiple hand surgeries, calling into question his ability to return to the ice. Over the summer, however, Pearson worked his way back into playing shape and has been skating with his teammates at informal practices in Vancouver for weeks.
A healthy Pearson, however, threw a wrench into the Canucks' salary cap picture, as his $3.25 million cap hit would have made it impossible to put together a full 23-man roster to start the season without other players going on long-term injured reserve (LTIR). The Canucks might have been forced to put Pearson on waivers to send him to the AHL or make another trade to clear cap space.
Instead, the Canucks moved Pearson himself, sending him to the Canadiens, where he can get a fresh start. The addition of a third-round pick in 2025 is the cost of clearing some much-needed cap space.
In return, the Canucks get back a capable backup goaltender in DeSmith.
DeSmith has a career .912 save percentage across 134 NHL games, all with the Pittsburgh Penguins. DeSmith was moved to the Canadiens as part of the three-team deal that brought Erik Karlsson to the Penguins just over a month ago. That means Allvin is very familiar with DeSmith from his time working for the Penguins.
The 32-year-old DeSmith had a .905 save percentage last season, the lowest of his career, but it should be noted that was still above the league average of .904, as save percentages have been on the decline in recent years. DeSmith also played a career-high 38 games last season, as he acted as the Penguins starter for long stretches while Tristan Jarry was injured, and struggled when asked to carry a starter's load.
As a backup goaltender, DeSmith should be a reliable option to play around 25 games, giving the Canucks a stable, veteran presence in net when Demko needs a night off.
It does mean the Canucks now have six goaltenders under contract, making for a very crowded crease for the Abbotsford Canucks in the AHL, with Spencer Martin, Arturs Silovs, Nikita Tolopilo, and Zach Sawchenko all vying for starts. This likely ensure that Tolopilo will go to the ECHL to make sure the developing goaltender gets playing time.
DeSmith has just a $1.8 million cap hit, for a total cap savings of $1.45 million. That's an ideal amount of cap space to save from the Canucks' perspective, as it allows them to put together a 23-man roster to start the season even if Ilya Mikheyev is 100% recovered from his knee surgery last February and ready for opening night.
Here's a potential 23-man roster using CapFriendly's roster simulator.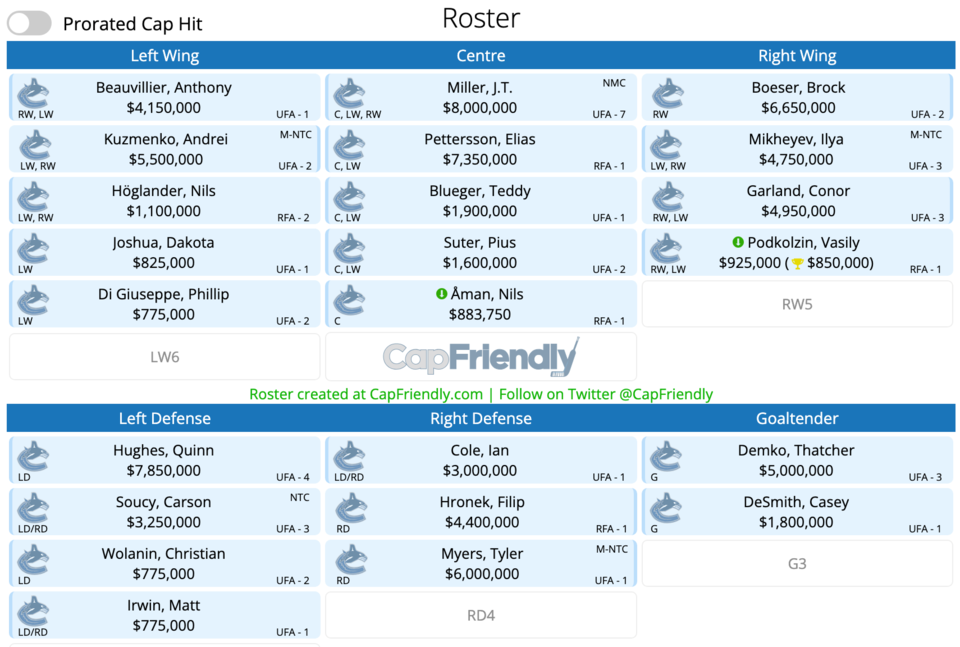 This roster still has around $300,000 in cap relief remaining from Tucker Poolman being on LTIR, giving the Canucks some wiggle room around the edges. If Akito Hirose, Cole McWard, Aidan McDonough, or Jack Rathbone win training camp battles, there's room for one or more of them to make the roster ahead of Christian Wolanin, Matt Irwin, Dakota Joshua, Phil Di Giuseppe, or Nils Åman.
While having to trade a draft pick to clear only a small amount of cap space isn't ideal, solving a multitude of problems with just one trade makes this a clear win for Allvin and the Canucks.