Former professional skateboarder Colin McKay has come a long way from skating the streets of Vancouver, but his hometown is still close to his heart and he paid homage to his Vancouver roots with his latest skateboard design.
When McKay was growing up in Vancouver, skateboarding wasn't the only thing he did on the streets. Like most kids in Canada, he played a lot of street hockey and would pretend to be his favourite player.
"I like me some Tiger Williams," said McKay. "We used to ride around on our sticks after scoring a goal in street hockey and pretend to be Tiger Williams."
Williams famously rode his stick down the ice after scoring a goal in his return to Toronto after being traded by the Maple Leafs. With his exuberance, not to mention his penchant for both dropping the gloves and scoring goals, he quickly became a beloved figure with the Canucks.
For McKay and his friends, Williams endeared himself in another way.
"When I was growing up in Vancouver, we skated a spot called the New Spot, which is kind of the go-between down between Hastings and the street below it, right before the Pacific Centre where you walked down all the stairs to the food fair down there," said McKay. "Tiger Williams used to walk through there occasionally and we all knew him and recognized him and we'd say, 'What's up' and he would show us love and that was cool for us as kids."
"It was The Canuck," emphasized McKay, "and he didn't just walk by, he showed us love, recognized that we were out there doing something and not just hanging out."
For McKay, it really wasn't just hanging out — he turned skateboarding into a career, transitioning from street skating to vert competitions around the world. One of the original members of the Plan B skateboarding team in the 90's, McKay relaunched Plan B in 2005 with fellow skateboarder Danny Way.
Over the years with Plan B, McKay produced several different signature skateboard designs, but slowed down after retiring. Wanting to produce another board, McKay turned to one of his all-time favourite designs: the much-maligned "Flying-V" Canucks jerseys of the late-70's and early-80's.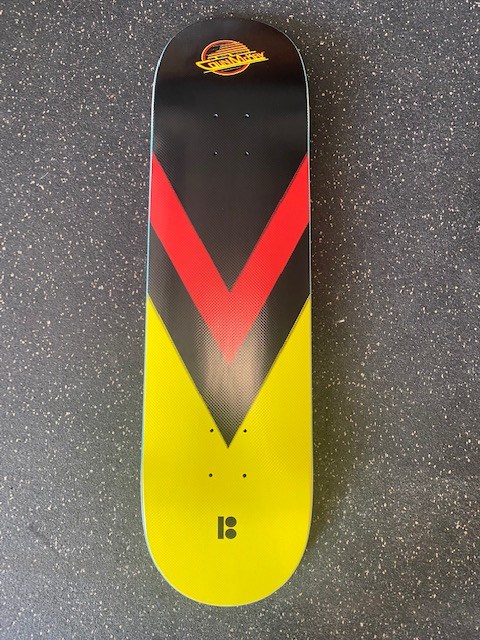 It's actually the third Canucks-themed skateboard he's done. According to McKay, he first had a board with the flying-skate-inspired logo in the middle of the board, then did a take on the blue and maroon orca. This time around, he wanted to go a little more old-school.
"I've had the Canucks graphics before but I always looked at that jersey and the colourways of it and I like very bold and clean-looking graphics," said McKay. "I thought if we just almost oversimplified it and just did the black, orange, yellow, that it would get the message across that I was trying to convey — which was Vancouver, pride in the city, pride in the people — without having to get too complicated with it."
The design is instantly recognizable even without some of the added details, like "stitching" where each colour meets. But McKay wanted to take it a step further.
"With new techniques that they're using for skateboards these days, they can do this thing where they raise the ink so it has a texture," said McKay. "So with the stitching around the colour and then the rest of the board, it actually feels like a jersey when you run your hand over it."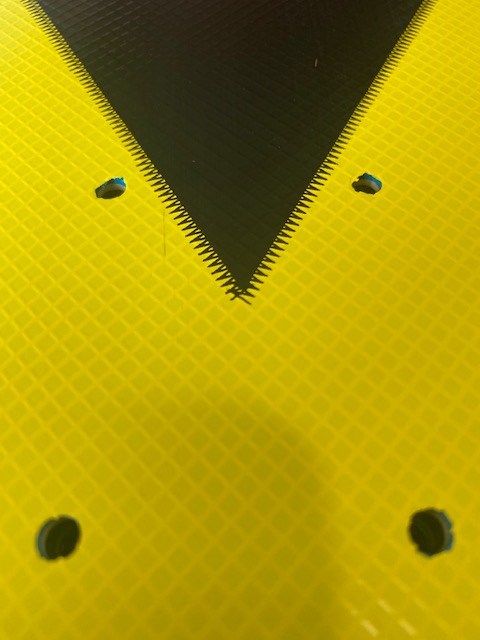 While the flying-V jersey is frequently ranked among the worst jerseys in professional sports history, McKay doesn't care.
"It's exactly the jersey that's on the board that's my favourite," said McKay when asked to name his favourite Canucks jersey of all time. "The funkiness of it is the beauty of it. That dated, throwback sort of vibe. I think I like it more these days than I probably did when I was a little kid. Maybe it's just nostalgia but I appreciate it more."
"It really is an odd colourway," he added with a laugh. "If you were designing it from scratch, it really is an odd, awkward colourway, but if you're from Vancouver, you know why it's special."
Now living in California, McKay has a tougher time following the Canucks as closely as he once did — "They don't play the Canucks on TV down here!" — but he makes sure to go to a game every time he gets back up to Vancouver. The Canucks are clearly still close to his heart, as is the local skate scene.
"When we were kids growing up, the skate scene up there hadn't really been developed. The scene was California," said McKay. "We just tried to emulate what guys were doing in California but now Vancouver has one of the best skate scenes in the world and some of the best skateboarders currently in the world are from Vancouver."