Last season, Elias Pettersson broke out the way Vancouver Canucks fans always believed he could. Now, what can he do for a sequel?
The Canucks' franchise forward made a massive leap from 68 points in the 2021-22 season to a whopping 102 points in the 2022-23 season. That kind of major jump in points was impossible to predict and it makes projecting his future production a difficult task.
Pettersson himself has said that he intends to improve upon his 102-point season and it's easy to see how that might be possible.
Although Pettersson had a career-high 39 goals, he actually had a career-low shooting percentage of 15.2% and tallied just six power play goals. Pettersson could add a few more goals and points simply by regressing to his average shooting percentage and by finding a way to get more scoring chances on the power play.
On the other hand, with a more defensive-minded coach in Rick Tocchet, perhaps Pettersson doesn't pile up quite as many points. Who's to say which will be the case?
Well, the people who do point projections for fantasy hockey. They're the ones to say. At least, they are until the season actually happens.
The point of fantasy hockey projections is to help those in fantasy hockey leagues select the best possible team for the upcoming season but even if you don't play fantasy hockey, it's interesting to look at the projections and see what the expectations are for the players on your favourite team.
I collected projections from five different sources — The Hockey News, The Athletic, Elite Prospects, NHL.com, and ESPN — to see what kind of point totals they're predicting for Pettersson and the rest of the Canucks. Let's take a look.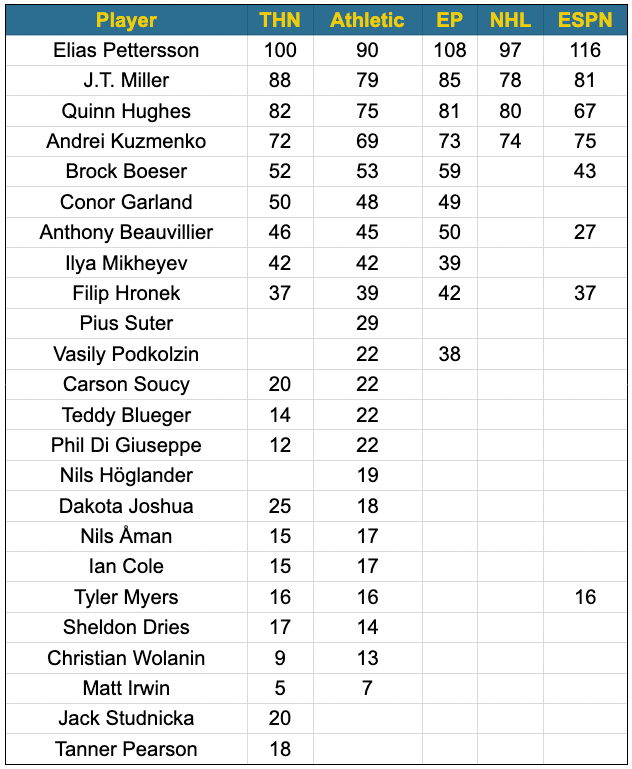 No source had projections for every single Canuck, with NHL.com only projecting points for five skaters, as well as 28 wins for Thatcher Demko. I sorted the projections according to The Athletic's projections, as they included the most Canucks.
Is Elias Pettersson more likely to put up 90 or 116 points?
The projections for Pettersson are all over the place, with a 26-point difference between the highest and lowest projections.
ESPN is the most bullish on Pettersson, projecting 45 goals and 116 points, third behind the Edmonton Oilers' dynamic duo of Connor McDavid and Leon Draisaitl.
Elite Prospects are similarly high on Pettersson, suggesting he'll flirt with 50 goals. They also project him to finish third in scoring behind McDavid and Draisaitl with a 49-goal, 108-point season.
"If their top power-play unit can get hot, Pettersson has a legitimate shot at getting there," said Elite Prospects. "Oh, and don't forget the Swedish centre is entering into a contract season. Never underestimate the power of a contract season."
Both The Athletic and NHL.com, on the other hand, think Pettersson will come up short of 100 points this season. For what it's worth, the most bearish projection from The Athletic still predicts a 38-goal season from Pettersson but a drop-off in assists, perhaps because they don't see Andrei Kuzmenko converting on quite as many of Pettersson's passes.
A 90-point season would still be very respectable, of course, and if the Canucks are a better team defensively, Pettersson wouldn't necessarily need to have a 100-point season to carry the Canucks back to the playoffs.
Progression or regression for Quinn Hughes?
While ESPN is very high on Pettersson, they're surprisingly low on Quinn Hughes, who is coming off a 76-point season that was good for second among NHL defencemen.
Most of the point projections suggest that Hughes will either repeat or improve those numbers but not ESPN, who apparently don't think Hughes will pick up many assists on Pettersson's 116 points. ESPN projects a 67-point season from Hughes, which would still be the third-best season all-time from a Canucks defenceman, behind only his two previous seasons.
Elite Prospects suggests that regression is not likely in the cards for Hughes.
"Heading into his fifth season, the 23-year-old is only trending upwards," they said. "Hughes has access to a superstar-level talent in Elias Pettersson who also continues to improve. Their power play has the skill to be deadly but hasn't entered into the top 10 in the league yet."
A setback for Beauvillier and a big season for Podkolzin?
ESPN is also an outlier in the projection for Anthony Beauvillier, who had 40 points last season and is angling for a consistent spot in the Canucks' top six and perhaps even on the top power play unit. With that in mind, three projections have him in the 45-50 point range, while ESPN projects just 27 points for the 26-year-old winger.
There are some other interesting projections. Everyone seems to agree that Filip Hronek will put up around 40 points in his first season with the Canucks, which is in line with his production the last couple of seasons.
Three projections have Ilya Mikheyev putting up around 40 points as well, which would be a career high for the winger, who has been plagued by injuries throughout his career. If he's recovered from his surgery and able to start the season at 100% and is also able to stay healthy, then 40+ points should be readily attainable.
Then there's an optimistic 38-point projection for Vasily Podkolzin from Elite Prospects.
Podkolzin put up 26 points in 79 games in his rookie year with the Canucks, but struggled last season and was sent down to the AHL, where he started to find his game again. Podkolzin has the potential to play the type of game that head coach Rick Tocchet craves from his wingers but he needs to find the scoring touch that has thus far eluded him in his career.
My favourite projection might be for Tyler Myers. Three sites saw Myers post 18 points in 2021-22, then 17 points in 2022-23, and said to themselves, "That's a trend if I've ever seen one" and projected he'd put up 16 points next season.
Regression is coming for Andrei Kuzmenko
Andrei Kuzmenko is coming off one of the most ludicrous shooting percentage benders in NHL history. His 27.3% shooting percentage is the seventh-highest in NHL history on at least 100 shots since the NHL first started recording the statistic in the 1959-60 season.
With that in mind, it would be understandable if point projections predicted a drop-off in points next season from the 74 he tallied in his rookie year. For the most part, however, they don't.
The projections for Kuzmenko are all clustered together, generally suggesting he can repeat, or come close to repeating, last season. Only The Athletic suggests he'll drop below 70 points and only just.
That's not to say that the fantasy hockey experts are not predicting a regression for Kuzmenko.
The Athletic projects a five-goal drop to 34 goals, ESPN projects 33 goals, and Elite Prospects predict he'll fall below 30 goals to 29.
"Kuzmenko averaged just 1.8 shots per game," warns Elite Prospects. "Even if he increased his shot rate by 50 per cent this season, he'd have to score goals at a 19 per cent clip to match his 39 tallies from 2022-23. And this is a player who has only once put more than two shots on goal per game in a season."
What the experts think will happen, however, is that Kuzmenko will add more assists next season and end up with a similar number of points. If he and Pettersson can find a consistent linemate — such as a healthy Mikheyev — that's a distinct possibility.
Opposing penalty kills will likely also key in on Kuzmenko, who led the Canucks with 14 power play goals. If Kuzmenko can leverage that penalty kill attention towards setting up newly-opened teammates, he should get a boost to his power play assists.