The Vancouver Canucks got some good news heading into their Tuesday night game against the Buffalo Sabres: Brock Boeser was back.
Unfortunately, they also got some very bad news: Quinn Hughes would miss the game with an undisclosed injury.
Hughes missed Monday's practice with what head coach Travis Green called a maintenance day. Taking a maintenance day just three days into the season seemed like a red flag and, sure enough, Hughes missed Tuesday's morning skate as well and was ruled out for the game against the Sabres.
Fortunately, according to Green, Hughes was close to playing and shouldn't miss much more time, if he misses any at all. That's a good thing because, without Hughes, the Canucks' defence fell apart.
The Canucks gave up 43 shots to the Sabres and looked completely disorganized defensively for long stretches. The end result? A 5-2 loss to a Sabres team that was expected to be one of the worst in the NHL even before it became clear that Jack Eichel would never play for them again over a dispute over medical options.
It was a mess and not even a hot mess. It was a cold, sludgy mess that you wouldn't even want to poke with a stick.
Without Hughes, the Canucks' iced a top pairing of Oliver Ekman-Larsson and Tucker Poolman, a second pairing of Brad Hunt and Tyler Myers, and a third pairing of Jack Rathbone and Luke Schenn. Kyle Burroughs, who had some defensive miscues against the Detroit Red Wings after a strong start to the season, was a healthy scratch.
It's worrying that an injury to Hughes can so quickly lead to a defence that looks that bad. They particularly struggled to break out the puck from the defensive zone and transition up ice.
"We didn't play good enough to win. That's how I'd diagnose it," said Green bluntly. "It's a fast team over there, I thought we struggled with their speed a little bit at times and usually when you're struggling with a team's speed it's because you're not very good with the puck."
"There's just way too many times where we would come up with a loose puck and not be able to execute a play and they'd have it right back and now you're defending tired," added Green. "Now you're in trouble against a fast team that has a lot of motion in the offensive zone"
Green called it a run-and-gun game by both teams and said his team didn't "pay a big enough price to win," failing to block shots and throw hits to limit shots and possessions for the Sabres.
"I wouldn't classify our team as a run-and-gun type of team," said Green. "If we're going to try to play that game every night, we're going to be in trouble."
Now, the sky isn't falling. Sure, the Canucks lost to the Red Wings and the Sabres in back-to-back games, but they're still just four games into the season and haven't played a home game yet. They'll surely look better when they finally play a game with both Hughes and Boeser in the lineup at the same time and they'll have plenty of chances to let these two games fade into the past.
And maybe the Red Wings and Sabres are simply better teams than they were last season. Maybe, by the end of the season, the Red Wings and Sabres will be at the top of the Atlantic Division and we'll look back at these games and think, "No wonder the Canucks lost to these two powerhouses."
For now, however, this looks like a missed opportunity. They had a chance to kick off the season with a killer road trip and head into their home opener in front of a 100% capacity crowd on a high. This feels a little demoralizing.
At least, I felt demoralized when I watched this game.
Honestly, this game started out well for the

Canucks

.

Boeser

was buzzing on a line with Elias

Pettersson

and Nils

Höglander

, ringing Craig Anderson's ears with a shot to the mask. While

Boeser

looked a little out of sync at times, overall he was one of the

Canucks'

stronger players on the night with three shots on goal and a drawn penalty.


The

Canucks

even opened the scoring for the first time this season. Tanner Pearson out-battled

Rasmus

Dahlin behind the Sabres net and found a wide open Bo

Horvat

in front, who reached out and wedged the puck over Anderson's glove.


It was a heads up play by Horvat, who was being watched by Vinnie Hinostroza. Horvat was behind the Sabres winger when Hinostroza checked over his shoulder to see where he was. As soon as Hinostroza looked away, Horvat accelerated into the slot, creating the space he needed to put the puck home.


The Sabres responded a couple of minutes later with a goal from Kyle Okposo. Hunt pinched up the boards in the neutral zone and got beat, creating what Myers seemed to think was an odd-man rush. In reality, it was a 1-on-1, but Myers played it as if he needed to take away the pass to a non-existent player. That gave

Okposo

all the room he needed to pick his spot over Thatcher

Demko's

glove while Myers laid his stick down at his feet like he was pledging allegiance to Stannis Baratheon.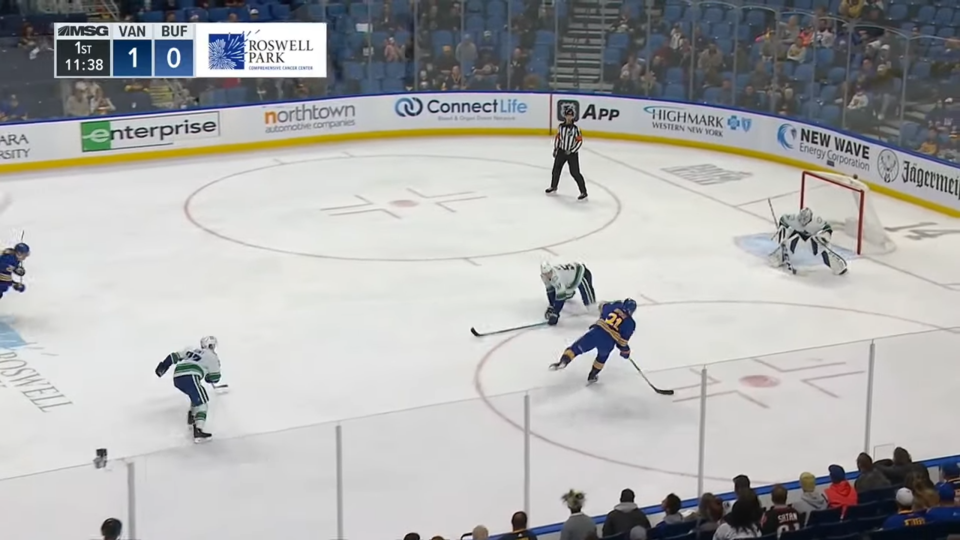 Justin

Dowling

had a strong game and looked like the

Canucks'

best forward at times, which is good for

Dowling

but less than ideal for the

Canucks

. He hit the post on a nifty breakaway move at one point in the first period — his second post of the season — then got some good karma a few minutes late, tipping in a

Schenn

point shot to make it 2-1.


While Vasily Podkolzin didn't get a point on Dowling's goal, he deserves some credit. On the zone entry, he pulled a little button hook like a young Sedin before hitting J.T. Miller with a perfect pass down low. Miller sent the puck back up to Schenn at the point for the shot. The zig-zag passing pattern left the Sabres' defence in disarray and it all started with Podkolzin gaining the zone and throwing on the brakes like Spaceball 1.


For the second game in a row, the Canucks went 0-for-3 on the power play. The Canucks struggled to even gain the offensive zone on their first opportunity. It's the most offensive man advantage since Juwanna Mann — and not offensive in the sense of creating offence, but in the sense of causing offence.


The Buffalo Sabres' power play, on the other hand, gave the

Canucks

fits. Their 2-2 goal technically wasn't on the power play, coming a few seconds after Pearson got out of the box, but it came after a veritable shooting gallery on

Demko

. It came, once again, with Myers defending no one, while his man in front of the net,

Zemgus

Girgensons

, tipped in the puck.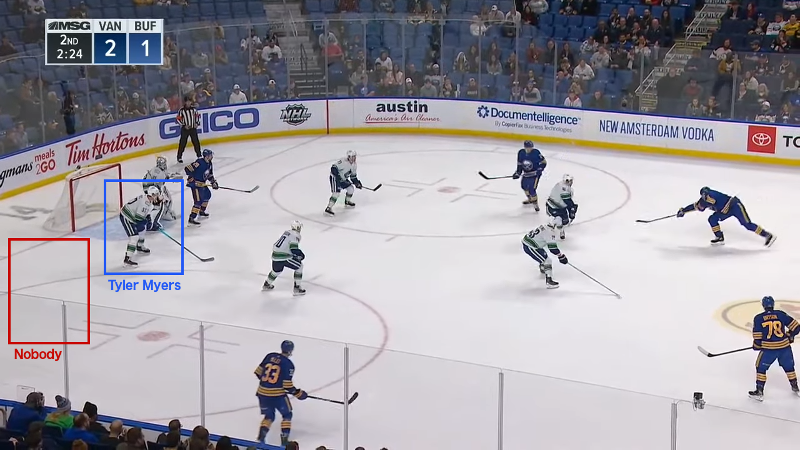 The

Canucks

were lucky to only give up one goal in the second period as they were back on their heels like Violet Chachki for almost the entire middle frame.


Things somehow got worse in the third period. After another failed

Canucks

power play, the Sabres pressed hard: Hunt and Jason Dickinson couldn't move the puck out of the defensive zone, Hunt lost track of Jeff Skinner behind him and, when

Juho

Lammikko

tried to cover for Hunt, Skinner spun off the big man like the figure skater he once was and backhanded a rebound top shelf where Mama hides the Christmas presents.


Right after the 3-2 goal, the Sabres smelt blood in the water and attacked, with the Canucks in disarray. Miller and Schenn got crossed up as they couldn't decide which of them should take the puck-carrier, forcing Dowling to take the man going to the net instead of picking up the trailer on the rush. That trailer was Will Butcher, who got two chances at a shot on Demko before Tage Thompson, while Schenn spun around looking for the puck instead of boxing him out, banged home the rebound.


The power play finally showed some signs of life in the third period, primarily because of Rathbone and the second unit. He set up Höglander for a glorious chance with four minutes left in the game but Höglander, as a left-hand shot on the left side, wasn't able to one-time it, allowing Anderson to get his blocker across in time to rob him.


Just before that,

Rathbone

nearly did it all himself, dashing through the neutral zone, then swooping around

defenceman

Jacob Bryson to drive to the net, only to lose the puck at the last moment.
And that was the game. Rasmus Asplund added an empty net goal to make it 5-2 and then the Canucks added another five shots on goal with the game out of reach to make the shot totals look a little more respectable. They weren't. Do not respect those shot totals. Disrespect those shot totals like A Day To Remember disrespects their surroundings.