A repeated theme of the Vancouver Canucks' imbroglio over the past week is just how surprised the powers that be in the Canucks' organization.
Sportsnet 650's Satiar Shah described the people at the top of the organization as being in a "state of shock" and "caught off guard." On Thursday, general manager Jim Benning reiterated that sense of surprise.
"The moves we made this summer, I would have never envisioned we got off to this start," said Benning. "But we have, now we have to deal with it and we've got to figure it out."
While the higher ups in the Canucks couldn't see this coming, plenty of people outside of the organization did. Pundits and analytical models almost universally projected the Canucks to finish outside the playoffs.
But the Canucks believed that everything was fine, that "the moves we made this summer" were enough to compete with the elite teams in the NHL and get back to the playoffs. It feels like the Canucks management group, which has had no qualms about removing dissenting voices, has become an echo chamber. They've made the fatal flaw of believing their own hype.
"We've really improved our chances against."
Benning was quick to say that he believes in the team he's assembled and that they are better than last season.
"I think five-on-five — we've really improved our chances against in our five-on-five play," said Benning. "But right now our special teams are hurting us. Our power play, we have the personnel, I believe, to have a real good power play and, for whatever reason, we're not performing on the power play and then our penalty kill, it's really hurt us this year, as was in evidence in the game last night — they scored three power play goals and that's the difference in the game."
There's no doubt that the Canucks' special teams are a massive problem. They have the NHL's worst penalty kill at a putrid 60.3% and their power play is ranked only slightly higher at 27th overall. But let's take a moment to unpack that first claim.
There is certainly an argument that the Canucks are better at 5-on-5 than they were last season. The trouble is, that's not saying much.
The Canucks were ranked 28th in the NHL in score-adjusted corsi percentage in the 2020-21 season at 45.57%, as they were regularly out-shot by wide margins at 5-on-5.
This season, they have improved, but only to 49.42%, ranked 19th in the NHL. In other words, they're still regularly being out-shot and out-possessed at 5-on-5, just not to the same degree.
They really haven't improved their chances against.
Benning's main claim, however, is that the team has improved in terms of the scoring chances they give up at 5-on-5. That just isn't the case.
Last season, the Canucks gave up the second-highest rate of high-danger chances at 5-on-5, second only to the Chicago Blackhawks. That rate was 11.86 high-danger chances per 60 minutes.
This season at 5-on-5, the Canucks have given up 11.72 high-danger chances per 60 minutes.
Perhaps a visual might help. On the left in the below image is a heatmap of the unblocked shot attempts given up by the Canucks at 5-on-5 in the 2020-21 season. On the right is the heatmap from the 2021-22 season. The red represents areas where the Canucks give up an above average number of shots; the blue is where they give up a below average number of shots.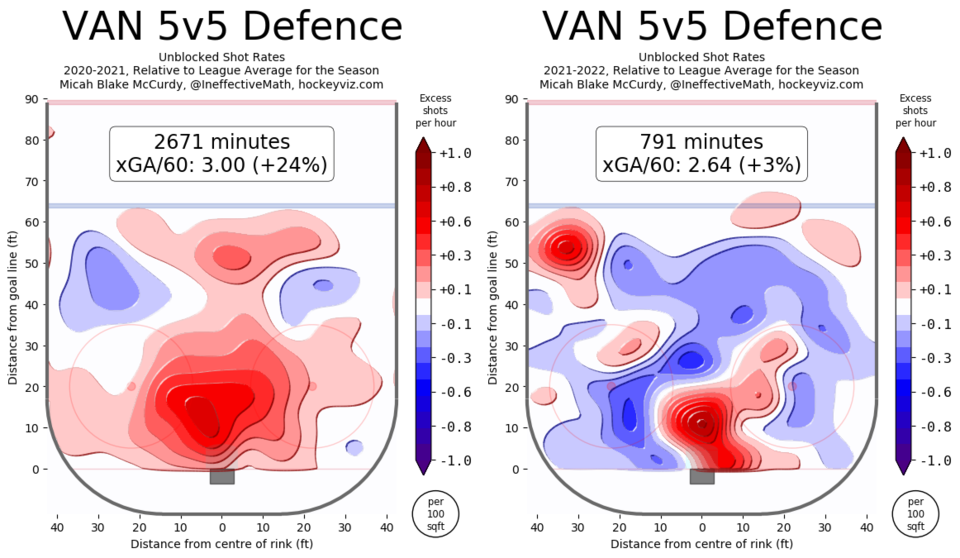 It's easy to see that the Canaucks have indeed made improvements from how dreadful they were last season, reducing the number of shots against from most areas of the ice. The one area where they continue to give up a worryingly high number of shots? Directly in front of the net, the most dangerous area of the ice.
Still, while their 5-on-5 play has been far from perfect, they're exactly even in goals for and against at 5-on-5 — 27 for and 27 against — partly thanks to their above-average goaltending. Special teams have definitely been a bigger concern, particularly the penalty kill.
"It's just not the players, it's the strategy involved."
According to Benning, it's a mix of issues.
"Not having Brandon Sutter and Tyler Motte to start the year, it's a big loss for us because they're good penalty killers," said Benning. "We traded Jay Beagle this summer and he did an excellent job for us in that area. We need to make adjustments. We traded for [Juho] Lammikko."
The first point is the most worrisome. Yes, the Canucks miss Sutter and Motte, but that's part of the problem.
Brandon Sutter has yet to play a full season for the Canucks without getting injured and has missed 115 games in his four years with the Canucks. Tyler Motte had offseason neck surgery, with an uncertain timeline for his return. How can you not have a backup plan for those two players?
In addition, for all the energy that Motte brings to the lineup, he and Sutter are both still fourth-line players. It's troubling that the team has missed them so dearly.
It's one thing to hope for the best, as the Canucks clearly have. It's quite another to not be prepared for the worst — they didn't appear to have any contingency plans for if things went wrong, whether on the penalty kill or in other areas.
Dickinson and Lamikko haven't been good enough on the penalty kill, particularly on faceoffs, but their struggles in the faceoff circle were well known before they arrived in Vancouver.
That said, Benning pinned the blame on more than just personnel.
"It's just not the players, it's the strategy involved in how we're going to kill penalties," he said. "I think the coaches are working with the players on that, so we can do a better job."
"Travis and his staff are working hard."
That seems to put the blame on the coaching staff and when asked point blank if head coach Travis Green's job was safe, Benning notably did not give Green a vote of confidence.
"We're looking at everything. We're trying to find solutions to our problems," said Benning. "Travis and his staff are working hard. This is wearing on them like it's wearing on all of us."
When asked if his own job was safe, Benning was dismissive.
"I'm not gonna worry about that," he said. "That will be an ownership decision and if they get to a point where they don't feel like I'm doing a good job or I need to be replaced, they'll make that decision."
In other words, that's a question for ownership. The issue is, the Canucks' owners are never — or very rarely — available for the media to ask such questions. When asked why, Benning called himself the spokesman for Francesco Aquilini.
"When I meet with the ownership, it's kind of a State of the Union as to where the team's at," said Benning. "Obviously, ownership's not happy with the start we've had and we've talked about the issues that we're having as a team and as a group, and I try to give them solutions to our problems, how we're going to figure this out and how we're going to get better and how we need to be.
"So, that's kind of the way things work around here. So, I'm kind of the spokesman for him in that regard."
Hm.
Is getting back to the bubble enough?
One of the most telling moments came when Jeff Paterson asked Benning about the 2020 playoffs in the Edmonton bubble. Benning has repeatedly brought up the playoffs in the bubble as what they "want to return to."
So, Paterson asked if the team put too much stock in what they accomplished in the bubble, overvaluing how good the team was given the unique circumstances.
"I don't know the answer to that question," said Benning.
It seems very pertinent to his job that Benning know the answer to that question or, at the very least, have a strong opinion on the subject. He could have said yes, that he misjudged the team and they weren't quite as good as he thought or hoped. He could have said no, that their experience in the bubble proved that his team could compete with the best teams in the league.
Instead, he said, "I don't know."
Clarity on the Travis Hamonic situation
While Benning couldn't provide any clear answers for how the team will improve — he said several times that they are "looking at everything" — but he did provide some clarity on what happened with defenceman Travis Hamonic and why he missed the start of the season.
"I talked to Travis before I walked in to talk to you guys and he was on his way to get vaccinated," said Benning, referring to his press conference at the beginning of the year when he confidently said that Hamonic would be at training camp. "He went over to the pharmacy and he had some second thoughts, I guess. And then he went through some other struggles — issues that he was dealing with. He took a leave of absence from the team to deal with those issues.
"And then he got the one vaccine and so now he's got both vaccines. He got the second one a couple of days ago, so it will be a couple of weeks yet and then he's classified where he can go across the border."
In other words, for all the quibbling over whether or not Hamonic's absence was vaccine-related, it was, even if there were other issues involved.
As was suspected when Hamonic didn't join the Canucks on their U.S. road trip, Hamonic had only received one dose of an approved COVID-19 vaccine when he first joined the Canucks this season.
Green indicated earlier this week that Hamonic should be able to join the Canucks on their next road trip, which starts November 24 in Pittsburgh. That would mean Hamonic received his second dose by November 10, which is a little bit more than the "couple of days ago" that Benning said.
We'll see if Hamonic is on the trip in a week.
As to why Benning chose to go into this level of detail on Hamonic after weeks of equivocation, calling it a "personal matter" and asking people to respect Hamonic's privacy, that is unclear.