Andrei Kuzmenko's grocery bill has never been lower but things have still gotten a little out of hand.
When Kuzmenko ate a banana and drank a Pepsi in the middle of a game, he likely never thought it would snowball like this. One enterprising kid brought a sign to a game offering to trade him a banana for a hockey stick and Kuzmenko couldn't resist the offer.
Since then, however, dozens of kids have shown up for warm-ups with all sorts of produce and other snacks, hoping to get one of Kuzmenko's sticks. It got to the point where Assistant Equipment Manager Mac Stewart had to let Kuzmenko know that he was running out of sticks, while Kuzmenko had to start diversifying the food items he requested so he could fill out the food pyramid beyond just fruit. Jumping from bananas to steak — talk about inflation.
With the food-for-stick trade economy getting so out of control, the first kid that offered a banana has a message for Kuzmenko: "I'm sorry for what I started."
That kid is named Oliver and he's a die-hard Canucks fan. The 11-year-old banana barterer passed along that message through his dad, Neil, who has been taking his son to games for years.
He also passed along a letter that Oliver wrote to Kuzmenko, thanking him for the stick, complete with a hand-drawn stick-and-banana border that Kuzmenko ought to adopt as his official stationery.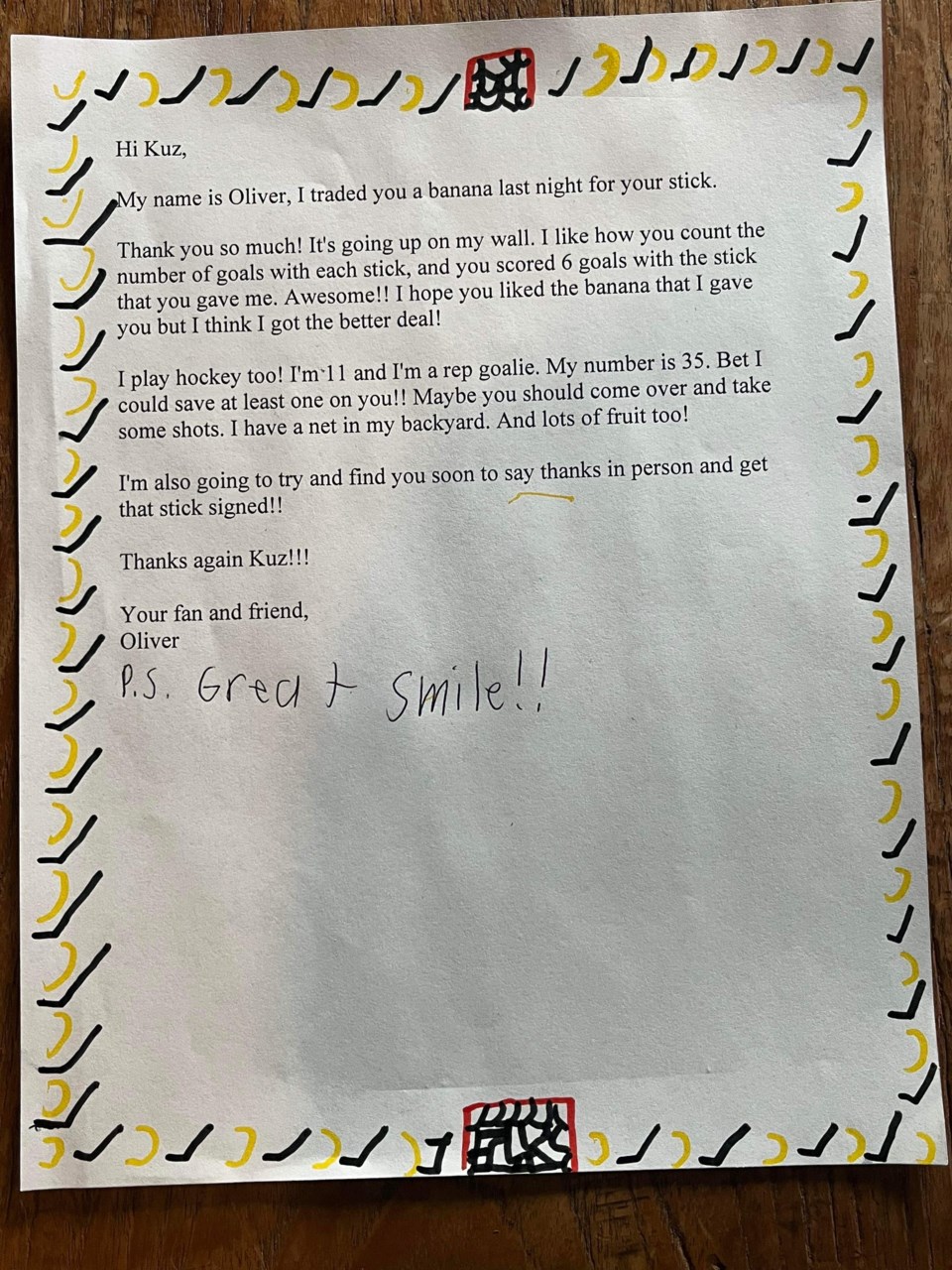 "I hope you like the banana that I gave you but I think I got the better deal," said Oliver in the letter, adding that he's a goaltender and thinks he could stop at least one of Kuzmenko's shots.
Oliver felt particularly fortunate because he realized later while watching video of the moment that he wasn't the only kid offering to trade Kuzmenko for a stick. In fact, there was a child just a few feet away who was offering Kuzmenko a better deal: not just a banana, but also a Pepsi.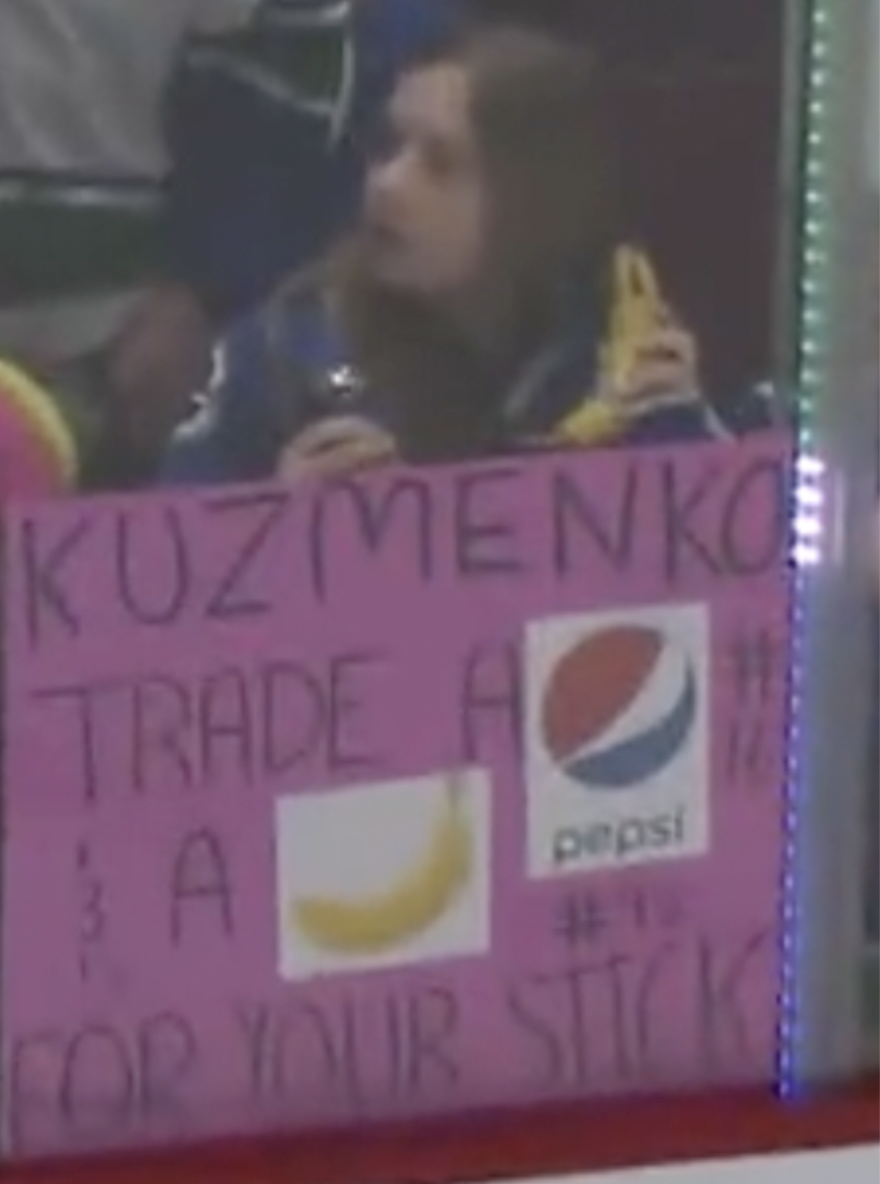 The banana was secretly snuck into the arena in the hood of a hoodie and it wasn't just any banana; it was organic, though not out of any particular concern for Kuzmenko's nutritional needs.
"They were the only ripe ones," said Neil.
Neil revealed that this isn't the first time Oliver has cleverly requested a stick from a Canuck. He's received souvenir sticks from Brock Boeser, Bo Horvat, Juho Lammikko, and Arturs Silovs, as well as game-used sticks from Antoine Roussel, Oliver Ekman-Larsson, Luke Schenn, and Bo Horvat.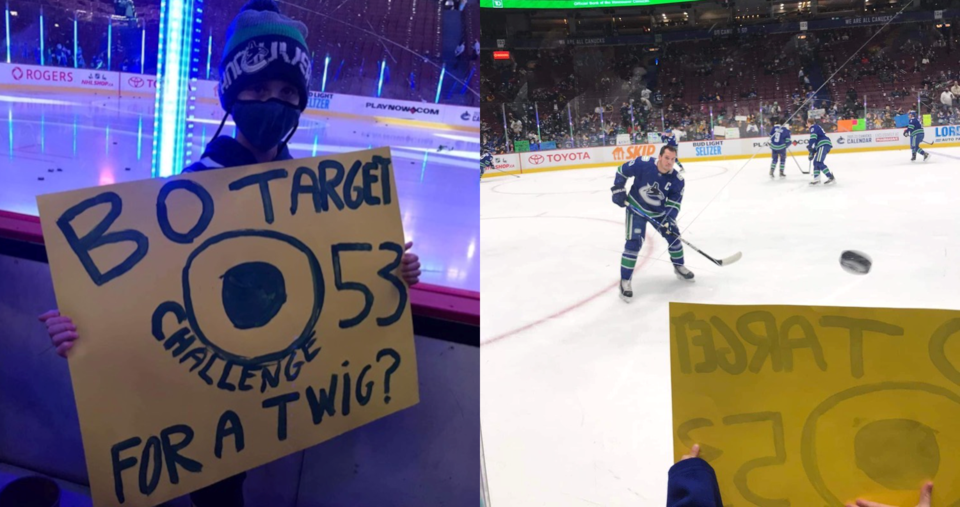 The stick collection has gone up on the wall at home, alongside other Canucks memorabilia.
Apart from the Canucks record during his lifetime, Oliver has had some good fortune in his time as a Canucks fan. He and his dad even won the Canucks' "ultimate fan road trip" when they caught a t-shirt parachuted down from the rafters.
"He was awaiting surgery for a broken arm and the only thing he wanted to do despite being in huge pain was to go to the game," recalled Neil. The two of them went to Florida with the team, where Oliver got a poster signed by the entire team, which is proudly on display next to his sticks.
A couple of years later, Oliver wanted to show his support at the end of a difficult 2020-21 season, when the Canucks had to finish up the regular season after the playoffs already begun. Noticing all the negativity surrounding the team and appreciating the entertainment the Canucks had provided throughout the toughest months of the pandemic, Oliver convinced his dad to let him take a day off school to show his support for the team after their final home game.
He did it again in 2022, starting a tradition for Oliver, even if it's only been for two seasons so far: he wants to say thank you to the players after the final home game every year.
Maybe this year, he'll be waiting outside the arena with a bunch of bananas.