I'm not a betting man, and here's why: let's say your odds of winning are 1 in a 100. Those are pretty good odds, right? Nah. That means your odds of getting absolutely nothing in return for your hard-earned money are 99 in a 100. Forget that noise. I need this money for burritos.
But if I were a betting man, my money would have been on either Ryan Miller or Jacob Markstrom for the Canuck save of the year. They live in the crease, after all, and that's where most of the saves happen. (My dark horse would have been Chris Tanev. He blocks a lot of shots.)
I'd have been wrong, however. The NHL season hasn't even started yet, but Vancouver's save of the year has already been made. It happened Thursday at the Canucks opening day media availability. It was Radim Vrbata.
It comes at about the 1:07:00 mark. See if you can spot it:
What. A. Save.
Like many of hockey's great saves, it probably shouldn't have been necessary. (Many of the most memorable saves are the result of a goaltender covering for his own mistake. That's because good goaltending is nigh invisible. If you're in the right position, the puck should hit you where you are -- hardly a highlight-reel moment. But if you wander out of the net to play the puck, then hand it to a scorer like a dope, then rush back to make a desperate, diving save: congrautlations on your SportsCentre appearance. Maybe even your SportsCenter appearance.)
Sitting at the table with three of his teammates, Vrbata is asked about the offseason changes and whether he feels the team has improved offensively. There's no need to get fancy here. Just say yes, the new guys are going to fit in well, you're excited to play with them, you've heard good things, yada yada yada we just have to play our game. But here's what Vrbata says instead:
We have three really good centermens that, whatever combination you put together, should be really offensive.
Fair. It's safe to assume Vrbata is referring to Henrik Sedin, Bo Horvat, and Brandon Sutter. Which is fine, except that, well, let's pan out.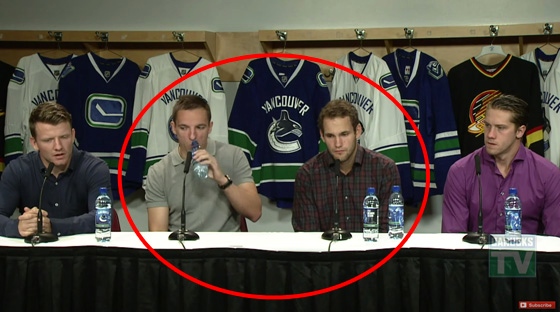 Vrbata is sitting right next to Linden Vey, currently pencilled in as the fourth-line centre. So he probably should have said four really good centermens.
But that's when, rather than turning red enough to be renamed Radish Vrbata (or at least Reddish Vrbata) the Czech winger makes the diving save, subtly explaining why he left Vey out of his count:
I dunno if Veyzie's gonna be playing centre or wing, but, uh, he's offensive too.
Boom. Save of the year. More like Redeem Vrbata. "He's offensive too." I'll tell you what's not offensive: that hot save. This is a conversational two-pad stack right here. Remember earlier when I said we only had three good centermens? Uhhhh that's because I'm not sure if Vey, who is also good, will be playing centre. Radim Vrbata, you crafty so-and-so.
Anyway. We'll just add this to the list of things Vey has on his mind right now.