For the first time ever, I voted for the 2022 NHL Awards. It's a responsibility I took very seriously, perhaps even too seriously.
The Professional Hockey Writers Association (PHWA) votes on five of the NHL's end-of-year awards, as well as the All-Star Team and All-Rookie Team. I've been a member of the PHWA for a few years now but the voting members were contracted during the seasons affected by the pandemic, so this is the first year I was requested to vote.
In the interests of openness and transparency, as well as the insatiable need for more content, I am publishing my complete awards ballot and explaining my choices. Now that the awards have actually been presented, I can let you know who I voted for and why.
Let's get into it, starting with the Hart.
HART TROPHY - most valuable player to his team
The Hart is a difficult award to judge because you have to compare apples to oranges. It's tough enough having forwards and defencemen up for the same award — throw in goaltenders too and the task becomes nigh-impossible.
For me, the Hart comes down to two players — New York Rangers goaltender Igor Shesterkin and Toronto Maple Leafs forward Auston Matthews — but how do you compare what those two players accomplished?
Matthews is the first player to score 60 goals in a decade — Steven Stamkos last did it in 2011-12. But Stamkos played all 82 games that season. Matthews scored 60 goals in just 73 games. Along the way, Matthews managed to score 50 goals in a 50-game span, the first player to do so since Mario Lemieux in the 1995-96 season.
Scoring goals in the NHL is brutally difficult, but Matthews makes it look astonishingly easy, with the ability to finish in a multitude of ways, including beating unscreened goaltenders cleanly from distance. He can score with one-timers, wrist shots, dekes, tips, and banging in rebounds.
To top it all off, Matthews put up 60 goals and 106 points while playing excellent defence. He wasn't a one-way forward like, for instance, Jonathan Huberdeau. Matthews had the fifth-highest defensive rating in Evolving-Hockey's Goals Above Replacement (GAR) statistic.
Meanwhile, Shesterkin was the runaway winner of the Vezina Trophy for the league's best goaltender, an award voted on by the NHL's general managers rather than the PHWA. It's been over a decade since a goaltender last posted a save percentage as high as Shesterkin's .935 over the course of 50+ games. The last guy to do it was Tim Thomas in 2010-11.
Everything Shesterkin does is at the peak of goaltending excellence. His puck-tracking is elite, his positioning is perfect, and his athleticism is unparalleled. The way he moves around his crease is unreal, with both incredible control and explosive power.
Let's put Shesterkin's incredible season into context. Among goaltenders who played at least 3000 minutes in a season, Shesterkin's .935 save percentage is the third best in league history behind only Thomas in 2010-11 and Dominik Hasek in 1998-99.
Shesterkin is doing this while save percentages are plummeting around the NHL. The league average save percentage this season was just .907, with goals per game rising to 3.14, the highest since the 1995-96 season. The next best save percentage this season belongs to Ilya Sorokin of the New York Islanders and it's 10 points lower at .925.
Shesterkin's analytics are stunning. His 44.83 goals saved above average (GSAA) according to Natural Stat Trick is 15 goals better than the second-best Sorokin. His goals saved above expected (GSAx) from Evolving-Hockey is 37.24, nine better than the second-place Frederik Andersen of the Carolina Hurricanes.
According to Clear Sight Analytics, in the games they tracked for Shesterkin, the expected save percentage on the chances he faced was .897. His actual save percentage against those chances was .927.
Using GAR, Shesterkin is outright dominant. His 50.4 GAR is miles ahead of Sorokin (39.7) and Andersen (38.4). Matthews led all skaters with a 31.8 GAR, but other skaters were a lot closer to Matthews than any goaltender was to Shesterkin.
Ultimately, I had to give it to Shesterkin over Matthews because of just how historically good his season was. That's not even taking into account how Shesterkin carried a mediocre Rangers team — 25th in corsi percentage at 5-on-5 this season — to a 110-point season. Keep in mind, Shesterkin's backup, Alexandar Georgiev, put up an .898 save percentage facing a similar quality of chances against.
So, I've got Shesterkin at number one, then Matthews. Who rounds out my top five?
I gave third spot to Johnny Gaudreau, who was right behind Matthews in GAR at 31.2. He led the league in 5-on-5 scoring with 72 points, six more than Matthews, which is absolutely phenomenal. He finished second behind Connor McDavid in the Art Ross race with a total of 115 points.
Gaudreau had 90 points in all even-strength situations, which is the most even-strength points since Jaromir Jagr put up 95 in the 1995-96 season. In fact, Gaudreau's 90 even-strength points is tied for the 25th-most in NHL history. Here are the players who have scored more: Wayne Gretzky, Guy Lafleur, Mario Lemieux, Jari Kurri, Steve Yzerman, Mike Bossy, Phil Esposito, Jaromir Jagr, Ken Hodge, and Marcel Dionne.
As for McDavid, he's next on my ballot. He led the league in scoring with 123 points and scored 44 goals, both of which just happen to be career highs. Is it McDavid fatigue that has him at fourth on my ballot? I honestly don't think so. His season was incredible but I just couldn't put him ahead of Shesterkin and Matthews and I went back and forth on whether to put him ahead of Gaudreau.
Honestly, with his improved defensive game and the way he went head-to-head with the best players in the NHL all season long, perhaps McDavid should be higher on my ballot but fourth is where he landed after a lot of thought.
Finally, rounding out my ballot is Kirill Kaprizov, who was an absolute beast for the Minnesota Wild this season. He's incredible to watch and is a game-changer every time he steps on the ice. Only Gaudreau, McDavid, and Leon Draisaitl had more primary points than Kaprizov's 86 this season.
HART TROPHY
1. Igor Shesterkin
2. Auston Matthews
3. Johnny Gaudreau
4. Connor McDavid
5. Kirill Kaprizov
Actual Winner: Auston Matthews
NORRIS TROPHY - top defenceman with greatest all-around ability
I won't be as long-winded with my other vote explanations as I was for the Hart, I promise.
Some might wonder why I don't have Roman Josi on my Hart ballot. Here's the thing — he's not even at the top of my Norris ballot.
Josi put up 96 points this season to lead the Nashville Predators in scoring and lead them into the playoffs. It's the most points from a defenceman since Phil Housley tallied 97 points in the 1992-93 season.
Fun fact: Housley didn't win the Norris that year. In fact, he finished fifth in Norris voting.
Here's the sticking point for me with Josi and it was the sticking point for Housley as well, who never finished higher than third in Norris voting in his career. The qualifications for the Norris specify the "greatest all-around ability" and Josi's defensive game hurts him. He didn't get the toughest matchups on the Predators — those went to Mattias Ekholm and Alex Carrier — and he wasn't particularly good on the penalty kill.
So, for me, Cale Makar of the Colorado Avalanche gets the edge in the Norris battle. Makar still had a ton of points, with his 86 points the second-most by a defenceman in the last 28 years — second behind Josi, of course. But he combined it with better defensive play than Josi, thoroughly tilting possession with his ability to retrieve pucks and quickly turn them up ice.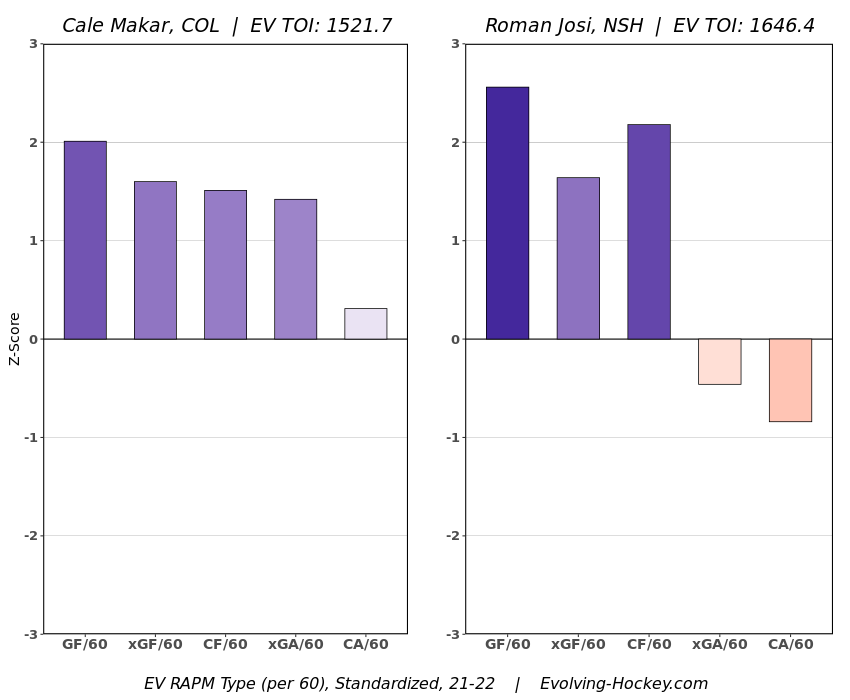 By the underlying numbers, Makar is ahead of Josi in pretty much every metric at 5-on-5. His 61.33 expected goals for percentage (xGF%) via Natural Stat Trick is first among all defencemen with at least 1000 minutes. Josi's 55.38% xGF% — still quite good — is 20th.
In terms of GAR, Makar's 22.7 is ahead of Josi's 20.2, with the differentiator being Makar's defensive game. He also had 28 goals to Josi's 23, for what that's worth.
I actually don't even have Josi at second for the Norris. I have him third.
Second on my ballot is Charlie McAvoy, who played some of the toughest minutes in the NHL for the Boston Bruins while posting elite defensive numbers. He doesn't have the same gaudy offensive numbers as Josi or Makar, but his 56 points is thoroughly respectable, especially given the shutdown minutes he plays. His 21.5 GAR was second among defencemen just behind Makar.
Victor Hedman had another fantastic season for the Tampa Bay Lightning, finishing right behind Makar with 85 points, albeit in five more games. Like Josi, however, Hedman doesn't actually face the toughest competition, with Ryan McDonagh and Erik Cernak playing the matchup role. That said, he does have better defensive numbers than Josi.
Finally, rounding out my ballot is Aaron Ekblad, who was having a phenomenal season before a knee injury ended it prematurely. Ekblad had 57 points in 61 games before his injury and was a chance-generating machine for the Panthers. It's a shame he didn't get the chance to battle it out for the Norris down the stretch but his abbreviated season is still enough for me to rank him fifth.
Devon Toews deserves a nod here as well, playing just a few more games than Ekblad, with 57 points in 66 games and playing some fantastic defence. If I had six votes for the Norris, Toews would have gotten the sixth.
NORRIS TROPHY
1. Cale Makar
2. Charlie McAvoy
3. Roman Josi
4. Victor Hedman
5. Aaron Ekblad
Actual Winner: Cale Makar
CALDER TROPHY - most proficient in his first year of competition
When it comes to the Calder Trophy for rookie of the year, it's hard to ignore that the top-scoring rookie, Michael Bunting, just barely qualifies for the Calder.
The cutoff for the Calder is that you have to be under 26 as of September 15th prior to the start of the season and have not yet played 25 NHL games in a single season or more than six games in two different seasons.
Bunting turned 26 on September 17th. He played 21 games for the Arizona Coyotes last season and five games in the 2018-19 season. He qualifies for the Calder by two days and one game.
But that's not the reason why I had Bunting second on my ballot. In my books, putting up 50 points as a rookie defenceman is a hair more impressive than Bunting's 63 points as a forward. That's especially true when Seider's 50 points came with the moribund Detroit Red Wings, while Bunting was on a line with Auston Matthews and Mitch Marner.
That's not to take anything away from Bunting, who had a fantastic, impactful season at both ends of the ice and did the bulk of his scoring at even-strength, with just five points on the power play. He wasn't a passenger on the Leafs' top line — his underlying numbers were fantastic and he had an incredible 25.6 GAR.
But Seider immediately stepped in as the Red Wings' number one defenceman, playing in all situations and averaging over 23 minutes per game, which led all rookies. He can defend just as well with his mobility as he does with his physicality and he breaks the puck out like a wily veteran.
Offensively, he has incredible skill that makes him dangerous in transition, but he can also quarterback the power play, equally adept at distributing the puck and blasting slap shots.
For me, the season Seider had as a rookie defenceman on a bad team is more impressive than what Bunting did as a rookie forward on a very good team.
To be honest, I was tempted to put Trevor Zegras above Bunting. Zegras had a slightly better points-per-game rate than Bunting with his 61 points in 75 games but Zegras had the benefit of more power play time. More importantly, Bunting was significantly better than Zegras defensively.
Still, Zegras deserves bonus points for being one of the most electrifying players — not just rookies — in the NHL. He's going to be thrilling to watch for the next decade.
Matt Boldy might have made an argument for winning the Calder if he had played the whole season. He missed the first few months rehabbing from a broken ankle in the preseason and then immediately went on a scoring tear when he returned to the Minnesota Wild lineup.
Boldy finished the season with 15 goals and 39 points in 47 games — a 26-goal, 68-point pace over 82 games. His 0.83 points per game led all rookies.
For my final spot, I gave the nod to Lucas Raymond, who tied Bunting and Zegras with 23 goals and had 57 points in 82 games. He's got some work to do to clean up his defensive game but my goodness can he shoot the puck.
CALDER TROPHY
1. Moritz Seider
2. Michael Bunting
3. Trevor Zegras
4. Matt Boldy
5. Lucas Raymond
Actual Winner: Moritz Seider
LADY BYNG TROPHY - sportsmanship and gentlemanly conduct combined with high standard of playing ability
The Lady Byng Trophy typically goes to the player who put up the most points while taking the fewest penalties but it feels like there should be more to a sportsmanship and gentlemanly conduct award than that.
For instance, I've seen Elias Pettersson stop playing to check on an injured opponent, which seems like the epitome of sportsmanship and gentlemanly conduct. Should that weigh more than the 12 penalty minutes he took this season?
Still, there's something to be said for a top player who takes hacks, slashes, and hooks all season and doesn't retaliate. That's why Kyle Connor gets my nod for the Lady Byng. He scored 47 goals and 93 points while somehow taking just two minor penalties all season. That's a franchise record for both goals and points for the second edition of the Winnipeg Jets.
Jaccob Slavin gets my second vote, playing difficult shutdown minutes while taking just 10 minutes in penalties. He also put up a career-high 42 points.
Jack Hughes only played 49 games due to a knee injury but he managed to avoid taking a single penalty in those 49 games. He also put up 26 goals and 56 points. That gets him third on my ballot.
Mitch Marner gets my fourth vote, with just 16 penalty minutes while putting up 97 points. His linemate, Auston Matthews, doesn't come anywhere near my ballot for multiple reasons, including his two-game suspension.
Finally, call this my one homer vote if you must, but Elias Pettersson gets my final vote for the Lady Byng. His 68 points rank third among players with 12 or fewer penalty minutes this season, behind Connor and Marner.
Honestly, I wanted to give Chris Tanev a vote here, but he somehow took 22 penalty minutes this season after taking just 6 last season. What a goon.
LADY BYNG
1. Kyle Connor
2. Jaccob Slavin
3. Jack Hughes
4. Mitch Marner
5. Elias Pettersson
Actual Winner: Kyle Connor
SELKE TROPHY - forward with most skill in defensive component
The Selke is often a reputation trophy — which forward with a reputation for good defensive play scored the most goals this season?
I tried to avoid that type of thinking but sometimes players come by their reputations honestly. That's why Patrice Bergeron was my pick for the Selke this year.
Bergeron was once again a stud defensively for the Boston Bruins, utterly erasing scoring chances in his own end of the ice. At 36, he's just as effective in the defensive zone as ever — a nightmare to play against for the top players on the opposition, who he played against a ton.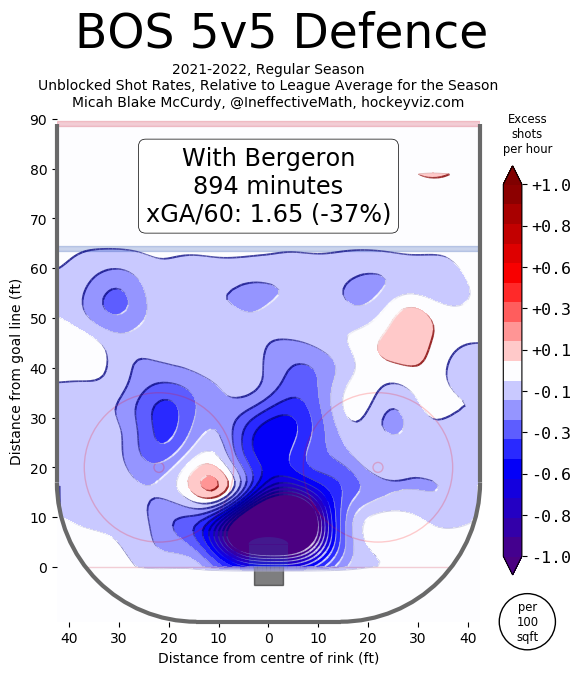 His 1.56 expected goals against per 60 minutes (xGA/60) via Natural Stat Trick leads all NHL forwards by a wide margin. In fact, it's the lowest rate of his career. This is arguably the best defensive season of Bergeron's long career and he's already won four Selke awards.
To top it off, Bergeron still had 25 goals and 65 points in 73 games.
Everyone else pales in comparison to Bergeron, but I am duty-bound to vote for five players.
Marcus Foligno had a strong shutdown season for the Minnesota Wild while setting career highs in goals and points. His 1.78 xGA/60 by Natural Stat Trick's metric was second among NHL forwards behind Bergeron. That gets him the nod for second on my ballot.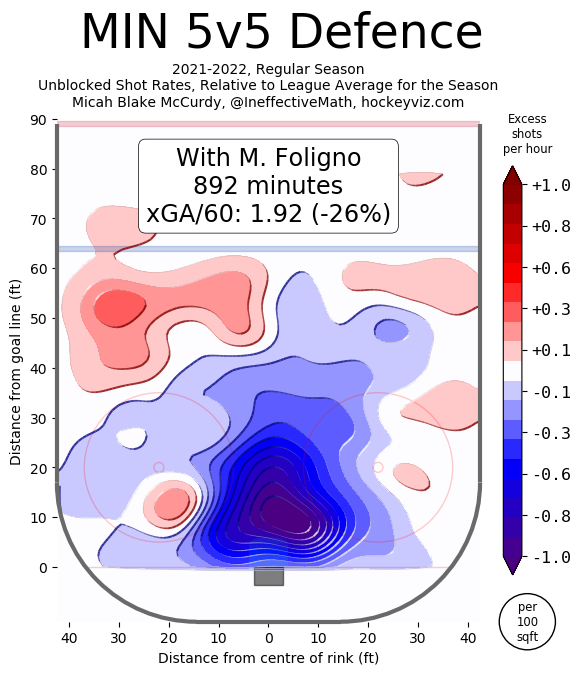 Brad Marchand may not be as good as Bergeron defensively but he's still a nightmare to play against and scored 30 goals and 80 points in 70 games. If he didn't play with Bergeron, he might have already won a Selke in his career.
Anthony Cirelli is a beast on the backcheck and plays a heavy-duty match-up role for the Tampa Bay Lightning. He fell just shy of a career-high with 43 points in 76 games.
Auston Matthews rounds out my top five, with a knack for sneaking up and stealing the puck that saw him lead all NHL forwards with 92 takeaways. His underlying defensive numbers at 5-on-5 are stellar but I couldn't in good conscience place him higher on my ballot when he doesn't play on the penalty kill.
SELKE TROPHY
1. Patrice Bergeron
2. Marcus Foligno
3. Brad Marchand
4. Anthony Cirelli
5. Auston Matthews
Actual Winner: Patrice Bergeron
NHL ALL-STAR TEAM - best players at each position
My picks for the NHL All-Star Teams are, of course, informed by my choices for the above awards.
Thus, my top two centres are Matthews and McDavid, as they're the top two centres on my Hart ballot.
Centre
1. Auston Matthews
2. Connor McDavid
3. Patrice Bergeron
I nearly put Elias Lindholm for third-best centre this season as pivot on one of the best lines in the NHL with Gaudreau and Matthew Tkachuk. All three members of that line had 40+ goals, including 42 goals from Lindholm.
Ultimately, I gave it to Bergeron, who deserves it for his defensive dominance.
I didn't have any right-wingers among my Hart or Selke candidates, so it's a bit of a blank slate for the All-Star Team.
Right Wing
1. Matthew Tkachuk
2. Mikko Rantanen
3. Mitch Marner
Matthew Tkachuk was a beast in every facet of the game, with 42 goals and 104 points to go with agitation and great defensive play. It's worth noting that Tkachuk is listed as a left wing by the NHL, but it was clarified that he qualifies as a right wing for this season.
Mikko Rantanen led the best team in the Western Conference, the Colorado Avalanche, in scoring with 36 goals and 92 points in just 75 games.
Mitch Marner was second among right-wingers in even-strength scoring with 68 points behind only Tkachuk and he had 97 points in 72 games in all situations. Speaking of all situations, Marner plays in them, as a key player for the Leafs on both sides of special teams.
Left Wing
1. Johnny Gaudreau
2. Kirill Kaprizov
3. Jason Robertson
Johnny Gaudreau and Kirill Kiprisov, both on my Hart ballot, fill in the top two spots on left wing. Jason Robertson helped carry the Dallas Stars to the playoffs with 41 goals — a worthy nod for the third spot.
Defence
1. Cale Makar
2. Charlie McAvoy
3. Roman Josi
4. Victor Hedman
5. Aaron Ekblad
6. Devon Toews
Earlier, I mentioned that if I had a sixth vote for the Norris Trophy, I would give it to Devon Toews. Lo and behold, I get a sixth vote for defence on the All-Star Team, and it goes to him behind my five Norris candidates.
Goaltender
1. Igor Shesterkin
2. Ilya Sorokin
3. Jacob Markstrom
Finally, there are the goaltenders. As much as I might have liked to go with a homer vote here and get Thatcher Demko on my ballot, he fell just outside of the top goaltenders in every metric I looked at. If I was voting for the Vezina, he'd be in the four or five spot, battling with Juuse Saros and Frederik Andersen, but he falls just short of my top three this season.
With Shesterkin at number one, I had to give the nod to Ilya Sorokin, who was phenomenal for the Islanders. Coming in at number three is former Canuck Jacob Markstrom, who led the NHL with nine shutouts and had an excellent .922 save percentage, and he showed well in every advanced metric.
Actual First All-Star Team:
LW: Johnny Gaudreau
C: Auston Matthews
RW: Mitch Marner
D: Cale Makar
D: Roman Josi
G: Igor Shesterkin
Actual Second All-Star Team:
LW: Jonathan Huberdeau
C: Connor McDavid
RW: Matthew Tkachuk
D: Victor Hedman
D: Charlie McAvoy
G: Jacob Markstrom
NHL ALL-ROOKIE TEAM - best rookies at each position
The All-Rookie Team doesn't require separate positions at forward, so it's just the top-three forwards, who are Bunting, Zegras, and Boldy from my Calder ballot.
Forward
1. Michael Bunting
2. Trevor Zegras
3. Matt Boldy
Seider gets the top nod at defence, joined by Alex Carrier, who has averaged 21 minutes per game in a shutdown role with the Predators and leads all rookies in shorthanded ice time. He also has a solid 30 points from the back end. He just edged out Leafs defenceman Timothy Liljegren for me.
Defence
1. Moritz Seider
2. Alexandre Carrier
In net, it came down to Jeremy Swayman, who split the net with Linus Ullmark in Boston, or Kaapo Kahkonen, who started the season with the Minnesota Wild before a trade to the San Jose Sharks.
Let's be real: it wasn't close. I gave the nod to Swayman, who also received a lot of votes for the Calder.
Goaltender
1. Jeremy Swayman
Actual All-Rookie Team:
F: Michael Bunting
F: Trevor Zegras
F: Lucas Raymond
D: Moritz Seider
D: Alexandre Carrier
G: Jeremy Swayman
---
There it is, my first-ever ballot for the NHL Awards. Do you agree or disagree with any of my choices? Let me know in the comments.