How would you rank the Canucks' prospects?
Number one would be pretty easy, but who's the Canucks' second-best prospect? Third-best? Fourth-best? And that's the easy part: how do you differentiate between a team's 12th-best and 13th-best prospects? How do you decide which also-ran prospect sneaks into the 20th spot on your top 20 list?
Toronto Maple Leafs fanatic/blogger/yelling-in-videos-guy Steve Dangle grew tired of these types of prospect ranking lists and came up with his own way of sorting his team's top prospects: a pyramid.
Dangle sorts Leafs prospects into tiers, with no sorting of prospects within each tier. The top tier has the fewest prospects, as teams have a limited number of truly great prospects, then it expands as you move down the tiers, because teams have a larger number of lower-tier prospects in their system. Think of it like a food pyramid: you should only have one serving of blue chip prospects per day.
Wait, that's not it at all. Don't eat prospects.
In any case, it's a pretty elegant system, so I'm stealing it. Instead of listing the Canucks' top 10 or 20 prospects, I'm sorting them into tiers on a Prospect Pyramid.
First, a few players I'm not including on the pyramid, as they're not really prospects at this point. There's Reid Boucher, who led the Utica Comets in scoring last season, but is now 25 and can't seem to break through in the NHL; Nikita Tryamkin, who's already played 79 NHL games; Ashton Sautner, who has played a decent chunk of NHL games and is 25; and Adam Gaudette, who has officially graduated to the NHL.
Now for the Prospect Pyramid itself.
Tier 1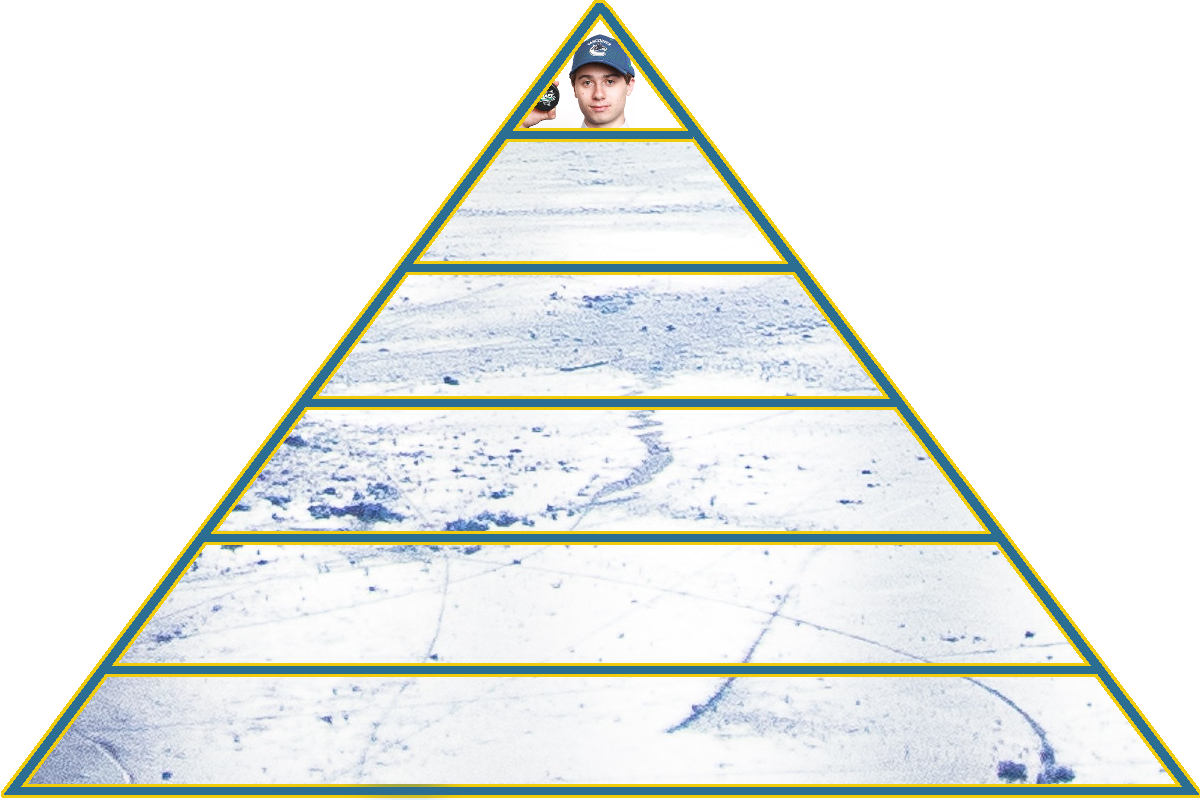 The only option for Tier 1 is obvious: Quinn Hughes.
Hughes is about as high-end as prospects get. There's a reason why he's already in the conversation for the 2020 Calder Trophy, because Hughes has the combination of skating, skill, and smarts to immediately be the Canucks' best defenceman.
The Athletic's Scott Wheeler ranked Hughes third on his top-50 prospects list, behind only his younger brother Jack Hughes and Kaapo Kakko, who went first and second in the 2019 entry draft. Hughes could be competing with those two for the Calder, along with Avalanche defenceman Cale Makar, who is cut from similar cloth as Hughes.
If Hughes can finish in the top-three in Calder voting next season, it will be the first time since 1971 that one team has had three Calder finalists in three consecutive years.
Tier 2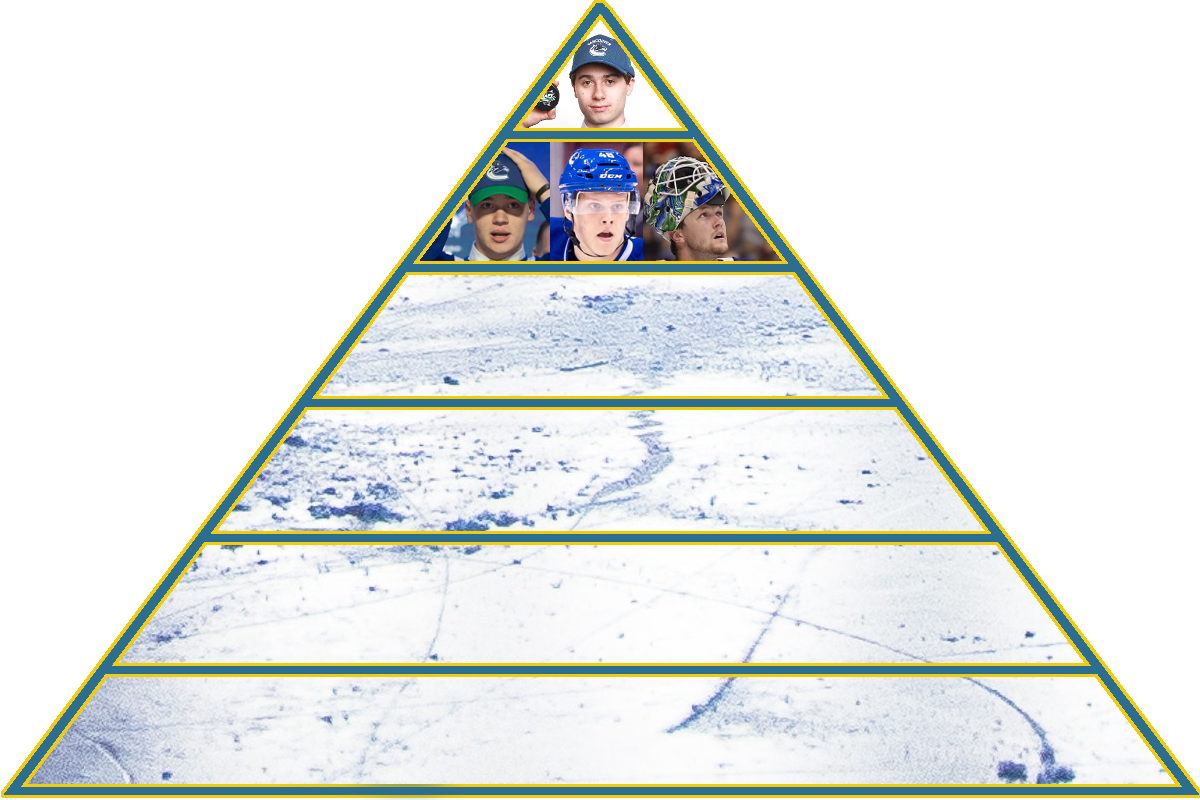 These prospects are a step below Hughes, but are still excellent prospects: Vasili Podkolzin, Olli Juolevi, and Thatcher Demko.
Demko, at least, will play for the Canucks next season and could quickly compete for more starts with Jacob Markstrom, a competition that could push both of them to better performances. Demko has continually improved at every level and has been one of the best goaltenders in the AHL over the past couple seasons. He has the potential to be a number one goaltender in the NHL.
Juolevi should make his NHL debut this season. While he'll be hard-pressed to make the team out of training camp given the additions the Canucks have made in free agency, he'll be the clear number one in Utica with the Comets, and the first option for a call up in case of an injury on the left side.
Last season, an injury and subsequent knee surgery kept Juolevi from playing for the Canucks after a strong start in Utica that saw him tally 13 points in 18 games, while playing in all situations. He looks like he'll have a future as a second-pairing defenceman at the NHL level.
Then there's Podkolzin, a two-way power forward capable of scoring some amazing, highlight-reel goals. The question is whether he can be a first-line star, second-line scorer, or third-line banger. In another year, Podkolzin could easily be a Tier 1 prospect.
Tier 3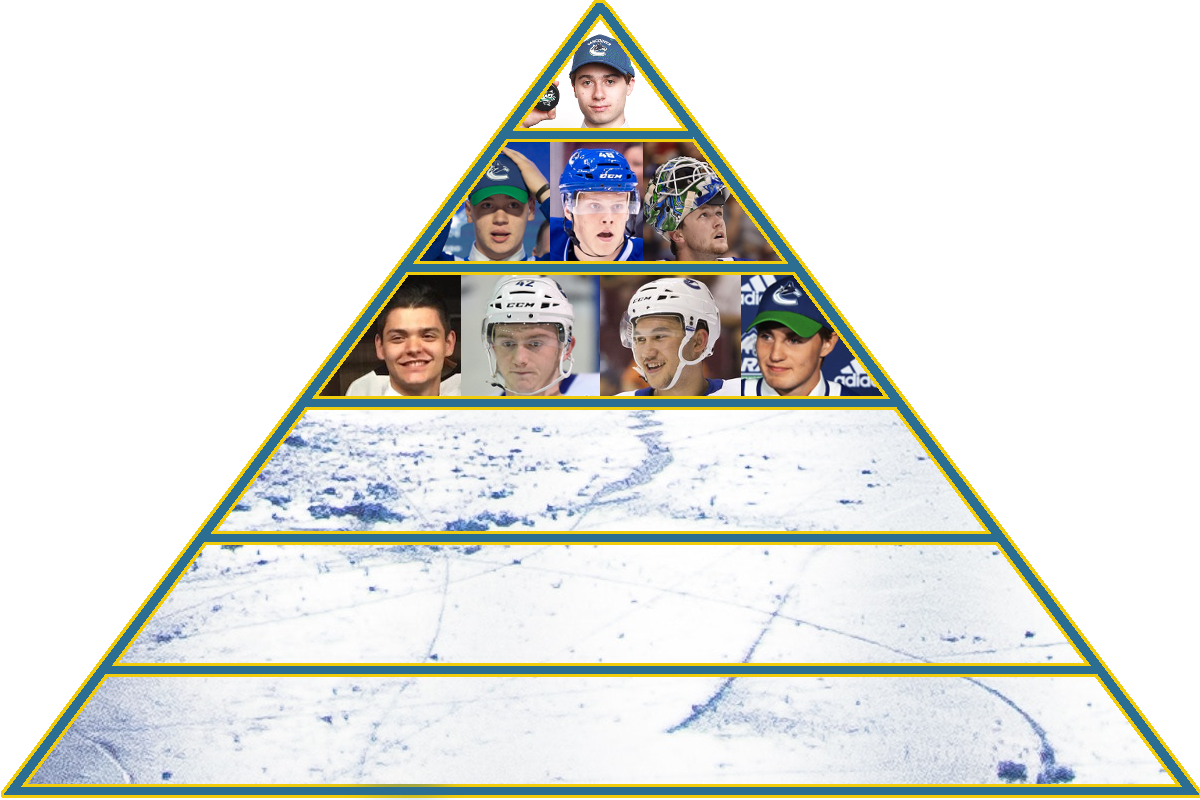 I've got just four prospects in the Canucks' third tier. These are players that have a few more question marks than those in Tier 2, but could still develop into impact NHLers: Michael DiPietro, Tyler Madden, Jett Woo, and Nils Hoglander.
DiPietro just completed a fantastic OHL career, setting a new OHL record for all-time shutouts and winning numerous other awards, along with a Memorial Cup in 2017. His bid to win another Memorial Cup this year was cut short by an injury in the OHL playoffs. The Windsor Spitfires, who were undefeated in the playoffs with DiPietro, proceeded to crash in the OHL Finals without him.
The question for DiPietro is how he will handle the transition to the professional game in the AHL. He could easily bump up a tier by next year if he quickly proves he can handle the AHL game.
In his first NCAA season, Madden did what other underrated USHL draft picks have done for the Canucks: he excelled. The centre had 12 goals and 28 points in 36 games, good for sixth among freshman forwards in the NCAA and had a strong performance for Team USA at the World Juniors, with 3 goals and 4 points in 7 games.
Woo took a big step forward in his post-draft year, adding a lot more scoring to go with his physical, defensive game. He scored more than a point per game, tallying 12 goals and 66 points in 62 games, a jump up from his 25 points in his draft year. That was good for fifth among WHL defencemen.
Woo's progression has the Canucks excited about his potential, and he slots in as the third-best defenceman in the prospect pool, behind Hughes in Tier 1 and Juolevi in Tier 2.
Finally, there's Hoglander, a dynamic winger that could prove to be one of the steals of the 2019 draft. The Canucks were thrilled the first-round talent fell to them at 40th overall in the second round. Hoglander's talent is not in question — Ryan Biech called him "a little tornado on the ice" — but his size could potentially be an issue at just 5'9". It didn't keep him from scoring 7 goals and 14 points in 50 SHL games against men, however.
Tier 4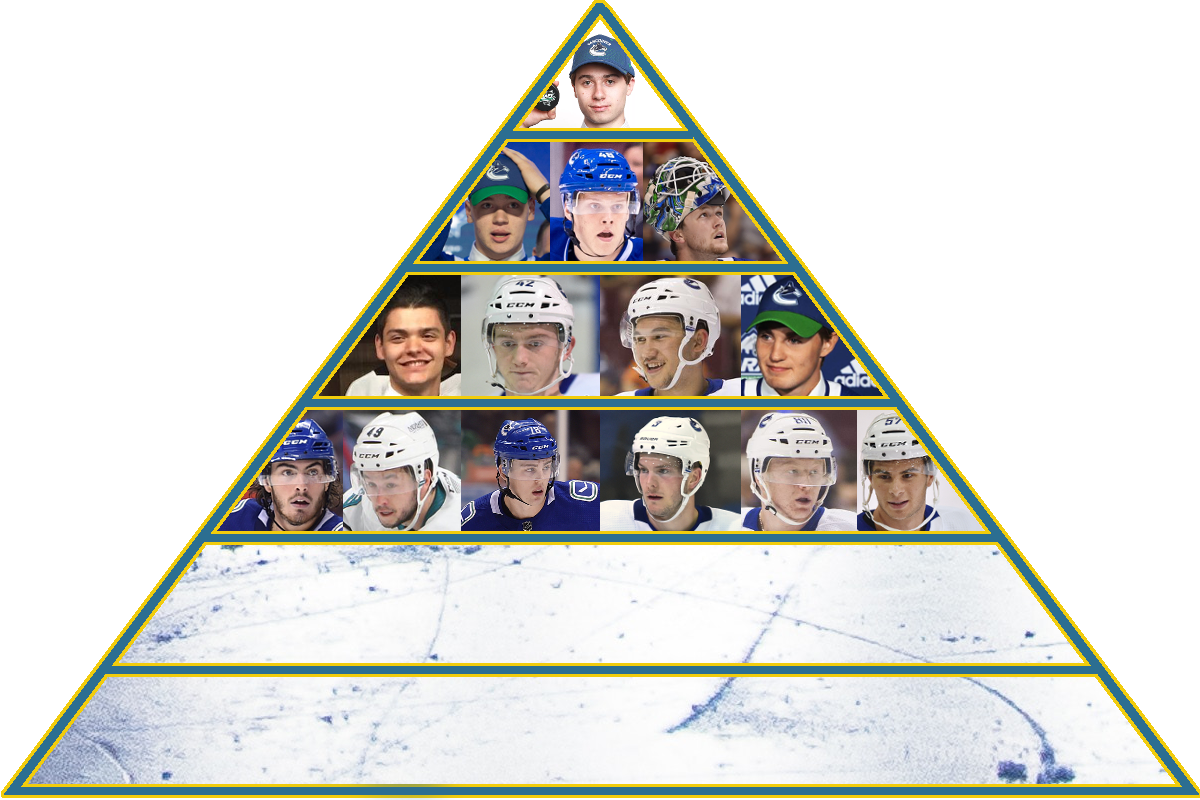 There's no shame in being in the fourth tier of the Canucks' prospect pyramid. In fact, there are a few players in this tier that could play for the Canucks next season. These are prospects that are either projected to have less of an impact as those in higher tiers or have a lower chance of making the NHL.
In case you don't recognize them from their pictures, they are, from left to right, Zack MacEwen, Francis Perron, Kole Lind, Brogan Rafferty, Jack Rathbone, and Will Lockwood.
The Canucks are high on MacEwen, and for good reason, but let's be realistic: MacEwen has the potential to be an NHL player, but projects as a bottom-six forward. He had a great AHL season, scoring 22 goals and 52 points in 69 games for the Comets, earning a mid-season call up to the Canucks.
Perhaps I'm underating MacEwen. After all, there's plenty of room on an NHL roster for a 6'4" winger that can skate and think the game at a high level.
Perron is a recent addition to the Canucks' prospect pool, coming over from the San Jose Sharks in a trade at the draft. He has intriguing upside and had 18 goals and 47 points in 63 games for the Barracuda in the AHL last season. Perron may be under the radar, but he'll be intriguing to watch at training camp this year.
Lind was a highly-rated prospect a year ago, but his first professional season in the AHL knocked him down a rung on the ladder. As much as you could point to his injury troubles or the Comets' struggles developing prospects, it's hard to deny that just 5 goals and 17 points in 51 games is a disappointing rookie season for Lind, who was coming off a 95-point season in the WHL.
That's not to say that Lind doesn't still have NHL potential or that he can't one day be a top-six winger; it's just that his rookie season raised some questions of whether he'll get there. The biggest issue for Lind appeared to be the denial of time and space that came at the AHL level. Even if he can adapt to that, it will be another tough step to the pace of the NHL. This coming season is a crucial one for the soon-to-be 21 year old.
Rafferty could be the first call-up from the Comets on the right side on defence after a strong debut last season. The Canucks like his blend of poise and physicality, and he projects as a third-pairing defenceman. This will be his first full professional season, however, so we'll see if he falters in Utica.
Rathbone had a great freshman season in the NCAA, skating on the top pairing for Harvard and tallying 22 points in 33 games. The question is whether he can continue that strong performance in his sophomore season without defence partner Adam Fox.
An argument could be made that Lockwood belongs in Tier 3, but I admit to being worried about his durability. He had a strong junior year, with 16 goals and 31 points in 36 games, and has the speed and two-way game to be a third-line winger at the NHL level. He's struggled to stay healthy, however, and he's had to adjust his wrecking-ball approach, which may impair his overall game.
Tier 5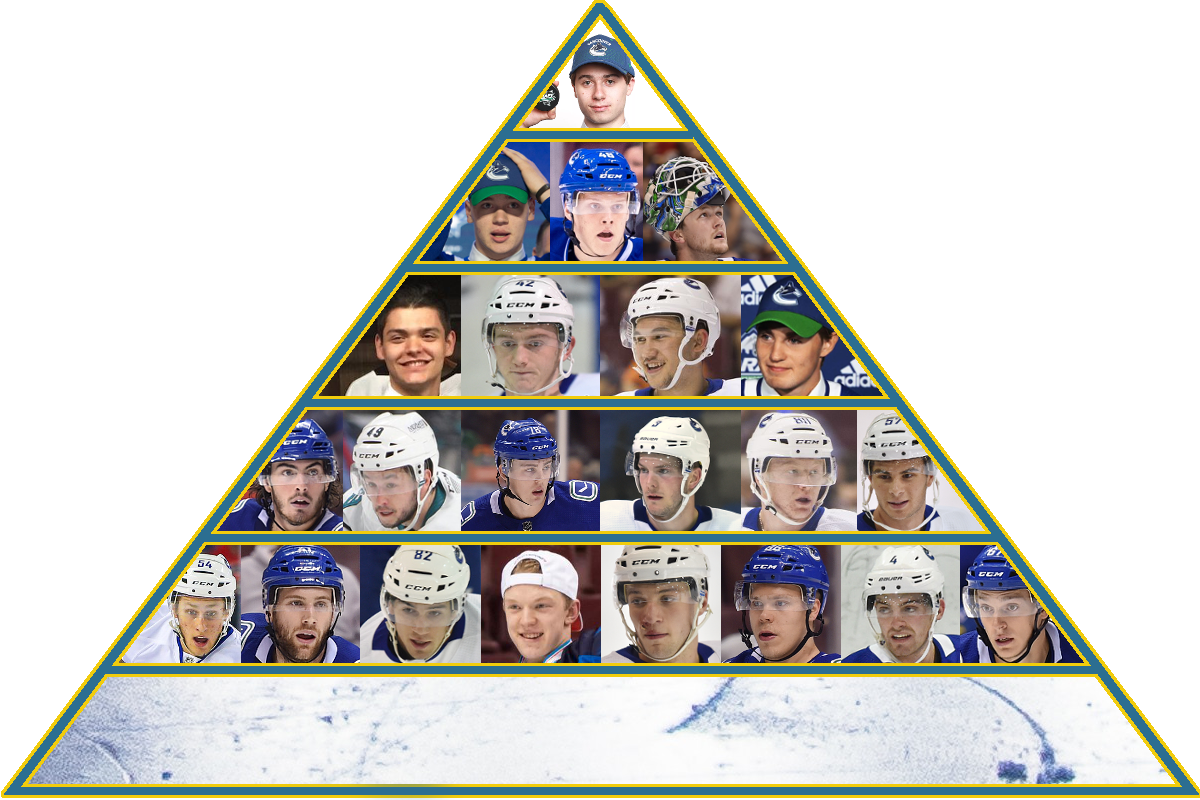 Here is where we get into some of the more borderline prospects. These guys could have an NHL future, but they're certainly longer shots than those above them on the pyramid: Guillaume Brisebois, Jonah Gadjovich, Jack Malone, Toni Utunen, Ethan Keppen, Petrus Palmu, Josh Teves, and Lukas Jasek.
The Canucks are high on Brisebois, which is what lands him in Tier 5 instead of Tier 6, but I find it hard to see where he can break through on the Canucks' defensive depth chart. Still, he already has 8 NHL games under his belt, so could be a call-up again in the coming season.
If Lind had a tough rookie AHL season, Gadjovich had a disastrous one. He was a healthy scratch at times and finished with just 10 points in 43 games. Still, there's a chance that he could take a step forward and find his power forward game next season.
Malone will be intriguing to watch next season. A sixth-round pick at the 2019 draft, Malong had 59 points in 57 USHL games. As mentioned above regarding Madden, the Canucks have had some good luck with USHL picks, so perhaps Malone can continue the trend and break out in his freshman year. If he does, he could jump up a couple tiers.
Utunen, as well, is one to watch. Some strong international performances have increased his profile in the minds of Canucks fans, but he's still a long way for the NHL. A better performance in the Finnish Liiga next season could bump him up a tier.
Keppen is another 2019 draft pick with intriguing upside. He has a good two-way, power forward game, but needs to take a step forward in his post-draft year to establish himself a bit better as a prospect with NHL potential. He had 30 goals and 59 points in 68 OHL games last season.
Palmu's AHL debut was even more disastrous than Gadjovich's, leading to his departure from the Comets back to Finland. That raised serious questions about how the Comets develop prospects, but also about Palmu's potential to make the NHL. Palmu had a solid 18 points in 29 games in the Finnish Liiga and still has some upside, but might need to excel in training camp to win the Canucks' coaches and management over again.
Of the college defencemen signed by the Canucks this year, Teves is a tier below Rafferty, both in terms of his upside and his likelihood of playing in the NHL in the coming season. Teves will have a tougher time climbing up the depth chart on the left side than Rafferty will on the right.
Finally, there's Jasek. Unlike Lind, Gadjovich, and Palmu, Jasek did have a decent season in the AHL, finishing with 29 points in 63 games. He's got good speed and a strong two-way game, but he'll need to take a step forward as a 22 year old in the coming season in order to earn a call-up to the NHL.
Tier 6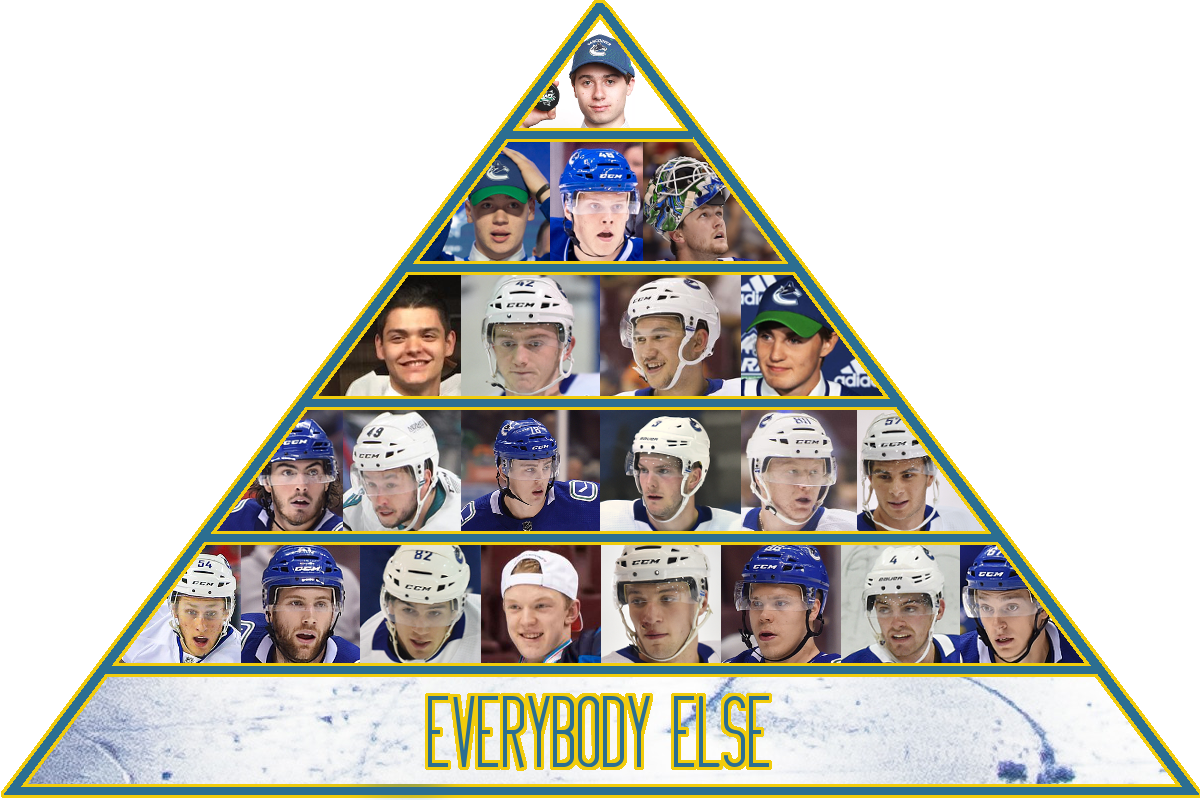 This is the tier for everyone else in the Canucks' system. Don't get me wrong, there are some prospects with potential in this tier, but they haven't really proven themselves to the extent of the players in the higher tiers.
This includes several players just drafted, like Arvid Costmar, Aidan McDonough, Karel Plasek, and Carson Focht, along with players that have been in the system a little longer, like Artem Manukyan, Dmiitri Zhukenov, and Jalen Chatfield. It also includes more recent additions via free agent signing or trade, like Mitch Eliot and Linus Karlsson.
I have high hopes for guys like McDonough and Plasek, but they represent even longer shots than some of the players in Tier 5. Both were drafted in their second year of eligibility as 19 years olds, which generally means they'll have a tougher time making the NHL. Strong seasons in the NCAA and Czech league could see them move up a tier or two.
---
What do you think of the Prospect Pyramid? Do you think certain prospects should be knocked down or bumped up a tier? Do you hate the entire concept? Sound off in the comments below.