There was some cold comfort for Canucks fans at the end of the 2016-17 season. As bad as it was, one fanbase had it worse. Much, much worse.
The Canucks finished with 69 points, set a franchise record for fewest goals, and were near the bottom of the NHL in nearly every statistical category. But somehow the Colorado Avalanche finished with 21 fewer points, 13 fewer goals (while allowing 35 more!), and had an even worse power play and penalty kill.
It's astounding, because it seemed like just a few years ago the Avalanche were heading in the right direction. They had a talented young core with Matt Duchene, Gabriel Landeskog, Nathan Mackinnon, Ryan O'Reilly, Erik Johnson, and Tyson Barrie, and were led by a former beloved player in the front office. Where did it all go wrong? And how can the Canucks, who are starting to bear a striking similarity to the Avalanche of a few years ago, avoid their fate?
I spoke to former Avalanche blogger Jibblescribbits to commiserate over our teams' shared failures and get a better picture of how the Avalanche ended up in such a state.
PITB:
Let's start right from the top: What the heck happened this past season? I mean, the Canucks were torturous to watch and I'm having trouble wrapping my head around watching a team even worse: how did this season go so poorly for the Avalanche?
Jibblescribbits:
*thinks about this question for five minutes*
*stares at screen*
♫Hello Darkness my old friend...♫
PITB:
I relate to this so hard. I laughed and then felt sad.
Jibblescribbits:
Short answer: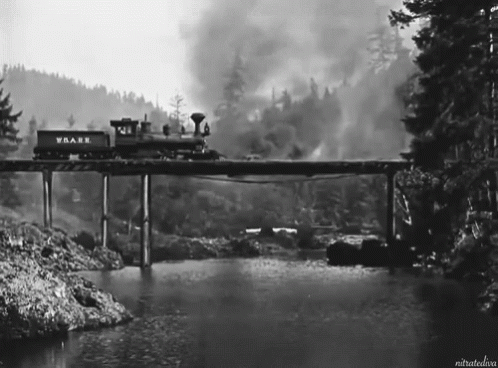 Long answer: Every single thing that could go wrong did, and the Avs weren't really that good to begin with.
The coach quit on the eve of the season, and the new coach was put in a bad situation. The goaltending cratered. The Avs best defenseman got hurt. They had a shooting percentage slump in the beginning that seemed to just snowball into the season. Old players aged in front of our eyes.
The Avs were actually 9-9 and the advanced stats looked like they were kind of mediocre, then Erik Johnson got hurt and all this happened.
I feel like I could go on and on and on, like the guy who finally goes to a shrink and then just let's it all out and ends up sobbing into his shoulder. I can't help myself. I have to vent and go on and don't have a blog anymore.
So I'll put it in a way that will depress and horrify Canucks fans: *puts flashlight under chin* The Avs spent 6 years not realizing they were in a rebuild and this is when it all came back to haunt them.
Outside of drafting in the top-3 in 3 out of 5 years, the Avs never made a move to get younger, or even acknowledge that their cupboard was bare and they needed to rebuild. Every move was to plug a leak in the dam, instead of to rebuild it.
The Avs had 68 points in 2010-11. They were an abysmal 9-33(!!!) in the 2011 part of that season. It should have been clear that the team needed a rebuild. So what did they do? They got older and tried to fix it now.
They traded Shattenkirk for the older Erik Johnson.
They traded away a 1st round pick for Varlamov.
They drafted Landeskog and traded away John-Michael Liles. That was it. That was their rebuild.
(That 1st round pick for Varlamov became Filip Forsberg, by the way)
They traded 2nd round picks for Reto Berra and Brad Stuart
They traded for 34-year-old Danny Briere and 33-year-old Alex Tanguay.
They acquired rentals in lost seasons like Mikkel Boedker for Tanguay and prospects (then Tanguay outscored him down the stretch).
They signed 35+ players like Jarome Iginla and Francois Beauchemin.
Here are all the draft picks the Avs acquired in trades between the Varlamov trade and last trade deadline (when current management realized a rebuild was necessary):
Conditional 5th (For Kyle Cumiskey)
4th round pick (Ryan O'Byrne)
6th round pick (Talbot+ trade)
2nd round pick (Ryan O'Reilly+ trade)
conditional 7th (Freddie Hamilton)
That's where this season came from. 5 years of not realizing the team was barren caught up to them. Throw in some bad goaltending and a bad shooting year and it's the perfect storm.
PITB:
Good lord. Like you said, elements of this should rightly horrify Canucks fans: how do you think the Canucks can avoid the same fate?
Jibblescribbits:
Honestly, to me, it looks like in the modern NHL the best way is to totally rebuild and just be abysmal for a few years. It's not a guarantee (Buffalo) but being stuck in the 7-14 draft range every year is killer.
Trade the Sedins (sacrilege, I know), groom your young guys as leaders (Horvat, etc), get guys on 1-year contracts you can flip on the deadline. Do not be tempted to think that 2 weeks of good results makes you a contender.
That was the Avs downfall. Two flukey seasons and they were convinced they were almost there, instead of making a more honest evaluation of the team.
PITB:
How has this impacted Sakic's reputation? Because it seems like Trevor Linden isn't quite as beloved in Vancouver as he once was.
Jibblescribbits:
I think it's compartmentalized well, honestly. I think Roy and Sakic are still absolutely beloved for their playing days, but people are disappointed with their front office work. I think people keep it separate.
PITB:
At this point, are you worried that the Avs have wasted several years of the careers of some great young players (or lost them entirely in the case of O'Reilly)? Are you worried they'll waste a few more? As you might tell, this is a concern of mine.
Jibblescribbits:
Yes, for sure. The Avs will probably trade Duchene this summer, and to be honest, if they have finally figured out a rebuild, they probably should. He'll be 27 next year and if a rebuild takes 2-3 years, then now is the time to trade him.
They should probably trade away Erik Johnson too, who has never lived up to his #1 pick status, but is a decent top-pairing guy.
Varlamov's career has been basically wasted. Even Landeskog will be 25 next season.
PITB:
This all sounds even more dire than I expected. Is there any hope for the future? What's keeping Avs fans going these days?
Jibblescribbits:
I watched the fewest Avs games since the 2005 lockout, and the only time I had fun was taking my 6-year-old and 3-year-old to the game, and my Canucks fan friend bought glass seats for us directly behind the goal and wore his mustard V sweater so we were visible on TV a bunch.
But, the future isn't all depressing. The Avs have some good young players still. Mackinnon was 15th in shots in the NHL this year, and you have to think his shooting percentage jinx will shake at some point. Landeskog and Barrie are still fun. And the Avs have some young exciting players coming up soon.
Jost is the real deal, and J.T. Compher, A.J. Greer and Chris Bigras will all be NHL players. Andrighetto & Barberio (both waiver wire pickups) both look to be decent players. The team next year will be vastly different than the one this year. Might even sign Will Butcher, the Hobey Baker award winner (although, there's uncertainty there).
PITB:
Do you have faith in Avs management to build a team around their up and coming youth?
Jibblescribbits:
It's mixed. I think and feel like they understand that a rebuild is necessary. The moves since last summer are slowly showing this, although low-key.
But I'm not sure Sakic has what it takes to pull off the trades he needs to. He needed to get assets, even low picks, for expiring contracts like Mitchell, Weircioch, Tyutin, and Iginla (he basically got nothing for him).
They dumped Roy when philosophies diverged and i don't think they're completely clueless. They went young recently. But the Avs had a historically bad season and haven't fired even one assistant coach.
PITB:
Is that an admission by management that the bad season was on them and not the responsibility of the coaching staff?
Jibblescribbits:
Maybe? I don't know. Jared Bednar had a tough job, coming in in August, but you could make the case that part of that is that he didn't get to choose his assistants either. They were carryovers, yet neither have been let go. Avs have a habit of doing that quietly and privately, though, so it could still happen.
I'm not sure if that's an admission though. Duchene will likely be shipped out, so maybe they're trying the time-tested hockey tradition of blaming your best player and running him out of town.
PITB:
I guess the last question is, how many tables will you flip if the Avs lose the draft lottery and fall to 4th overall?
Jibblescribbits:
Honestly, I'm resigned to the Avs drafting 4th. Intellectually I know it's not possible, but i feel like the avs are actually going to pick 6th or 7th. If there's any team that can somehow manage a way to lose worse than possible, it's this Avs team.
Like, the Jarome Iginla trade is going to be ruled illegal (because it wasn't actually a trade, the Avs are going to receive nothing in return for him) and the punishment is going to be a 3-draft-slot drop or something. I legitimately feel this is equally likely as winning the #1 spot.
But the other thing is, in this weak draft, drafting #4 may not be the worst thing in the world.
It seems like, pre-draft, drafts get graded weak or strong based only on the top-3 prospects. But spots 4-31 seem like they have the same amount of talent, more or less (which makes sense from a statistics standpoint).
But that's probably me projecting. I just looked at the #4 pick in "weak" drafts and came up with:
Pavel Brendl ('99)
Stephen Weiss ('01)
Rotislav Klesla ('00)
Adam Larsson ('11)
Griffin Reinhart ('12)
So we're probably screwed. C'est La Vie.
PITB:
Sounds about right for the Canucks too. All the fans are resigned to picking fifth and for the Canucks pick to be an automatic bust.
Thanks so much for doing this. From the looks of things, it's entirely possible that both our teams will be in the same position next year, so maybe we'll do this again! *sigh*
Jibblescribbits:
Misery loves company!