When the Vancouver Canucks take on the San Jose Sharks on Monday night, they will apparently have four right-shot defencemen in the lineup once again.
Head coach Rick Tocchet said after Monday's morning skate that Mark Friedman would come into the lineup but not to replace his fellow right-shot defenceman Noah Juulsen. Instead, the left-shot rookie Akito Hirose will sit.
That comes as a bit of a surprise and not only because Tocchet, like most NHL head coaches, prefers to have defencemen playing on their strong sides. The real surprise is that Juulsen isn't coming out of the lineup because he has not been good to start the season.
Juulsen is the slowest skater on the Canucks
The 26-year-old defenceman has visibly struggled this season, primarily because his skating is severely lacking. Juulsen is the slowest player on the Canucks and that's not an opinion; that's empirical data.
The NHL's EDGE player-tracking data tallies up how many times a skater has had a "speed burst" of over 20 mph. Juulsen hasn't had any because his top speed this season has been 19.5 mph, easily the lowest on the Canucks.
Juulsen is likely among the slowest in the NHL, though the EDGE data makes it as difficult to tell as possible, likely in hopes of avoiding any embarrassment for the players that end up on the bottom of such statistics. The radar chart kind of gives it away, however, as Juulsen's data point for top speed is right at the middle of the chart, about as low as it can go.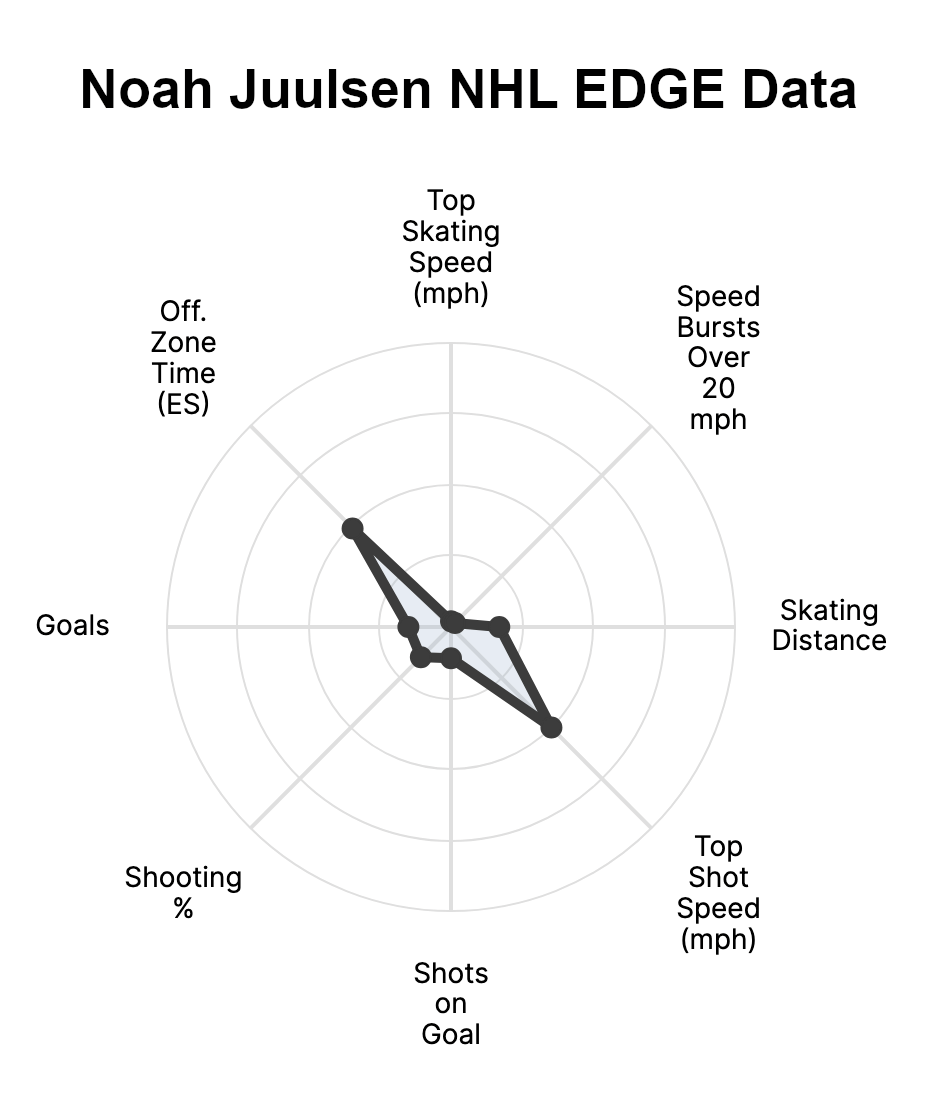 It's not just the lack of speed that is a problem for Juulsen but his lack of mobility in general that makes defending against the rush a constant concern. On top of that, Juulsen is limited with the puck on his stick, struggling to either break out the puck or provide anything at all in the offensive end of the ice.
Juulsen is last on the Canucks in corsi and expected goals
So, what does Juulsen have going for him?
Well, he hits a lot.
Juulsen has 20 hits in his seven games with the Canucks, averaging 13.1 hits per 60 minutes of ice time. That leads all Canucks defencemen by a wide margin — next is Mark Friedman at 6.15 hits per 60 minutes — and is second on the Canucks behind only Dakota Joshua, who averages 14.2 hits per 60 minutes.
The distinct difference between Juulsen and Joshua is not just that one is a defenceman and the other is a forward, it's that Joshua's hits seem to have a positive impact on the Canucks' puck possession and Juulsen's don't.
According to Natural Stat Trick, Joshua is fourth on the Canucks in corsi percentage — the ratio of shot attempts for and against when a player is on the ice at 5-on-5 — at 52.8%, indicating that the Canucks spend more time in the offensive zone than the defensive zone when he's on the ice. He's also second on the team in expected goals percentage, indicating that the Canucks aren't just out-shooting the opposition but out-chancing them as well. Joshua has thrived on the third line with Conor Garland and either Pius Suter or Teddy Blueger at centre.
Juulsen, on the other hand, is dead last on the Canucks in both corsi percentage (36.0%) and expected goals percentage (29.7%).
Having a lot of hits can be a misleading statistic. A player can have a lot of hits because he's stepping into opponents to separate them from the puck to create turnovers but a player can also end up with a lot of hits simply because his team never has the puck when he's on the ice. If the other team always has the puck, there are a lot more opportunities to hit them.
That seems to be the case for Juulsen, who certainly makes a lot of physical contact with opponents but that contact rarely seems to have positive consequences.
Juulsen's flaws negate his hits
There are plenty of examples of Juulsen throwing hits that don't help the Canucks in any way.
For instance, there's this moment in the third period against the Montreal Canadiens. Juulsen is unable to pivot as Tanner Pearson goes down the left wing, so attempts to throw a hit. Pearson just shakes it off, leaving Juulsen behind and ending up with tons of open space to set up a scoring chance.
That physical contact was recorded as a hit for Juulsen in the NHL's official statistics but the result of the play was a net negative for the Canucks.
Then there's this play against the Calgary Flames. Juulsen throws a stiff check at the blue line on Dillon Dube — it's borderline boarding, but it goes uncalled, so it's potentially a solid play to prevent a zone entry. Only, once Juulsen gets the puck, he immediately backhands the puck into Dube's breadbasket for a turnover even though he had an easy pass available to Ilya Mikheyev.
The resulting goal isn't entirely Juulsen's fault — the defensive coverage was a hodgepodge and Casey DeSmith let a shot from distance leak through — but the play is still illustrative of how Juulsen's flaws completely negate his biggest proficiency as a defender.
Juulsen makes his defence partners worse
It's a shame because Juulsen played some pretty good hockey for the Canucks last season as a fill-in defence partner for Quinn Hughes. Certainly, he was carried by Hughes but he didn't hurt Hughes either, playing a simple, stay-at-home game that actually resulted in some sterling puck possession numbers.
That has not been the case this season. At all.
Every defenceman that has spent more than 15 minutes with Juulsen has seen their underlying numbers crater. Granted, we're talking about some very small sample sizes here but even given that caveat, these are some startling results.
Juulsen doesn't just make his defence partners a little bit worse; he drags each one of them down to his level as the worst puck possession player on the Canucks. Even Quinn Hughes.
With Carson Soucy out long-term with a leg injury, the Canucks have to test their defensive depth. But if Noah Juulsen is their best option, then they might be in some trouble.
At this point, giving Akito Hirose a longer leash might be worth trying — when he's been away from Juulsen, his numbers look pretty good. Otherwise, the Canucks could call up Matt Irwin or Christian Wolanin from the Abbotsford Canucks. If all else fails, the Canucks may have to turn to the trade market.