How is it that we haven't had more posts about backyard BBQs on V.I.A.? Or even a weekly BBQ feature where we have some sort of expert sharing recipes and secrets of the grill? I've downed many a burger on our sports editor Jef Choy's back porch, savoured the sweet flavour of steaks courtesy of longtime contributor Suede Peterson's obsession with meals cooked over fire and I actually have a fairly decent propane fuelled beauty on my front porch that I fire up at least once a week. Perhaps we'll work on some sort of On The Grill feature in the coming months but in the meantime you could be working on your own grill feature: our friends at Coleman Heating are giving away this ridiculously fancy piece of work below!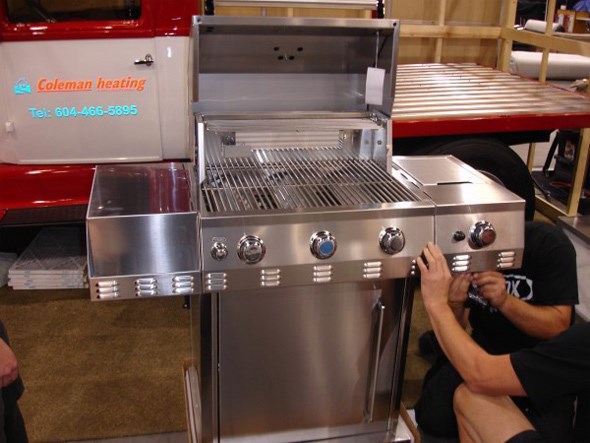 Coleman Heating is the number 1 residential and commercial heating and cooling company in BC, they're a Dave Lennox Premier Dealer who have been in business since the spring of 1998. They're taking part in the 2010 Vancouver Home and Interior Design Show (Sept 9th to 12th) at the Vancouver Convention Centre at booth number 1540 and to kick things off they're giving away this Coleman BackHome Select 8100 Gold Series BBQ that's worth $650! There are three ways to win, one of them is to follow them on Twitter and send the following tweet our from your account:
"Enter to win a BBQ from @Coleman_Heating http://colemanheating.ca/contest/bbq-giveaway/2010/08/27/ RT and Follow to enter!"
Click to find out the other two ways to enter to win this BBQ Contest!
Web site: Coleman Heating | Twitter: @Coleman_Heating | FB: facebook.com/ColemanHeating