THIS CONTEST IS NOW CLOSED
That's right, we're giving away a pair of tickets to the bronze medal Paralympic Sledge Hockey game taking place Friday, March 19, at Thunderbird Arena thanks to the good folks at BC Hydro and the PowerSmart Village that is open to the public from 10AM-6PM every day until March 21st! TONS of cool stuff going on down there, visit their SITE to see the schedule.
All you've got to do to enter to win these tickets is join our newsletter. Easy peasy! Our newsletter is new and haven't actually sent one out yet but in the future we'll be sending out one per month, we won't share your e-mail address with anyone and if you want to unsubscribe if you don't win the tickets then you're free to do so at any time. Join our mailer below to enter! If you entered to win our previous hockey ticket draw or any of the other ones we've recently posted and you're on our mailing list, you're already entered!
THIS CONTEST IS NOW CLOSED
Head down to the Power Smart Village and get your photo taken in an actual ice hockey sledge...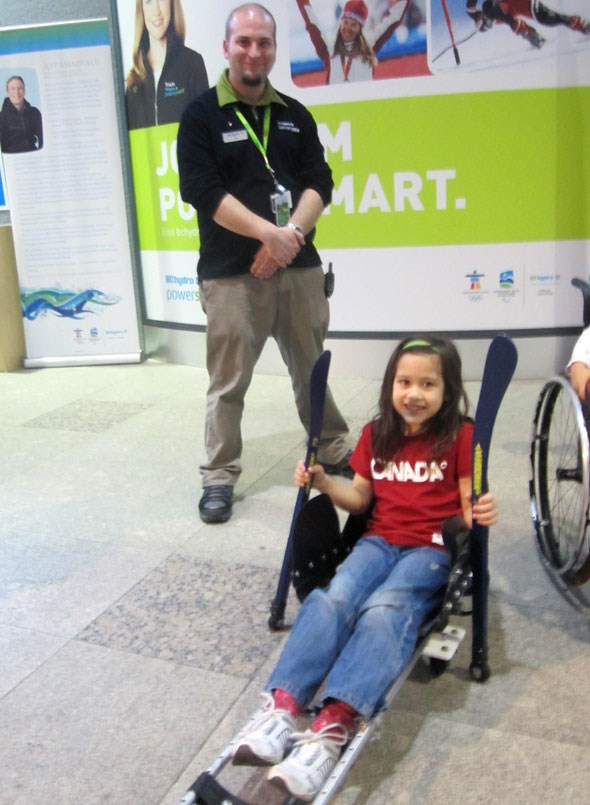 image courtesy @powersmartbc
THIS CONTEST IS NOW CLOSED
And a little bit of the official word on what sledge hockey is all about, in case you're not all that familiar:
"Ice sledge hockey was invented at a Swedish rehabilitation centre in the early 1960s, when a group of athletes with a disability decided they wanted to continue playing hockey. The Swedes took two regular ice hockey skates and built a metal frame (called a sledge) to fit on top, with enough room for the puck to pass underneath. Using short poles to propel themselves along the ice, the men played the first ice sledge hockey match outdoors, on a lake south of Stockholm. By 1969, Stockholm had a five-team ice sledge hockey league.
Ice sledge hockey debuted at the 1994 Paralympic Winter Games in Lillehammer.
How It Works
Ice sledge hockey follows all the International Ice Hockey Federation rules, with a few small modifications.
Instead of standing on skates, players sit on aluminum or steel sledges fitted with two blades. They grip two double-ended sticks, one in each hand. One end of the stick has a sharp pick that the players use to propel the sledge, the other has a curved blade to pass and shoot the puck.
Eight ice sledge hockey teams compete in round-robin tournaments, and top seeded teams from round robin play advance to the playoff rounds. A team must not have more than six players on the ice while play is in progress. The object is for one team to get the puck (a hard black rubber disc) past the other team's goaltender and into the goal.
A regular game consists of three 15-minute periods."