A coalition of groups is calling on the B.C. government to reinstate the face mask mandate in indoor public spaces.
Protect our Province BC, Safe Schools Coalition BC, BC School Covid Tracker, and Masks 4 East Van have penned an open letter to B.C.'s soon-to-be premier, David Eby, Health Minister Adrian Dix, and Education Minister Jennifer Whiteside to implement a mask requirement in all indoor public spaces, including schools.
The letter states that a mask policy would reduce some of the impacts on hospitals across the province, as fewer people would get sick. To increase awareness, the government should have a public education campaign that explains why masking is an "effective tool against respiratory infections" while emphasizing the importance of mask fit and "better filtration-grade respirators."
B.C. officials lifted the mandatory mask policy on July 1, but public health officials encouraged people to continue to wear them in public while indoors, particularly on public transit. However, the majority of people do not wear them, despite the recommendation.
As children's hospitals in Ontario run out of pediatric ICU beds, the group expects that B.C. will also run out of them as cases climb during the respiratory season.
And since HEPA filtration units have not been provided in most B.C. classrooms, "masks are currently the only sure way to limit the amount of virus in the air that school children and educators breathe," argues the letter.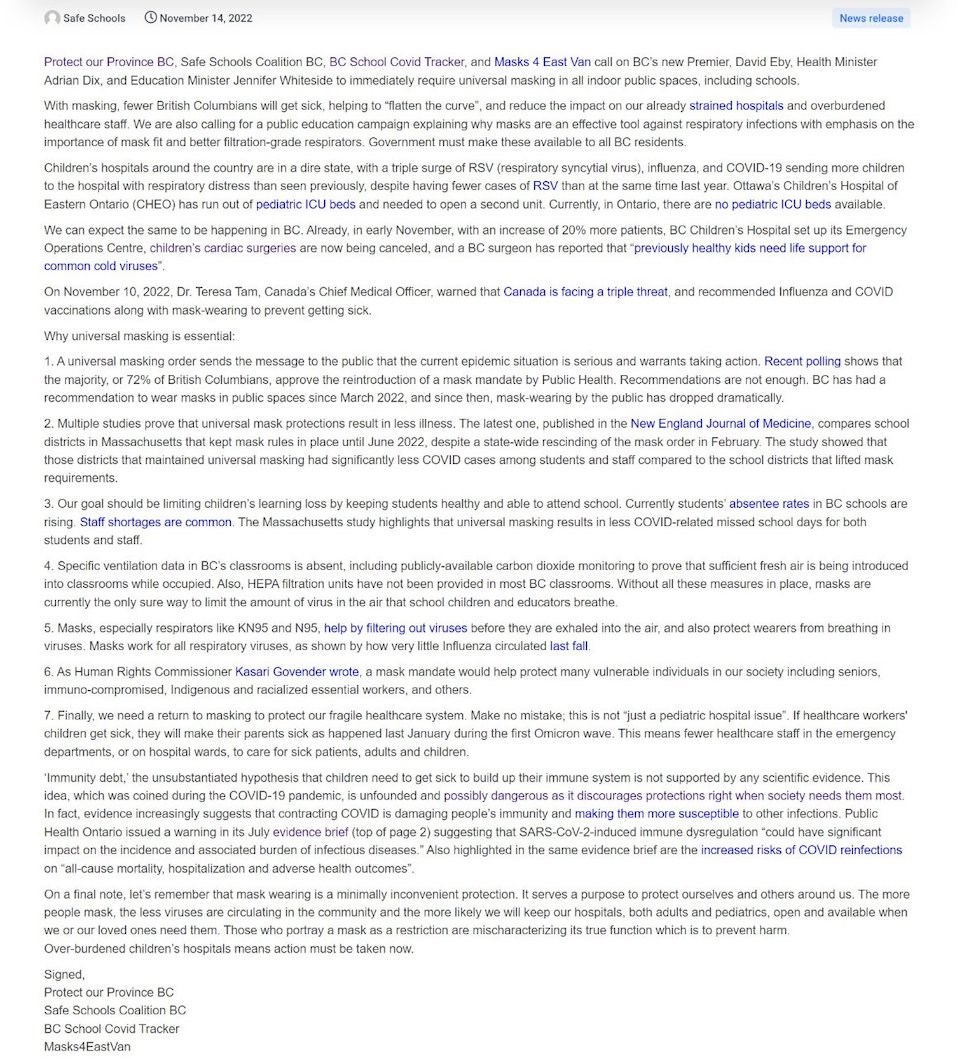 Face mask mandate and the COVID-19 B.C. situation
Public health officials have warned that B.C. could see a spike in coronavirus cases over the respiratory season.
In a Sept. 28 press conference, Provincial Health Officer Dr. Bonnie Henry said that COVID-19 would likely surge from November through January, with the flu peaking early this year around the same time, based on the experiences of Australia and New Zealand.
Despite the expected peak in illnesses, the province doesn't plan on reinstating the mask mandate — at least not for now.
A spokesperson for the Ministry of Health told Vancouver Is Awesome in a statement that it is not looking at reintroducing mask mandates at this time. However, it will closely monitor the current epidemiological situation in the province and adapt its response accordingly.
While the province has higher-than-normal volumes of patients in its hospitals, including children, the situation in Ontario is more serious, and B.C. is "not yet experiencing a COVID-19/influenza/RSV surge in hospitalizations, which necessitates activating provincial surge plans," said the ministry.
While face masking helps prevent the spread of coronavirus, the province has achieved a very high level of population immunity through infections and vaccination.
"At this stage of the pandemic, even amongst the frailest elderly populations in long-term care facilities, most vaccinated residents with COVID-19 experience mild symptoms," according to the ministry.
But people are still encouraged to wear masks in crowded indoor public places or on public transportation. Further, anyone with flu-like symptoms should stay home until they feel better.
The ministry added that it "will continue to monitor the pandemic around the globe and in B.C. and should conditions change" and adapt its "response and the measures in place as needed to protect public health."