A recently-launched website that lists businesses that do not support B.C.'s vaccine passport program has sparked outrage on social media.
People aged 12 and older are required to show proof of one dose of vaccine for entry to a broad range of discretionary events and businesses throughout the province. By Oct. 24, people must be fully vaccinated to access these places.
The BC Vaccine Card is a digital or printed document that shows the stage people are at in their COVID-19 vaccine progress. It will show whether they've had one dose, two doses, or if no record is found.
And while the majority of British Columbians are complying with the new health order, many individuals have elected not to get their vaccine cards. Additionally, some business owners have shared their frustration or dislike for the program online.
A website called the No Pass List says it supports Canadian businesses' "freedom of choice" and states that "we should all have the right to make medical choices without fear of discrimination or consequences."
The No Pass List administrators invite Canadian business owners to add their businesses to the growing list of thousands of companies that do not support vaccine passport programs across the country. They note, however, that all of the businesses listed "are operating within the law and have various [COVID-19] protocols in place."
Finally, the administrators underscore that while they are "pro-choice" they are not "anti-vax" nor "anti-science."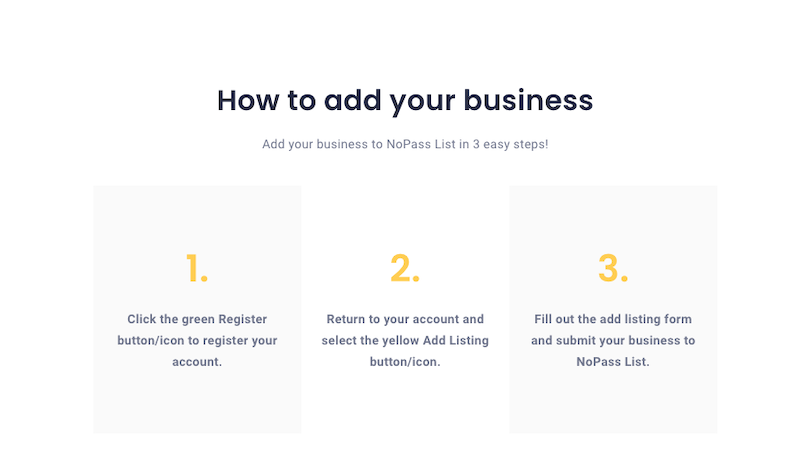 Interestingly, the majority of the Vancouver businesses that were listed on the website would not be required to ask for the BC Vaccine Cards. While the businesses were available for public browsing before, the administrators changed the setting to private as of Sept. 24, allowing only members to browse the options.
The website is similar to the Instagram account @savesmallbusinessbc which helped coordinate and promote anti-vax protests earlier this year. Off Instagram, over 64,000 have joined the Facebook group BC Businesses against Health Pass where the narrative is much the same.
The fine for refusing to show proof of vaccination is up to $575 for individuals.
Need to get proof of vaccination? Here are all the ways you can access your BC Vaccine Card.
Vancouver Is Awesome has reached out to No pass List but has not received a response.
What if you haven't been vaccinated?
The message from provincial officials is clear: get vaccinated.
If you haven't been vaccinated yet, you may find it difficult to access some events, services, and businesses.
Visit one of the drop-in clinics located in communities across B.C. You don't need an appointment.
If you'd prefer to make an appointment to get vaccinated, you may register online.
With files from Cameron Thomson.