So you've heard the news that there's a large sockeye salmon run happening on the Fraser River right now? Some media are describing it as "the biggest sockeye run since 2014!", and to be fair it is, but it was absolutely guaranteed to be; the sockeye in this river system have what's called a "dominant" run every 4 years.
It's mostly because the large Adams River (Shuswap Lake) population returns every four years, by way of the Fraser, adding to the numbers of fish making their way up to their various places of birth to procreate. I can promise you that the run in 2022 will be "the biggest sockeye run since 2018!".

In 2014 20.8 million sockeye returned to the Fraser River. It's possible that we could get that many this year as well. And when they come in numbers like that the Department of Fisheries and Oceans opens up fishing not only to commercial boats, but sportfishers.

As a sportfisher myself I decided to book yesterday afternoon off to catch one of these fish and bring you back a report on it.
I'm calling it the worst salmon fishing experience because it truly is. I've caught all 5 species of salmon in this province (sockeye, coho, chum, chinook and pink), and this fishery on this river is like no other. However it's still a great experience and if you're good at fishing you'll walk away with some protein to feed your friends and family.

So what makes it the worst? There are always crowds when they open the Fraser, so quiet reflection on the river is not an option. There are often 100 people at the popular sand bars, standing 6 feet apart. You will get your line caught up with at least 5 of them before the day ends, and it will likely not be your fault.

The method is a bit dodgy, and one of the least sporting. While it's perfectly legal, you are literally dragging a weight along the bottom of the river with a hook trailing it and flossing that hook through the mouth of fish, hoping one will chomp on it.

You will lose a few hooks due to snags. There are a lot of snags.

People leave garbage at most of the spots. Coffee cups, cigarette butts and also old fishing line, discarded hooks etc. It's disheartening as most people I know who fish are conservationists. When my son comes with me I hand him a garbage bag and pay him 25 cents for every piece he picks up.

It's not easy. If you're planning on heading out to fish the river you should know that it's not an entry-level experience and can be physically strenuous. When I first started fishing salmon in rivers I used the pink salmon run in Squamish as my stepping stone. That's a simple one, with simple gear and not too large of crowds. There are more moving parts with the sockeye, and more chances of getting tangled up in other fishers lines.

All of this being said, it is a great experience. every time they open the sockeye I happily go out and fish them, and the experience is a thousand times better than not fishing at all.
And the people are generally nice; there is a lot of camaraderie out there. The Fraser is a beautiful river to be looking out at, and everything balances out. The fact that you'll likely walk out with a fish is the best part of it obviously.

**********
Here's what you need to do to get into one of these fish:

1. Buy a freshwater fishing license ($36) and add a "non-tidal salmon Conservation Tag" ($15) to it so you can legally keep your fish.

2. Buy a good sturdy rod with a large reel. These fish are strong, and sometimes you'll catch a Chinook while trying for Sockeye (they're so strong/huge they'll break your rod). Also, make sure you've got 50lb braided line. Any fishing store you go to can tell you what will work best. Try Pacific Angler, Cabela's, Bass Pro Shops or even Canadian Tire.
3. Pick up some "bouncing betties" weights (I use 3 ounce ones), leader savers (the things on the right below), and some pre-tied sockeye leaders with hooks on them (save time). You tie the leader saver to your line, then attach the weight to it, and the leader with the hook obviously gets tied to the longer part of it.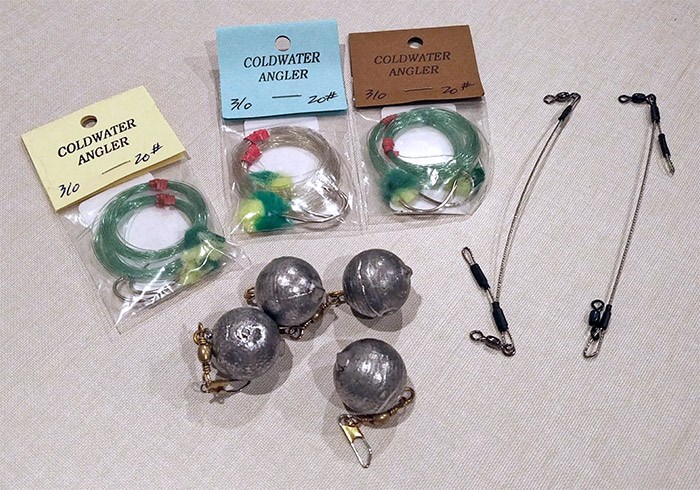 Sockeye leaders, bouncing betties and leader savers. Photo Bob Kronbauer

4. Find a good sand bar on the Fraser. You're going to have to drive out to Chilliwack before you find any decent spots (there is nothing within the City of Vancouver), and the fishing stores mentioned above can help you locate them. Some of them even have handy maps.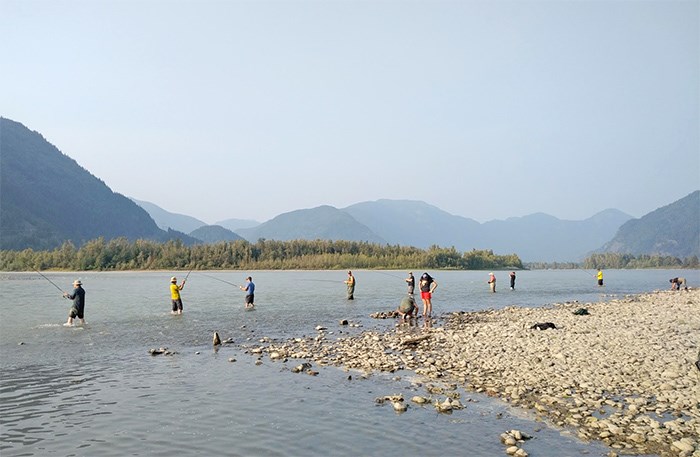 This spot usually has people every six feet. It was a surprisingly slow day. Photo: Bob Kronbauer

5. Be patient with people. Like I mentioned, there are usually big crowds at these spots, with varying degrees of experience. Some will snag your line. Teach them how not to do that in the future instead of yelling at them and everyone will have a good time.

With background files from Graeme Wood and Nelson Bennett