Deep in Havana's Diez de Octubre area, there's a house-sized water tank nicknamed El Tanque that galvanized a community when it became a dumping ground for garbage. Volunteers hauled away truckloads of trash and reimagined the derelict property as a lively community art project geared to kids. Then they created a cocktail named El Tanque for the adults who come to volunteer and visit.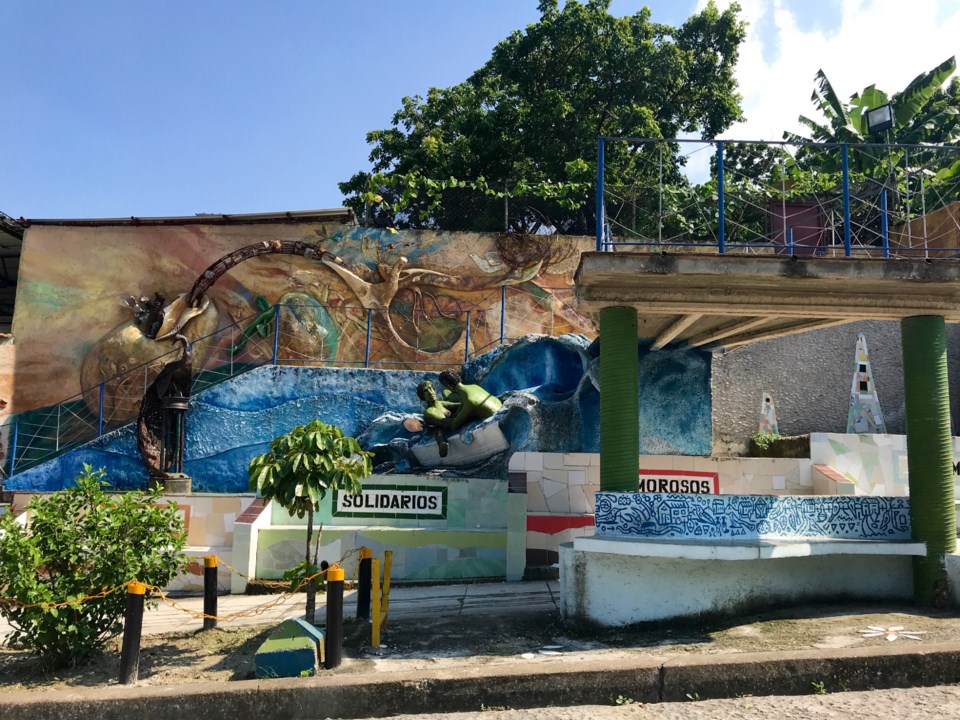 Proyecto Comunitario Muraleando welcomes impromptu or scheduled visits. Scattered throughout the multi-level space — which spills beyond the repurposed water tank into a maze of interconnected indoor and outdoor areas — you'll find people of all ages creating films, music, paintings, pottery and dances.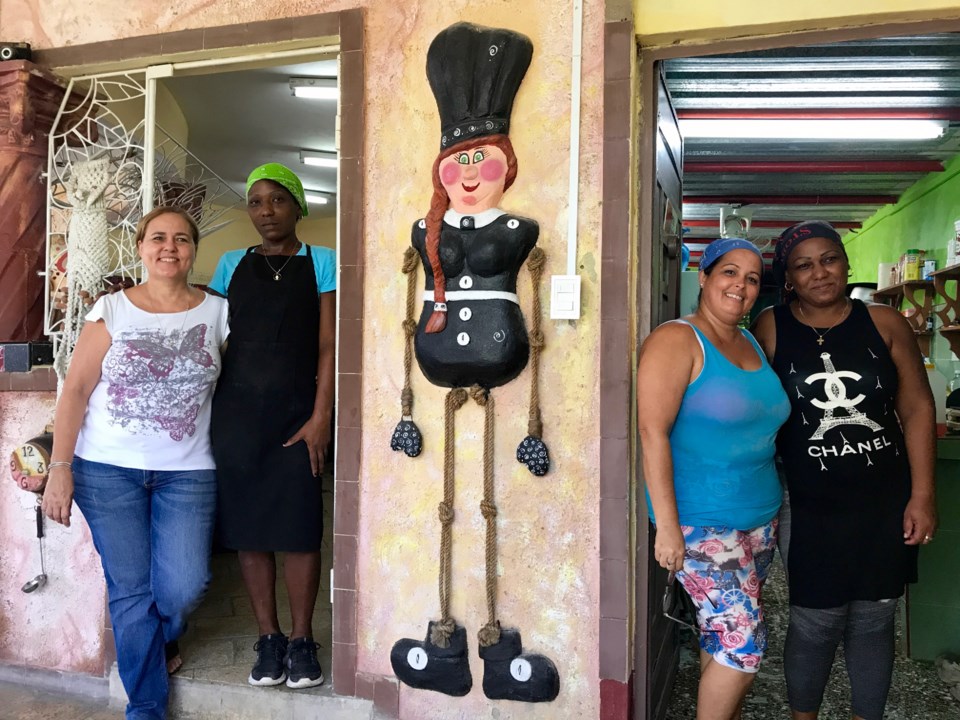 In a central area, one of three house bands plays a couple of traditional Cuban songs for me one day, and another band plays an entire show for a spirited group of dancing Portuguese tourists when I return the next. Adjacent to the stage is a kitchen where four home cooks conjure up a feast of taro fritters, chicken, rice and beans, avocado, yam, plantain chips and flan.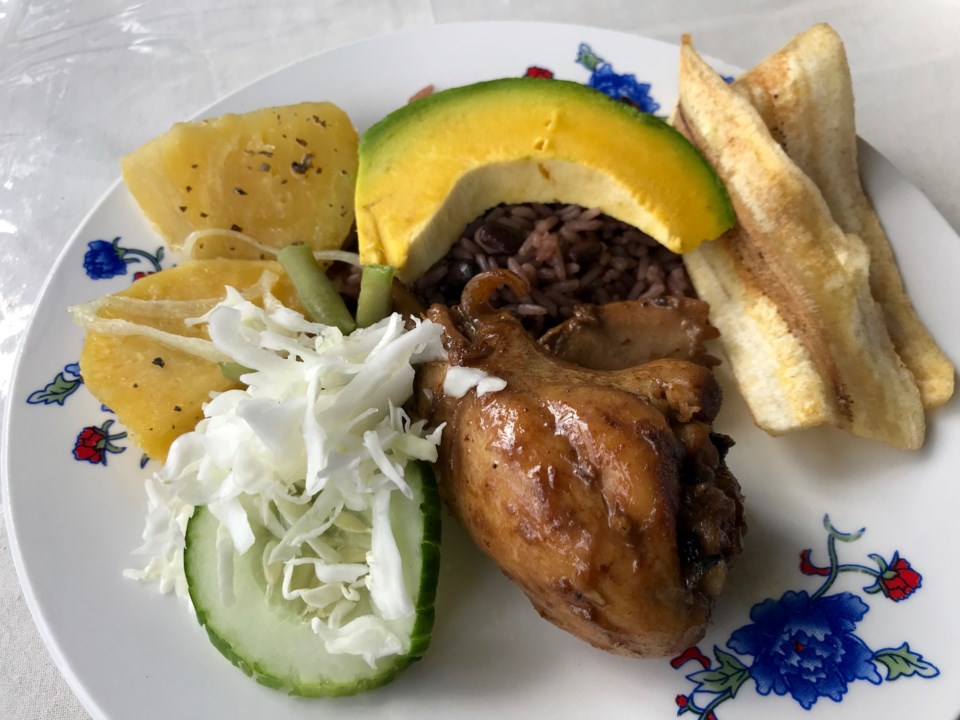 "I call it a tsunami of food," says Muraleando director/artist Manuel "Manolo" Díaz Baldrich, who also answers to the nickname El Tanque.
Aldo Lopez, an artist/volunteer who's acting as bartender and waiter today, proudly delivers an El Tanque cocktail explaining that locally produced Havana Club dark rum is the base, but Cuban-made cacao and coconut liqueurs elevate this drink to something bewitching and two chunks of pure dark chocolate provide unexpected decadence in a country where even simple luxuries are scarce.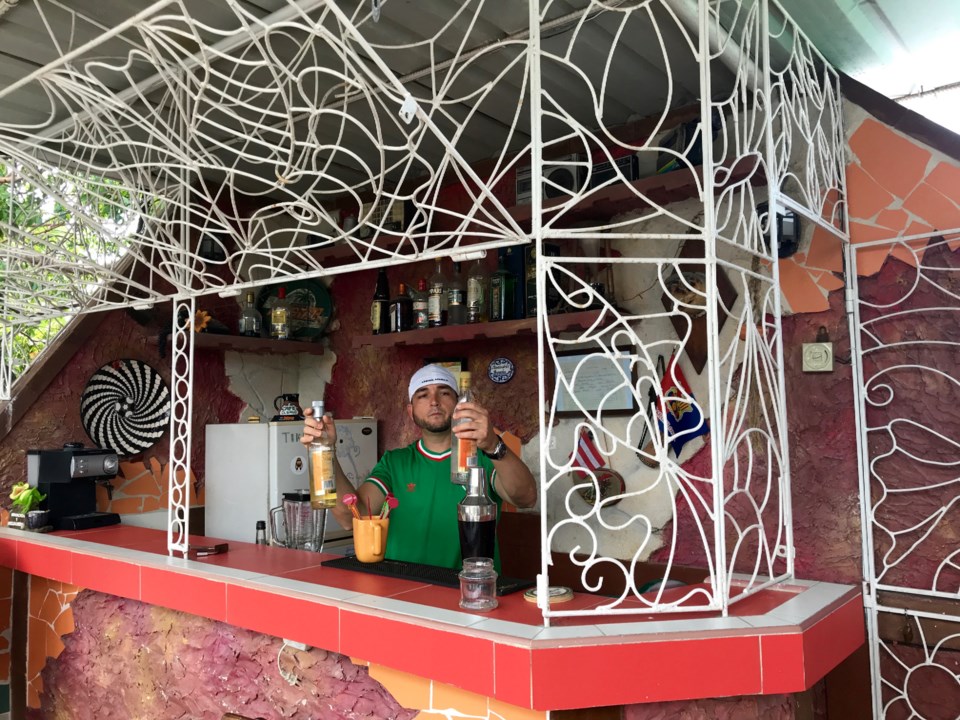 If these don't immediately seem like Cuban flavours to you, you may have been eating resort food instead of visiting Baracoa on the eastern tip of the island where cacao and coconut trees flourish and restaurant dishes are infused with both flavours. Maybe it's the engaging company or perhaps it's the inspiring surroundings, but this simple meal is the most memorable one I've had in Cuba.
It tastes even better knowing my 18 Cuban Convertible Pesos (CUC) — about $24 Canadian — will help Muraleando survive another day. The project doesn't get any funding and so sells music/meal/tour packages to pay the electricity bills, buy art supplies and get construction material for the ongoing repairs it executes with volunteer labour.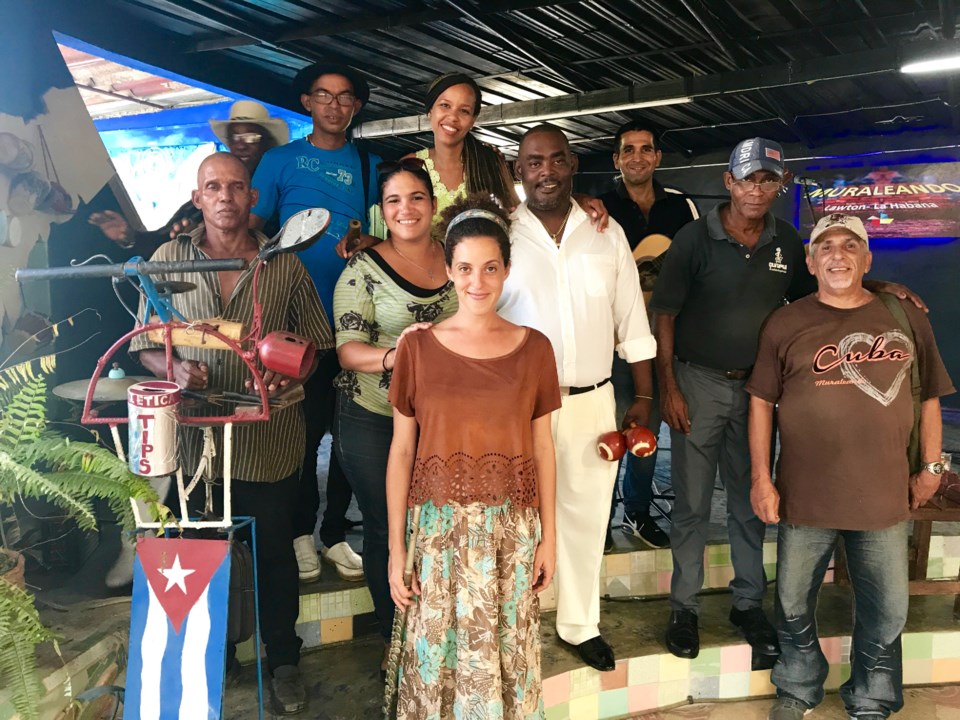 Inside the circular water tank, Muraleando has created a shop to sell art made by the adults (not the kids). Half the money from each sale goes to the artist and the other half to the project. I admire the paintings, t-shirts, jewelry and painted tiles spread out on tables and on the walls, but am travelling light so opt for animal figurines for my kids.
"Everything we do depends on the income we get," allows Baldrich. "The lowest amount we have received in a month is zero, and the highest amount is 1,000. The average is 500 to 700. In the months we have nothing, we have to stop." (He's talking about the tourist currency CUC, which are equivalent to U.S. dollars.)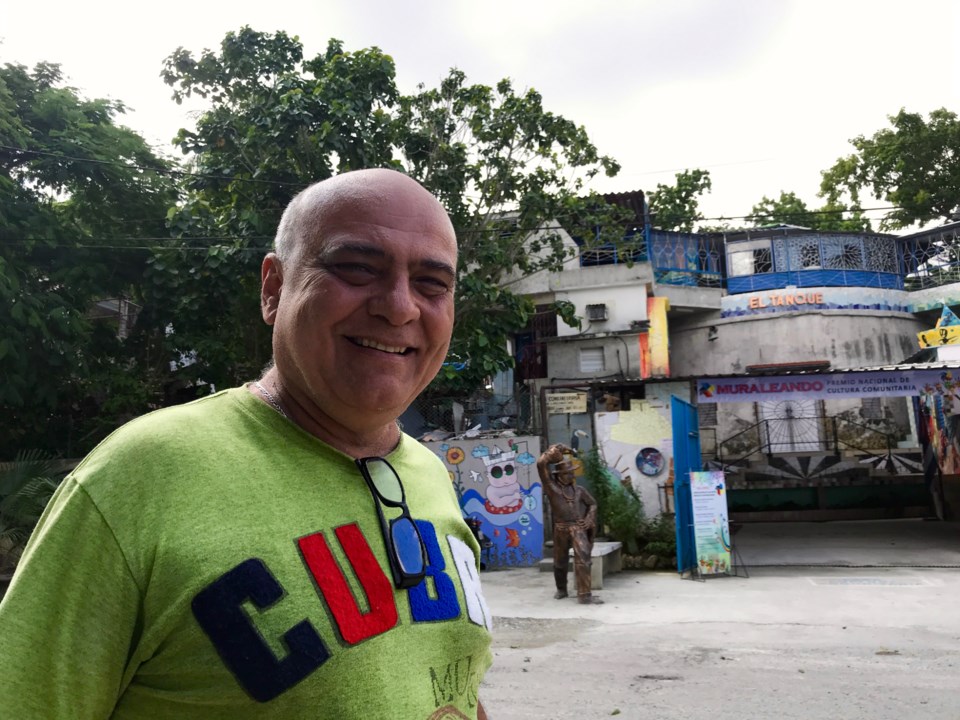 The water tank dates back to 1911 and once supplied the entire neighbourhood and steam locomotives from nearby rail yards. The lot was abandoned in the 1960s and languished until 2010 when Baldrich and another artist asked the local police if they could clean up the property and create a community space. Volunteers took away 65 truckloads of trash. Crazy rumours that El Tanque was a dumping ground for bodies turned out to be urban myths — the only body found during the cleanup was a lizard.
Until Muraleando came to be, Baldrich was creating murals and other art with kids on the street or in his home. Now students from two neighbourhood schools drop by for free art classes weekdays after school and on Saturday mornings. Painting is the most popular workshop, but there's drawing, collage, papîer mâché, ceramics, folk dancing, music (guitar, singing, percussion and piano), theatre, movie making and more. Locals can use the space free for birthdays and weddings. There are classes for seniors and people with special needs.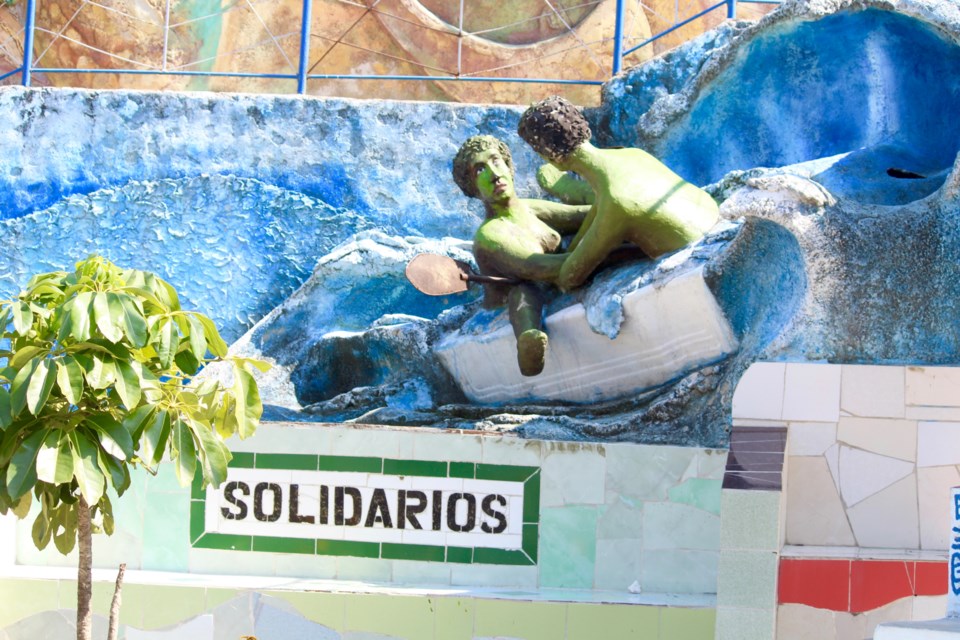 "Here, everyone is important," says Baldrich as artist/volunteer Elizabeth Carmona shows me around. My first impromptu visit happens when the kids are in school. My second is on a Saturday morning and I get to talk to a few kids.
"This place is like my comfort zone," says Angelica Elenel, 14.
"I want to be a photographer," chimes in 7-year-old Leidy Laura Matos Pérez, "and I like the professor."
Carmona takes me down two neighbouring streets to show off a multitude of murals and art installations. Much of it created from found objects, like an artful stack of toilets wrapped in thick, rusty wire.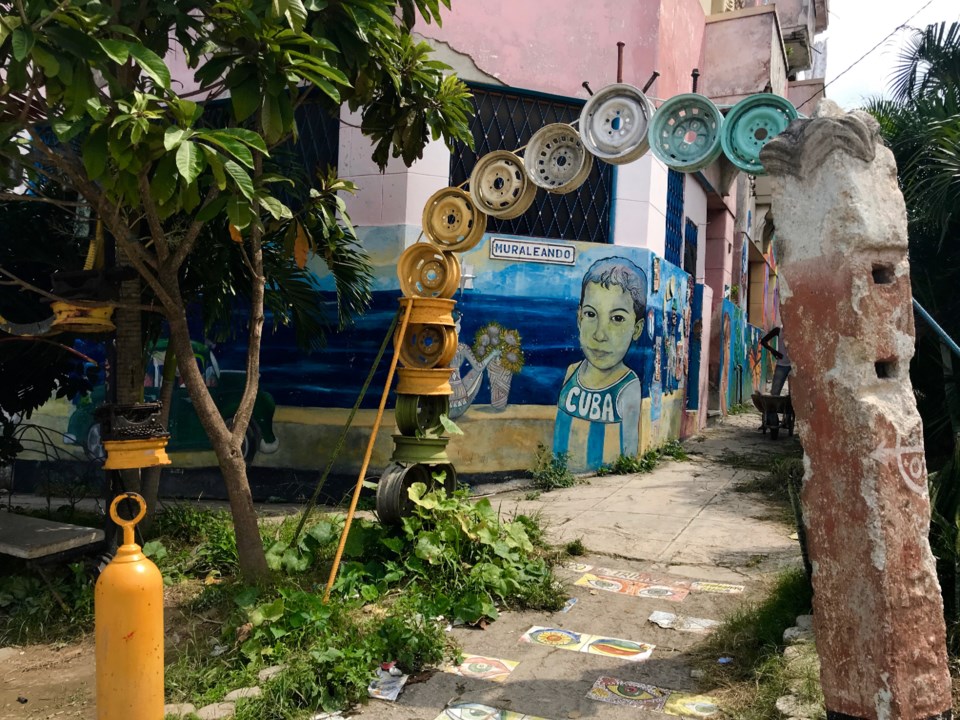 Muraleando has long been on the radar of cruises ships and Americans on the "people-to-people" programs they are forced to take so their tourist dollars go into the hands of ordinary Cubans and not the government. Both options are in jeopardy as the Trump administration rolls back Barack Obama-era travel opportunities to the island. The U.S. has had a crippling trade embargo against Cuba for almost 50 years.
No matter what's going on with the Americans, Muraleando would love to see more Canadians drop by, especially now as Havana celebrates its 500th anniversary. Some tour guides and drivers avoid the neglected neighbourhood because of its crumbling roads and extreme grittiness, but not mine.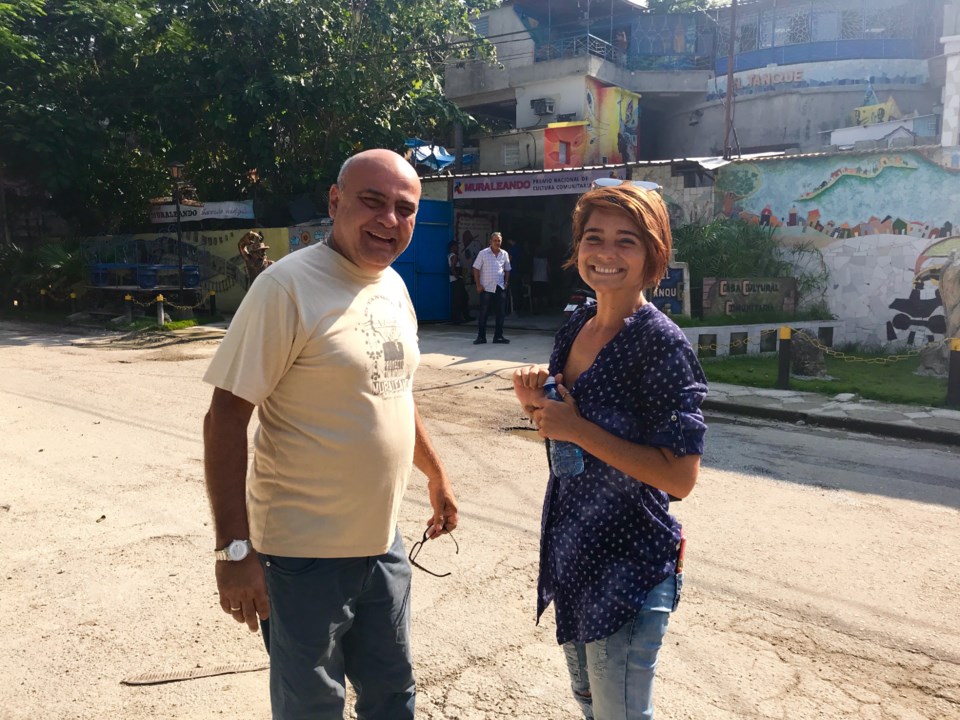 Ela Velunza, a private Cuban guide who works with Canadian-based ToursByLocals, and driver Mario Lazaro are ones who take me on an impromptu visit to Muraleando while we're exploring Havana's food scene, visiting a backyard farm and enjoying a cooking class. "It's messy. It's dirty. It's something else," says Velunza, who was born in this municipality and means her comments in the best possible way. This raw experience is as authentic as it comes.
Baldrich is proud to say they are now on TripAdvisor, listed as Proyecto Cultural Muraleando and currently ranked as the 69th best thing to do in Havana. That number should be much higher.
My visits to this community-building project are too brief so I plan to return as a volunteer. Muraleando sets up volunteers at casa particulares (bed and breakfasts), puts them to work, invites them to impromptu parties and, of course, feeds them. They'll even take you to the Museo Del Chocolate, a small tasting café and factory in Old Havana with memorabilia that explores Cuba's cacao production history. It's also the place to stock up on chocolate chunks so you can make your own El Tanque cocktail.